Trade Coin Club monopoly money ROI payments exposed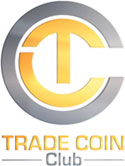 There's a reason the term "monopoly money" was coined to refer to money paid to Ponzi investors they don't actually receive.
Typically these payments are represented in affiliate backoffices and often times they're reinvested in pursuit of higher gains.
On the backend of the scam the money doesn't exist, with reinvestment buying the admin(s) time to shuffle what money does exist elsewhere within the scheme.
Trade Coin Club is one such Ponzi scheme launched in late 2016.
As per the company's business model, Trade Coin Club affiliates invest bitcoin on the promise of an advertised daily ROI of up to 0.45% for up to 12 months.
Trade Coin Club claims it generates ROI revenue through cryptocurrency trading, however no evidence of trading taking place is provided.
Alexa statistics show traffic to Trade Coin Club's website flatlined earlier this year in May.
For a Ponzis scheme this is a problem, as without new investment from constant growth ROI payment withdrawals for existing affiliates are not possible.
Over in Nigeria, the third largest source of traffic to the Trade Coin Club website according to Alexa, signs of a collapse recently surfaced.

Ibok Offiong (right) signed up as a Trade Coin Club affiliate investor on January 8th as a "Founding Member".
Like a lot of Ponzi scammers, Offiong hedges her MLM underbelly bets and is also a OneCoin investor.
After being recruited into Trade Coin Club by Adaego Ononuju, an affiliate in her OneCoin downline, Offiong invested 5.05 BTC.
Offiong recruited two Trade Club Coin affiliates below her, which means she also qualified for pyramid commissions on funds invested by her downline.
In her first 90 days with the company Offiong claims she received 35 BTC through Trade Coin Club ROI payments and recruitment commissions.
This money wasn't withdrawn however, with Offiong instead choosing to reinvest it back into the company.
In early July Offiong's Trade Coin Club account was abruptly suspended.
On the 5th of July I logged into my Acc and had a total of about 7btc available for me to withdraw, but I decided to wait till the next day to do so.

So come 6th July, 2017, I tried to log into my trading account with TCC, and to my surprise I could not.

I then got a constant alert that my account was blocked, and I should contact the compliance unit of the company, which I did immediately through my email.

I also noticed an email from the company stating that my account had been suspended.
For answers Offiong turned to her upline Adaego Ononuju, who purportedly replied she was "too busy" to help.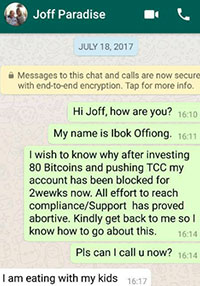 Next Offiong attempted to contact Joff Paradise. After explaining her situation and requesting permission to call, Paradise replied "I am eating with my kids".
Offiong attempted to set up a later time to call but didn't hear back.
Joff Paradise is based out of Germany and on Facebook credits himself as Trade Coin Club's Master Distributor. He's currently in Vietnam promoting the company.
Offiong initially reached out to Paradise on July 18th. On July 19th she tried again.
Paradise told her Offiong she "broke the rules" because she "violated (her) agreement".
You know why your account was blocked. Your [sic] promoting another company and telling everyone we are a scam.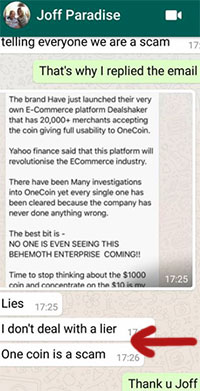 The conversation appears to have deteriorated after that, with Paradise labeling Offiong a liar and OneCoin a scam.
You lied. Period. Read your contract.

I can prove it and now I have you threatening me on record.

It will be given to the proper authorities. Thank you.
On Facebook Ibok Offiong represents that she personally invested and lost 40 BTC in Trade Coin Club.
According to Bassey Idiong, cited as a Trade Coin Club "publicist" in Nigeria, Offiong withdrew $427,000 from her account.
Mrs. Ibok Offiong never signed up anyone else into the business besides the two poersons [sic] but continually kept withdrawing her daily, weekly and monthly earnings/commission to the tune of 122 bitcoins ($427,000).
If true, that's on top of the 5.05 bitcoin Iffiong initially invested and the 35 BTC she reinvested on top of her withdrawals.
Bassey Idiong doesn't mention cross-recruiting, which makes sense seeing as a large percentage of Nigerian Trade Coin Club affiliates appear to also be in OneCoin.
They were promoting OneCoin prior to signing up with Trade Coin Club and continued to do so after investing in Trade Coin Club.
Rather that appears to be a scapegoat from Joff Paradise, with the real issue being Offiong's withdrawals and lack of personal recruitment.
An investor able to withdraw large sums of money whilst not providing new funds is problematic for a Ponzi scheme.
Especially one that pretends to have an external source of revenue. If such a source did exist, then how much its affiliate's were withdrawing wouldn't matter.
The reality however is Trade Coin Club can only payout what's invested.
Ifan affiliate who's invested 5.05 BTC and withdrawn 122 BTC with minimal recruitment (new replacement funds), that has to be dealt with.
At any given time a Ponzi scheme is unable to pay out monopoly money represented in affiliate backoffices. If affiliate recruitment collapses, this includes projected ROIs (whether guaranteed or implied).
Ibok Offiong has learnt this the hard way and has gone back to primarily promoting OneCoin.
Which is ironic, seeing as OneCoin had the same problem and suspended affiliate ROI withdrawals in January.
Given the timing, this is likely why Offiong and other Nigerian OneCoin investors started to look into similar then paying scams in the first place.
The bottom line for Trade Coin Club is that if it's roughly ten months in and affiliate withdrawals are reaching critical mass, suspension of random affiliates will only prolong a collapse.
The real issue is Trade Coin Club being unable to deliver withdrawals on the monopoly money it has affiliates believe they've earned.
Sadly this is probably going to see an increase in withdrawal problem reports over the next six months, ultimately leading to a collapse.
As usual it'll be the investors who, unlike Ibok Offiong, haven't recovered their initial investment who lose out.