Torque Trading's Bernard Ong sued by Ponzi's liquidators

Liquidators of the collapsed Torque Trading Ponzi scheme have filed a lawsuit against CEO Bernard Ong Hock Fong.
If you're wondering why a collapsed Ponzi scheme has liquidators, it's likely the result of Singaporean authorities failing to investigate Torque Trading.
Torque Trading was an MLM crypto Ponzi that collapsed in February 2021. Shortly after the collapse, I penned an article pointing out Torque Trading's exit-scam hinged on inaction by Singapore's police.
And that's exactly what happened.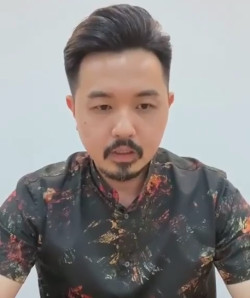 As I understand it, Torque Trading liquidators were appointed as part of the corporate side of things.
Torque Trading was incorporated as a shell company in the BVI. Ong (right) was the shell company's sole shareholder.
Quoting a paywalled The Straits Times article, Singapore Law Watch reports;
Singaporean businessman Bernard Ong Hock Fong … has been sued by the liquidators of Torque in the High Court to recover hundreds of millions worth of cryptocurrency that were lost under his watch.

Mr Ong has filed an intention to contest the lawsuit.
Liquidators allege Torque Trading scammed investors out of over $205 million. $137 million of that amount has been attributed to Singapore based residents.
The vast majority of those funds are believed to have been misappropriated by Ong and his Snap Innovations accomplices (click to enlarge below).

The liquidators' investigations showed that Torque had been using an account registered with Binance.com under a Vietnamese employee's name and personal e-mail address to hold and trade customers' deposits, and this account never held more than US$18.7 million worth of customer deposits at any one time.

Torque's other accounts also never held assets of any significant value.
Torque Trading's liquidators have pegged Ong's known personal haul at ~$25 million.
The remaining missing portion of customer deposits, however, remain unaccounted for, despite the investigative efforts of the liquidators since the date of the liquidation.
Ong claims he doesn't know what happened to the rest of the money or where it is.
At the time of Torque Trading's collapse, Ong blamed Vietnam-based CFO Zee Wu.
These missing customer deposits have proven untraceable and unrecoverable, in light of the significant deficiencies in Torque's financial and trading record-keeping, noted court documents.

Under Mr Ong's watch, "Torque operated in an utterly shambolic manner" and "did not have even the most basic forms of corporate governance or financial controls in place", said the liquidators in their statement of claim.
The liquidator's civil lawsuit also emphasizes continued inaction by Singapore's authorities;
(Torque Trading) illegally provided regulated services in Singapore, or to Singapore-based customers, without the requisite licence or exemptions from the Singapore regulators, and without implementing any of the risk management and internal control practices expected of a company of its nature, including those laid out in the Monetary Authority of Singapore's guidelines.
Further emphasizing Singaporean authorities' incompetent handling of the case, The Straits Times reported that, as of 2021, ~100 investor complaints had been filed with police.