Top MWR Life affiliate prosecuted on pyramid fraud charges

Prosecutors in Andorra have filed fraud charges against MWR Life top earner Catherine Techer.
Techer was arrested in Andorra on Wednesday, July 27th. She stands accused of bilking two consumers out of "about €250,000 euros".
These consumers, both of which are understood to reside in Andorra, filed a complaint with authorities. That complaint lead to an investigation and Techer's arrest.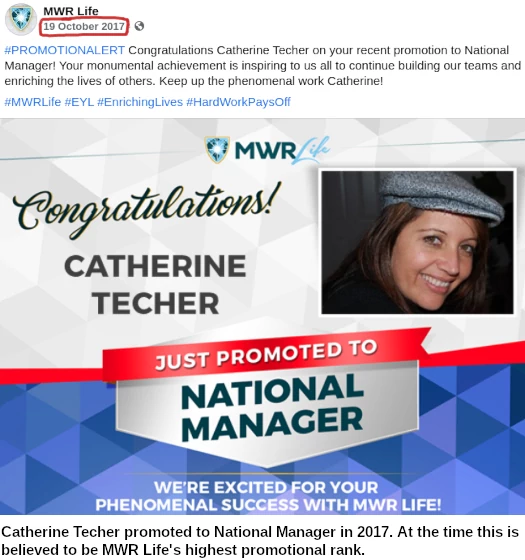 Additional victims are believed to be in France and Belgium, however complaints have yet to be registered.
Techer claims to have earned "several million" as an MWR Life promoter for several years.
Techer is facing pyramid fraud charges that could result in a prison sentence. As reported by Altaveu, Techer is currently out on €500,000 EUR bail.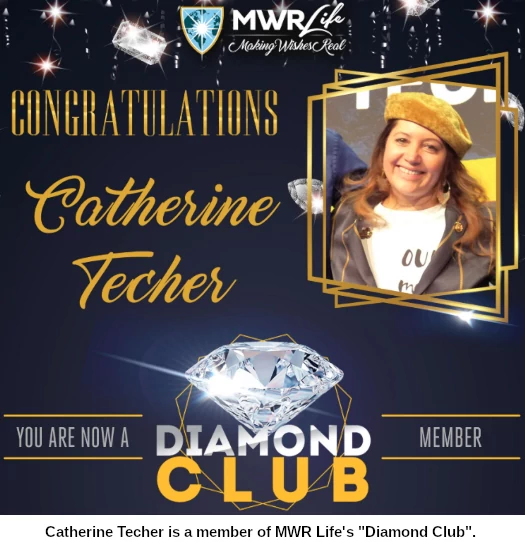 Techer is under house arrest at a property in La Massana. Her "high-end car" and Andorran bank accounts have been seized.
Rather than provide evidence of retail sales to clear her name, in comments directed to her To The Top group, Techer stated "MWR Life does not need to prove its legality and reliability."
Techer dismissed the charges against her, stating
online marketing is not understood in Andorra and that it is frowned upon for a French resident to earn "several million".
Techer blames her legal troubles on "evil detractors and envy".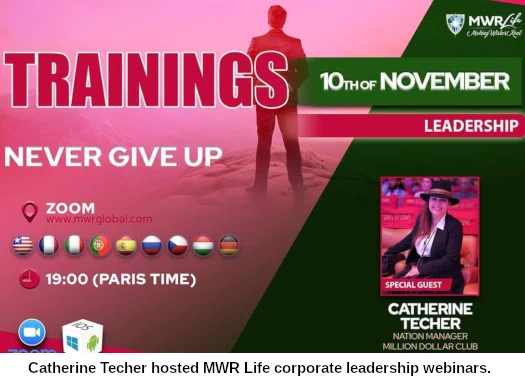 The Andorran investigation purportedly uncovered widespread withdrawal delays within the company.
Techer has assured her downline that "payments will become automated and regular".
Why MWR Life is having withdrawal payment problems is unclear.
I went looking for information on the delays. There is no information about the issue on MWR Life's website or social media channels.
MWR Life is run by Yoni Ashurov. When BehindMLM reviewed MWR Life in 2015, the company was spruiking third-party telephone services.
Today MWR Life markets itself as a WorldVentures clone, complete with hand-held "you should be here" styled hand banners.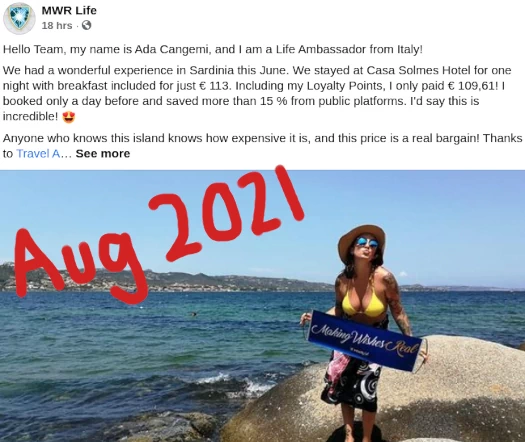 WorldVentures was one of the most notorious pyramid schemes seen in the MLM industry.
It collapsed and filed for bankruptcy late last year.
Alexa traffic estimates for MWR Life's website reveal a nose-dive beginning July 2021. Russia is currently the only notable source of traffic (37%).
Given the COVID-19 global pandemic, it is highly unlikely MWR Life is generating the majority of company-wide revenue via retail travel.
We know COVID-19 decimated what was left of WorldVentures' business. As with WorldVentures, the majority of MWR Life's company-wide revenue is likely to be sourced from affiliate membership packages.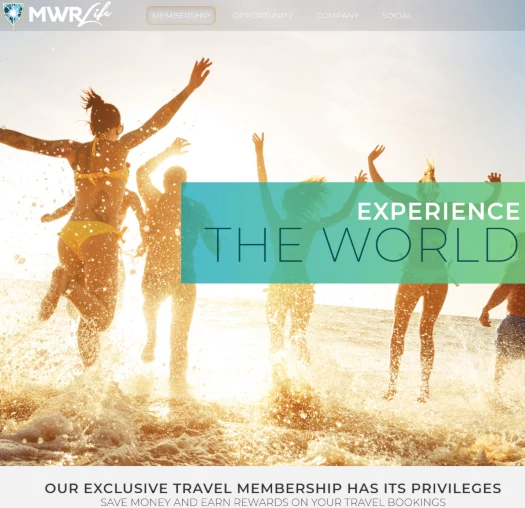 If so, this would confirm MWR Life is operating as a pyramid scheme.
MWR did at one stage provide a copy of their compensation plan to the public on their website. Access has since been removed.
MWR Life does provide a 2020 Income Disclosure Statement, however it doesn't provide retail revenue figures. Nor has it been updated since December 2019.