Blog Network Review: That Free Thing trys blogs…

Initially launching on the premise of giving free stuff offers away and charging a monthly membership fee, That Free Thing quickly learnt that once you ran out of new members to recruit, people start to leave in droves.
As such, four months after launching That Free Thing lost 25% of their members… which I suppose in hindsight wasn't really all that surprising when you consider that the company launched worldwide, despite failing to provide any free offers in the majority of countries it was operating in.
With members in these countries only paying the monthly membership fee for the privilege of recruiting others and earning commissions… sooner or later that was going to fall apart – and it did.
Seeking alternative revenue sources, That Free Thing then launched a vendor network in October 2011. The vendor network doesn't appear to have turned into the cash cow That Free Thing hoped it would, with the company recently announcing it is branching out into blogs and getting their members to write for them.
Unfortunately whereas the vendor network was a departure from the membership driven commissions That Free Thing initially offered, the Blog Network appears to be a return to the recruitment based commission structure roots the company launched with.
Read on for a full review of the Blogging Network MLM opportunity.
The Blog Network Product Line
The Blog Network's primary product offering is web hosting off the domain 'blognetwork.com'. For a monthly membership fee, That Free Thing will set up a sub-domain off the Blog Network domain, where members can write content for their own hosted blogs.
Basically, the idea is that under the That Free Thing umbrella, Blog Network will become a content farm with the hopes of generating enough content to rank in the search engines and provide value to their members.
It's no secret that tackling the internet on your own can be challenging, so by collaborating with other Blog Network members, That Free Thing hope to entice marketers to put in a joint-effort in getting their content ranked.
Powered by WordPress, each Blog Network site will display a small capture area serving as a sales funnel to attract new members to Blog Network. Thus each hosted blog acts as a capture page for the Blog Network member who owns it.
The Blog Network Compensation Plan
Just as That Free Thing's compensation plan had nothing to do with the use of the offers they provided their members, so too does the Blog Network compensation plan have nothing to do with the actual use of the product.
Matrix Commissions
Blog Network utilise a 2×14 matrix which starts with you at the top and then branches down into two legs underneath you. Two legs then branch out from these two legs and so on and so forth down with the first few levels of a 2×14 matrix looking something like this: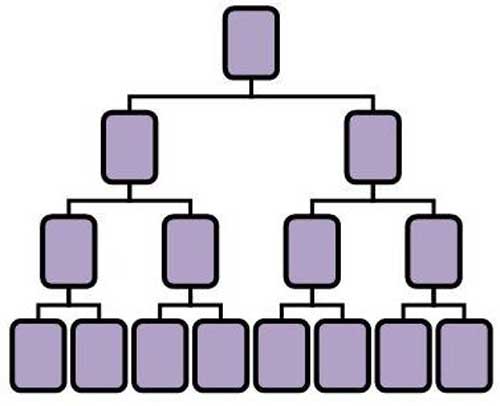 With a total of 32,766 member positions to fill, Blog Network pays you out a monthly commission based on how many members you have in your matrix.
Members can be recruited by yourself, or via your up and downlines. How much of a commissions Blog Network pays out is dependent on which level they fall within your matrix:
Levels 1 to 2 – 20c per member
Levels 3 to 5 – 40c per member
Level 6 – $1 per member
Levels 7 to 12 – 60c per member
Level 13 – 80c per member
Level 14 – $1 per member
Note that these commissions dollar amounts are slightly off due to the monthly membership fee not being a round dollar figure. That said we're talking fractions of a cent per member so for illustrative purposes to give you an idea they are close enough.
Matching Bonus
Blog Network's Matching Bonus pays out down 5 levels and carries with it additional recruitment requirements.
One level is defined as a recruitment generation in that members you personally recruit are your level 1, members they recruit are your level 2 and so on and so forth.
Level 1 – 30% matching bonus, must have recruited at least 5 new members to qualify
Level 2 – 25% matching bonus, must have recruited at least 10 new members to qualify
Level 3 – 20% matching bonus, must have recruited at least 10 new members to qualify
Level 4 – 15% matching bonus, must have recruited at least 15 new members to qualify
Level 5 – 10% matching bonus, must have recruited at least 20 new members to qualify
Joining Blog Network
Membership to Blog Network is $19.95 a month.
Conclusion
As far as blog networks go, it's been well documented over the past year or so that low-quality content farms have taken a hit. With members able to write about anything, no doubt it won't be long before the domain 'blognetwork.com' is seen as just another low-quality content farm on the internet.
Trading on the age of the domain name, it's important to note that whilst an aged domain name can help, these days individual pages are ranked rather than whole domains.
If you create a new blog on the domain blognetwork.com, with no clear-cut niche you're going to get minimal advantage from the domain name itself. If your content isn't relevant or useful, people still aren't going to read it, regardless of where you host it.
That pretty much blows the major selling point of Blog Network out of the water. I guess if you were new to all this and had no idea, the prospect of setting up a hosted blog might appeal to you and you could learn something from the training materials Blog Network provides, however free blog hosting is readily available – and so is online-based blog marketing information and training.
Compensation plan wise, Blog Network is a straight up recruitment driven plan. You get members to pay a monthly membership fee and you get paid. Your up and downlines can recruit and you will benefit from having these members in your matrix, but at the end of the day they still count as recruits. If people aren't recruited you don't get paid.
Thus with membership being marketed rather than any actual product, Blog Network looks strongly like a pyramid scheme attached to a blog network.
The company does tout the possibility to earn commissions of affiliate offers and advertising on the blogs hosted with them, but this isn't via the company itself, it's via third-party vendors and affiliates.
Company wise, 100% of the commissions paid out by Blog Network are derived from membership fees and ultimately it is membership that members of Blog Network are going to be marketing.
Membership alone isn't a viable product, which creates some serious questions about the legality and long-term viability of Blog Network and to a larger extent That Free Thing.
Mind you, this recruitment dependency has been an ongoing concern since That Free Thing launched in April 2011. Since then we've seen the company flounder with the launch of a few alternative revenue streams… but to date none of have proven well and truly effective.
Given the compensation plan backing Blog Network, I imagine this particular venture is going to be no different, with That Free Thing still failing to provide a sustainable business model that is viable in the long-term for its members.