TelexFree claim Homeland Security & SEC are lying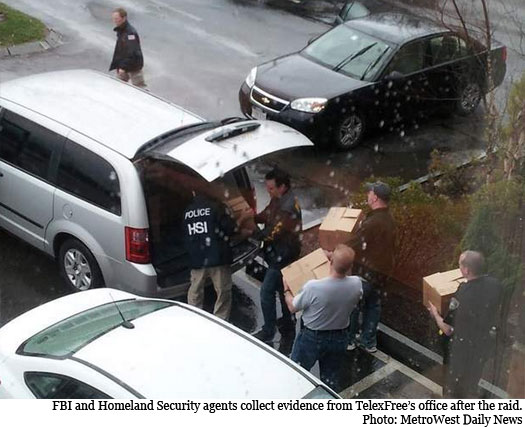 When news broke that TelexFree's Chief Financial Officer had been caught trying to escape with management's retirement funds, the evidence the FBI presented in court was pretty conclusive.
Filed in a Massachusetts District Court on April 16th, Scott Stanley, an attorney with the SEC filed the declaration of John Soares, a special agent with the Department of Homeland Security.
Soares' declaration details the attempted escape of Joseph Craft, aforementioned TelexFree CFO, and covers what went down when HSI and a number of other agencies raided TelexFree's offices last week:
During the exercise of the search warrant, a Bristol County Deputy Sheriff encountered Joseph H. Craft, the Chief Financial Officer of TelexFree, entering an office and attempting to grab a laptop and bag.

Craft stated that he was a "consultant" helping TelexFree prepare for bankruptcy and that the laptop and bag were personal items.

The Deputy Sheriff told Craft he could not take the laptop and bag and that these items were subject to search.

HSI agents searched the bag and identified ten Wells Fargo bank, N.A. cashier's checks totaling $37,948,296.
Included in the court-filed declaration, viewable over at the Boston Globe, are photos of all the checks the agents found.
This declaration was filed in support of the SEC's ex-parte emergency motion for a temporary restraining order (TRO) against TelexFree, which was granted the same day.
Now, in response to the filing, TelexFree are accusing the Department of Homeland Security, the SEC and a Bristol County Deputy Sheriff of lying.

In the April 19th press-release,TelexFree write
TelexFREE is concerned about recent inaccurate press reports and speculation regarding the Company and would like to set the record straight.

Joe Craft, TelexFREE's former consulting CFO, has been wrongfully accused of attempting to unlawfully remove funds or property from a TelexFREE location. The reports that Mr. Craft attempted to abscond with a laptop and cashier's checks are false.
False? Oh my!
The explanation TelexFree then offer up can only be described as hilarious:
The cashier's checks were in Mr. Craft's possession because the Company's bank accounts had been closed, which necessitated the Company obtaining the funds in the form of cashier's checks.

Upon the filing of the Chapter 11 cases, the Company determined to marshal all of the Company's funds for the benefit of the Chapter 11 bankruptcy estate. Mr. Craft had taken possession of the cashier's checks at the request of the Company's counsel and advisors in order to assure that the estate funds were protected.

Mr. Craft was holding the checks until they could be deposited in either a newly-established Company safe deposit box or an escrow account that the Company was in the process of establishing. The laptop was Mr. Craft's personal property.
Aware that the SEC were about to open up a can of whoop-ass on them, TelexFree filed for bankruptcy and closed its bank accounts. Then in an attempt to hide assets, they figured they'd just start up a new company and deposit the funds under that company's name.
So you see, good ol' honest Joe Craft is actually innocent. This has all been a terrible misunderstanding.
What a riot.
The only truth to be found in the above quoted paragraphs is the mention of protection. The funds Craft were caught with was likely all that remained of TelexFree's liquid assets in the US, which he was trying to "protect" from regulatory agents.
I imagine TelexFree would have tried to transfer the funds overseas (TelexFree Dominicana SLR suggests the Dominican Republic), where they believed the money would be irrecoverable. Stashed away until all this silly "largest MLM Ponzi scheme in US history" stuff blew over, at which point TelexFree's owners would go and collect them.
Closing out the release, TelexFree then go on to have a cry about nobody taking their version of events seriously:
Acting as Interim CFO for TelexFREE, Mr. Craft explained both the motive and the purpose of the transfer of funds to government officials onsite at the time the warrants were served. Counsel for the Company also informed the Securities and Exchange Commission of these facts yesterday. It is unfortunate that the filings and media reports ignore these facts.
Not so much "unfortunate" as it is everybody seeing through the ridiculous lies TelexFree and their lawyers are trying to spin.
Very specific amounts were made out to TelexFree management, their relatives and what appears to have been a new Dominican Republic based front company. At the very least that's an attempt to laundering illegal Ponzi proceeds… at the very worst? Well, we've already covered the thwarting of TelexFree's final exit strategy.
Oh and finally, the crap about Joseph Craft being a "former consulting CFO"? Hogwash.
Held in Febrary 2014, TelexFree affiliates were charged $350 a ticket a "Telex Global United Training & Education" event: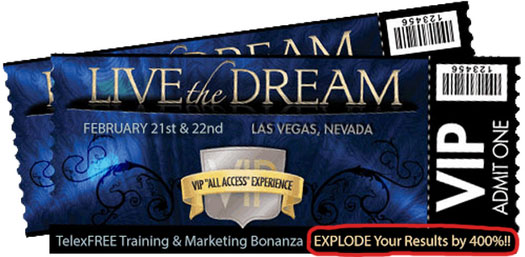 Come experience the inaugural TELEXglobal United TRAINING & EDUCATION event in Las Vegas sponsored by TelexGlobal, the premiere TelexFREE training and technology specialists… TXG TNT.

Come learn practical, how-to strategies to earn the income you dreamed about when you first joined TelexFREE.
The event was held over the February 22nd weekend, and here's the speaker schedule for Saturday:
​​ The Schedule below is so packed full of content, you may have to empty your brain half-way through. So come ready!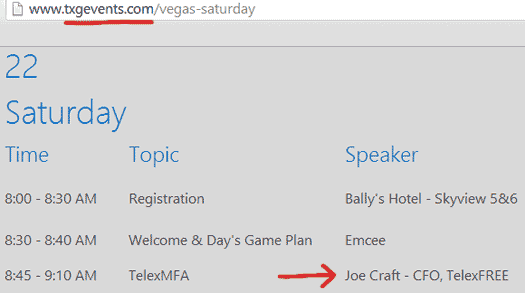 Speaking at 8:45 to 9:10am on "TelexMFA" is none other than "Joe Craft – CFO, TelexFree".
Quoting Faith Sloan, one of TelexFree's top promoters who is named in the SEC complaint, "TelexFree Millionaires Uganda" also cite Craft as "TelexFree CFO" in early February: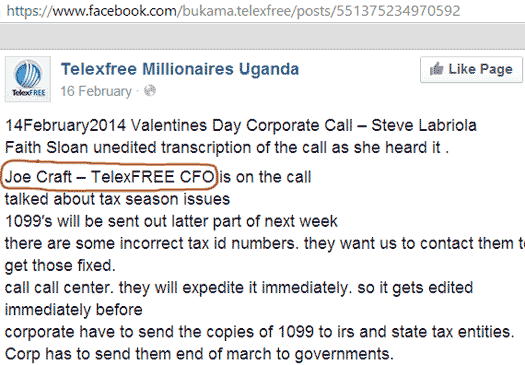 I can totally understand why Craft might start referring to himself as "former" CFO of TelexFree post SEC shutdown, but that's neither here nor there. Like it or not, he was offering tax advice to TelexFree affiliates and was clearly heavily involved in the company.
To bad when agents burst through the door he was left holding the bag… literally.
The footer of TelexFree's press-release states that 'Greenberg Traurig, LLP and Gordon Silver are serving as legal advisors to TelexFREE', however whether the law firm are specifically advising TelexFree to accuse US regulatory agencies of lying and submitting fraudulent declarations in court is unclear.
Looking forward, the next hearing in the SEC case is on Tuesday April 22nd, and it's likely that a permanent injunction will be issued against TelexFree on that day. How TelexFree's accusations against regulators might play out in court at the hearing remains to be seen.
As always, stay tuned…
Footnote: I couldn't help but notice Len Clements was listed as the keynote speaker at the Vegas "TelexFree rahrah" training event.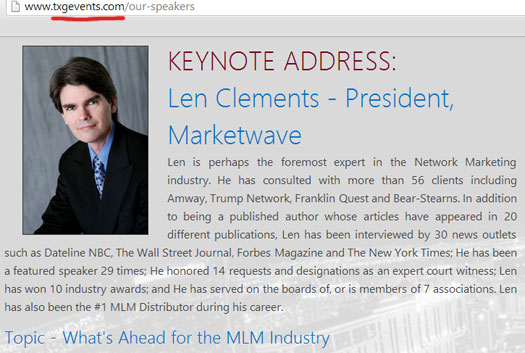 Clements' is no stranger to the MLM industry, so I'm rather at a loss to explain why he was there delivering the keynote address at a TelexFree Ponzi scheme training event.
Clement's address, "What's ahead for the MLM industry" was scheduled after a one-hour explanation of TelexFree's compensation plan (which presumably included the AdCentral Ponzi investment scheme component), which only makes his appearance all the more bizarre:

Surely something should have triggered in Clements' mind at that point?!
If you're reading this Len, what gives?
Update 21st April 2014 – I knew I'd seen Joe Craft's name elsewhere credited as TelexFree's CFO.
In an application to provide telecommunication serves to Alamaba TelexFree filed in March 2014, they credited Joe Craft as an employee. Specifically, Craft's "official title" was cited as CFO of TelexFree.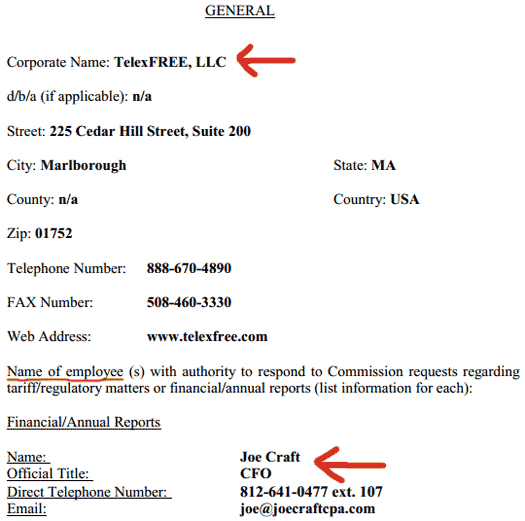 This is from TelexFree themselves, but please – continue to lie about Craft's involvement in the company guys. Presumably Craft's name appears on every other telecommunications application TelexFree have filed, so there's a mile long paper-trail crediting Craft as CFO.
I'm sure the SEC will have a field day with it when the time comes.