Sann Rodrigues pleads not guilty to visa fraud

Sann Rodrigues arraignment hearing was held yesterday, with the top TelexFree Ponzi pimp pleading not guilty to visa fraud.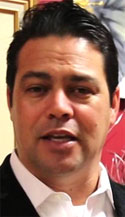 Rodrigues (right) was picked up by authorities in New Jersey, after he returned from a trip overseas on. The Department of Homeland Security allege the visa Rodrigues was travelling on was fraudulently obtained.
Should the matter go to trial, DHS are anticipating 'a trial lasting three days and estimate calling five to six witnesses'.
A status conference has now been scheduled for the 20th of October, 2015.
Separately the SEC are looking to see Rodrigues thrown back in jail for contempt of court. The complaint was filed as part of the SEC's civil TelexFree case against Rodrigues.
Having requested two extensions of time to reply to the motion, Rodrigues' response is now due by September 21st. It is expected a hearing date will be set shortly thereafter.
Stay tuned…
Footnote: Our thanks to Don@ASDUpdates for providing a copy of Rodrigues visa fraud case docket.
Update 20th October 2015 – Asking for more time to go over discovery and build a defense, Rodrigues' attorney has asked for a continuance until December.
Yesterday that motion was granted, with a status conference now scheduled for the 15th of December.
Update 16th December 2015 – A status conference hearing was held on the 15th of December.
The parties informed the Court that they are still reviewing the discovery in this case, addressing the somewhat related issues in the defendant's litigation that involves the Securities and Exchange Commission ("SEC"), and awaiting a reply from the U.S. State Department regarding certain documentary evidence.
Another status conference has been scheduled for February 8th, 2016.
Update 9th February 2016 – Citing the need for additional time to prepare for the case, a joint-motion to continue the February 8th hearing till April 5th has been granted.
Update 20th March 2016 – The previously scheduled April 5th hearing has now been rescheduled to April 19th.
Update 20th April 2016 – On April 15th a joint-motion was filed to reschedule the April 19th hearing.
Judge Bowler granted the motion and set a new Status Conference hearing for June 7th.