SwisCoin Ponzi scheme busted by Ukrainian authorities

SwisCoin launched in late 2015 and saw affiliates invest in "tokens" on the promise of a ROI.
SwisCoin's business model also incorporated pyramid fraud, with existing affiliate investors paid to recruit new investors.
On August 21st authorities in the Ukraine announced the arrest of SwisCoin ringleaders and seizure of over $500,000.
Through their website SwisCoin represented that the company was being run by Dmitrii Zubarenko.
Zubarenko was CEO of SCN Services, a company purportedly based out of Dubai.
That SwisCoin was being operated from Dubai, along with a bogus website domain registration tied to a virtual office address in Ireland, was baloney.
Following an investigation by the Ukrainian National Police, SwisCoin's owners were revealed to be Ukrainian and Indian nationals operating out of Ukraine itself.
Describing SwisCoin as an "organized criminal" outfit, investigators claim funds invested into SwisCoin tokens were
not used for their designated purpose of implementing a cryptocurrency, but only distributed among members of the criminal gang who appropriated them.
BehindMLM reviewed SwisCoin in August, 2015 and correctly identified it as a Ponzi scheme.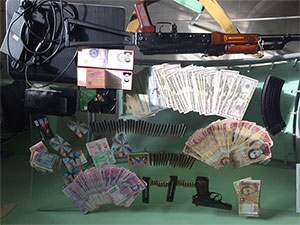 Sometime over the last week authorities conducted raids on properties connected to the criminal gang behind SwisCoin.
Over $500,000 USD, passports, electronic equipment, credit cards and weapons were seized.
The individuals behind SwisCoin have yet to be named.
Those arrested have been charged with violations of the Ukrainian criminal code, which carries a maximum penalty of 12 years in prison.