SwisCoin Review: $100-$11,000 crypto Ponzi points scheme

There is no information on the SwisCoin website indicating who owns or runs the business.
The SwisCoin website domain ("swiscoin.com") was registered on the 15th of September 2015, with Kathrine Harbor listed as the owner. An address in Dublin, Ireland is also provided.
Further research reveals this address belongs to Regus, who sell virtual office space. As such it would appear SwisCoin have no actual physical presence in Ireland.
As for Kathrine Harbor, outside of the SwisCoin domain registration, her name doesn't appear linked to SwisCoin.
I'm flagging this as highly suspicious, with there being a big question mark as to whether or not Harbor actually exists.
Update 30th July 2016 – The SwisCoin website now claims 'SCN SERVICES LTD is the company who has launched the SWISCOIN as an official from DUBAI.'
The CEO of SCN SERVICES LTD is Mr. Dmitrii Zubarenko who is the expert person for the administration of mega companies.
Zubarenko doesn't appear to have any MLM industry experience. /end update
Read on for a full review of the SwisCoin MLM opportunity.

The SwisCoin Product Line
SwisCoin has no retailable products or services, with affiliates only able to market SwisCoin affiliate membership itself.
The SwisCoin Compensation Plan
The SwisCoin compensation plan sees affiliates invest in tokens and get paid to recruit others who do the same.
SwisCoin Token ROIs
As with all MLM cryptocurrencies, SwisCoin affiliates receive tokens (points) in exchange for investing funds.
Beginner ($100) – 1000 tokens
Seller ($500) – 5000 tokens
Pro Seller ($1000) – 10,000 tokens
Express Seller ($3000) – 35,000 tokens
Platinum Seller ($5000) – 70,000 tokens
Premium Seller ($11,000) – 150,000 tokens
Affiliates convert these tokens into SwisCoins, with the value of SwisCoin pegged to the rate of new investment flowing into the company.
At the time of publication, there doesn't appear to be any way to convert SwisCoins or SwisCoin tokens into cash.
Investment Referral Commissions
SwisCoin affiliates are paid to recruit new affiliates and encourage them to invest, with commissions paid out via a unilevel compensation structure.
A unilevel compensation structure places an affiliate at the top of a unilevel team, with every personally recruited affiliate placed directly under them (level 1):

If any level 1 affiliates go on to recruit new affiliates, they are placed on level 2 of the original affiliate's unilevel team.
If any level 2 affiliates recruit new affiliates, they are placed on level 3 and so on and so forth down a theoretical infinite number of levels.
SwisCoin cap payable unilevel levels at six, with how many levels an affiliate can earn on determined by how much money they initially invested:
Beginner ($100) – 10% on level 1
Seller ($500) – 10% on levels 1 and 2
Pro Seller ($1000) – 10% on levels 1 and 2 and 20% on level 3
Express Seller ($3000) – 10% on levels 1 and 2 and 20% on levels 3 and 4
Platinum Seller ($5000) – 10% on levels 1 and 2, 20% on levels 3 and 4 and 25% on level 5
Premium Seller ($11,000) – 10% on levels 1 and 2, 20% on levels 3 and 4 and 25% on levels 5 and 6
Note that in order to qualify for referral commissions, a SwisCoin affiliate must recruit at least two affiliates.
Residual Commissions
Residual commissions in SwisCoin are paid out via a binary compensation structure.
A binary compensation structure places an affiliate at the top of a binary team, split into two sides (left and right):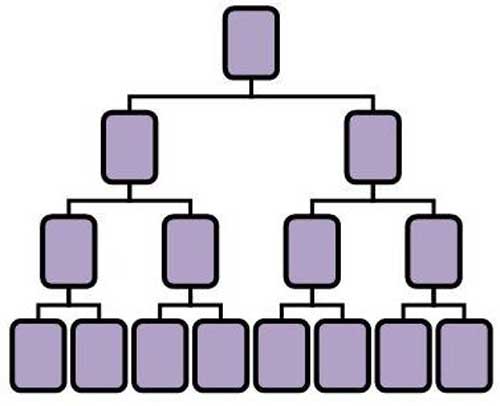 Positions in the binary are filled via the direct and indirect recruitment of new SwisCoin affiliates.
Investment (and re-investment) volume is tracked on both sides of the binary, with a 10% commission paid on invested funds matched using a 1:1 ratio.
Note that only 80% of binary commissions are paid out, with the remaining 20% having to be reinvested back into more SwisCoin tokens.
Joining SwisCoin
SwisCoin affiliate membership is $20, in addition to investment in one of the following six available packages:
Beginner – $100
Seller – $500
Pro Seller – $1000
Express Seller – $3000
Platinum Seller – $5000
Premium Seller – $11,000
The primary difference between these investment packages is income potential through the SwisCoin compensation plan (see above).
Conclusion
SwisCoin isn't anything we haven't seen before, with the scheme continuing the Ponzi points cesspool that currently passes for the MLM cryptocurrency niche.
In SwisCoin marketing you're no doubt going to see the usual comparisons to BitCoin, promises of public exchange trading and guarantees that so long as people continue to invest, the price of SwisCoin will reach infinity dollars.
The residual and referral commissions add a pyramid layer to the scheme, encouraging the recruitment of new investors.
All par for the course in MLM cryptocurrency Ponzi points scams.
Despite the obviously meaningless Irish address in the SwisCoin domain registration, this one looks like it's being run by non-native English speakers.
This is evidenced by the numerous grammatical errors and bad translation present on the SwisCoin website:
The main function of the early "SwisCoin" is just used as a tool to advance some of the trading platform, with frequent network transactions, this Digital Currency come from western attract by most Global enterprise concerns.
My guess is that SwisCoin is being operated out of Eastern Europe or Asia.
As with all cryptocurrency Ponzi points schemes, problems will surface once monthly withdrawals exceed the rate of new investment entering the scheme.
This occurs on an exponential scale, with the early stages of the company seeing affiliates reinvest funds to obtain higher SwisCoin token balances.
Once early investors reach enough points to make sizable withdrawals, they do so each month – effectively stealing from those still diligently building their token balances.
Once enough affiliates reach accumulate enough tokens to begin withdrawing sizable amounts each month, the scheme collapses under its own weight.
I suppose before a regulator moves in to shut down the latest iteration of MLM Ponzi fraud we're probably going to see a few more schemes pop up – of which SwisCoin is simply the latest.
Here's hoping a the first MLM cryptocurrency regulatory shutdown isn't far off…