RBI: Banks want nothing to do with Speak Asia

For as long as I can remember, I've maintained that in the face of any criminal investigation or pending subsequent legal action against Speak Asia, any civil action in an attempt to recover money owed to panelists is a waste of time.
Common sense dictates that if someone owes you money and they're under criminal investigation and/or facing criminal legal action – any attempts you make to recover your money will take a back seat and not go anywhere until the criminal matter is resolved.
Such is the case with Speak Asia.
Courts aside, in order to pay panelists the money has to go through banking channels. The problem here is that currently it is common belief that the Reserve Bank of India (RBI) cautionary circulated to banks in India is to blame for this.
The general implication put forth is that if the RBI retract this cautionary, that the banks will play ball with Speak Asia and payments will start rolling out.
This of course makes no sense whatsoever because in the cautionary, the RBI never actually ordered any of the banks in India to not do business with Speak Asia. This was asserted by the RBI in a previous 'right to information' (RTI) document sent to Speak Asia panelist Swapnil Kumar back in October.
Ergo, the banks are acting entirely of their own volition.
In this original RTI document, the RBI also declined to provide a copy of this circular. This could be construed as the RBI hiding something, but as it is well-known that the Enforcement Directorate and Income Tax Department along with the Ministry of Corporate Affairs are gearing up to take Speak Asia to court in December over charges of money laundering and tax evasion, one can conclude that the confidential information in the RBI cautionary is related to these criminal investigations.
The RBI themselves have stated they never launched a criminal investigation into Speak Asia, so it make sense that they'd pass on their own findings to other agencies who were doing so. And until these other agencies investigations were concluded, naturally this information would remain confidential.
Regardless, what's important to take away from the RBI's original response to Kumar is that they themselves at no time instructed any bank not to do business with Speak Asia.
Not happy with this response, Swapnil Kumar again fired off a second RTI to the RBI which I believe was mailed by the end of October.
Sometime within the last few days Kumar got his second reply and in it, once again the RBI confirm that they have not instructed any bank to not do business with Speak Asia.
In his second RTI, Kumar specifically asked the RBI for an explanation regarding a rejected wire transfer of funds sent by Speak Asia from Singapore to DBS bank in India.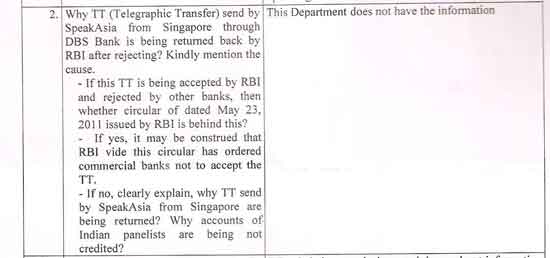 As you can see, to this query the RBI replied:
This department does not have the information.
And why would they? With the RBI already having explained that they did not instructed any bank to not do business with Speak Asia, it is clear that the banks are acting on their own accord.
The RBI cautionary no doubt mentioned that the RBI were looking into Speak Asia's financials, along with the noting that Speak Asia was under investigation.
Or in the RBI's own words;
We issued a confidential circular dated May 23, 2011 to all scheduled commercial banks to be more careful in opening and operating such accounts (of companies being suspected and investigated for being
'money circulation schemes).
As neither the fact that Speak Asia is being criminally investigated, nor the RBI having formally announced the conclusion of its own investigation into Speak Asia has not changed, the logical train of thought is that the banks will thus continue to refuse to do business with Speak Asia until both matters are concluded.
The reasoning for this is simple and no doubt also explained in the RBI cautionary. If a bank is found to have enabled Speak Asia to conduct business in India, via means of using their banking channels, they are ultimately liable should the company be found to be guilty of a crime.
To date, the ED have announced plans to charge Speak Asia with money laundering, the IT department have confirmed Speak Asia and it's management did not pay income tax, the MCA (through the SFIO) have announced they plan 'to nail' Speak Asia once their investigation is concluded mid-May and the EOW have announced that Speak Asia are 'the biggest MLM fraud' they have ever investigated.
No doubt the banks are paying attention and will continue to reject any transaction attempts by Speak Asia into India. Simply put, there's just too much liability on their part.
This liability remains even if the RBI cautionary is retracted, and as such there's not much point calling for a retraction either.
Looking at the bigger picture, specifically the recently initiated mediation process between Speak Asia and its panelists moderated by former Chief Justice Ramesh Lahoti, once again I put forth that ultimately no conclusion from this matter can possibly result in payments being made to panelists.
This committee, referred to as the Lahoti Committee, was formed with the sole purpose of mediating a civil dispute between panelists and Speak Asia regarding non-payment of commissions owing.
Whilst the Lahoti Committee mediation process is ongoing, at its end ultimately panelists will either get paid or they won't.
As it stands, with the banks refusing to do business with Speak (entirely of their own accord) – can anyone suggest how payment to panelists from Speak Asia is possible?
I mean it's not like the Supreme Court can order a bank to do business with Speak Asia now is it. A court can hardly guarantee indemnity to a bank for servicing a client whilst criminal investigations are open and legal action are currently being prepared against the client.
That makes no sense at all.
The Lahoti Committee's first meeting was last Monday on the 28th December. Despite sitting for four hours, as of yet no future date has been set for another meeting and even the details of the meeting itself have been kept out of the public sphere by all in attendance (including Speak Asia themselves).
One would think that should another meeting be required, a date could have easily been set on the Monday itself. But what if it isn't?
Lahoti himself must know at this stage that any decision he makes is toothless until the banks are ready to conduct business with Speak Asia, and we know that's not going to happen until the investigations into Speak Asia are concluded and the company is cleared of all criminal charges.
With no firm date possible for the above, could it be that Lahoti himself suggested so at the conclusion of Monday's meeting? It would certainly explain why no future date has thus been set and also indirectly explain the deafening silence regarding what was discussed in the four-hour meeting.
Despite the constant dismissals and ridicule of the criminal action against Speak Asia by its members, ultimately they and the Lahoti Committee would appear to be at the mercy of their conclusions.
That said, why Speak Asia, its senior panelists and AISPA's refusal to go public and relay this information to the company's panelists remains a mystery.
You can view the full November RBI response to Swapnil's RTI below (click to enlarge):
Page 1
Page 2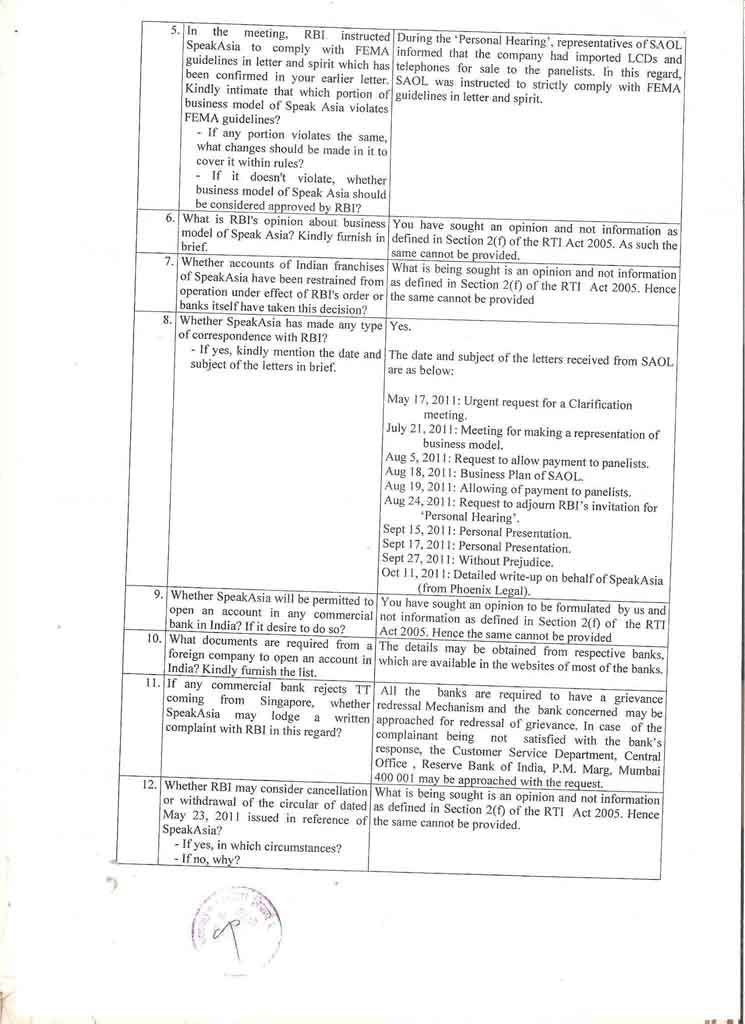 Original RTI responses sourced from SpeakAsia MobiClub.