Mumbai High Court: Speak Asia is a pyramid scheme

It's been nearly two years since Speak Asia was shut down by the Indian authorities and since then, apart from some very public arrests, publicly little progress seems to have been made.
Led by a group of ringleaders with a murky connection to Speak Asia's upper management, those who profited in the Speak Asia scheme have worked diligently to quell concerns those that lost money in the scheme.
Dangling the carrot of a business restart and the possibility of then recouping their investments via the recruitment of new investors, this strategy has largely worked.
Not due to any scrap of common-sense of plausibility of course, but rather the perception that the Indian legal system has been a playground for Speak Asia.
Hiring the best lawyers money can buy (paid out of Ponzi funds siphoned offshore), Speak Asia have thus far gotten away with lying to the Supreme Court of India, planting the seed that mediation could somehow absolve them of running a Ponzi scheme and insisting that if they just had a chance to explain their business model to a judge, that they'd be cleared of any wrong doings.
After a series of setbacks (much of Speak Asia's legal proceedings were systematically demolished in late 2012 and early 2013 for being the time-wasting exercises that they were), in the anticipatory bail application for the All India Speak Asia Panelist Association (AISPA) Secretary, Ashok Bahirwani, for the first time ever an Indian court finally passed public comment on Speak Asia's business model.
The verdict?
Speak Asia is a pyramid scheme.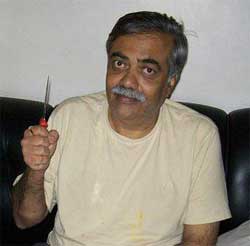 Ashok Bahirwani (photo right) is largely seen as a frontman for the management of Speak Asia, who are mostly either hiding out in India itself or are fugitives in Singapore and Dubai.
Speak Asia's CEO, Manoj Kumar, was in Dubai when Speak Asia were shut down and hasn't been back to India since, despite promising to do so in May 2011.
As such, AISPA was formed and have pretty much been coordinating and running all things Speak Asia at a local level.
Following the arrest of several key AISPA players, including President Melwyn Crasto (who was unable to explain several payments from Speak Asia that were unrelated to his tenure as a panelist of the company), the authorities began to move in on Bahirwani himself.
For over six months now the authorities have been engaged in a sparring match between Bahirwani. Upon first learning the Economic Offenses Wing (EOW) were after him, Bahirwani went into hiding for over a month, only surfacing when his bail application hearing was heard and he was given temporary protection against imminent arrest.
After resurfacing under the assurance that he was not to going to be arrested, Bahirwani then submitted to a series of interrogations with the EOW, in which he was reported to have been uncooperative.
The months dragged on and in an attempt to guarantee that he would be released on bail should the EOW arrest him at a later date (temporary protection against arrest is only that, temporary), things came to a head mid March when the Mumbai High Court denied Bahirwani's plea.
That however wasn't what should be the primary focal point of the order denying Bahirwani's anticipatory bail request. After reading Tarak Bajpai's explanation of Speak Asia business model (submitted via affidavit), in a lengthy order Judge Joshi surmised exactly what he thought of Speak Asia and its business model:
(The) activities of Speak Asia comprise of an unnoticable blend of a scheme titled as survey scheme and remuneration through it is in fact a money circulation scheme.

It is seen that the money to be circulated is to be flown initially from panelist, when he registers himself, to the principal company.

The returns are in the form of purchase/receiving goods on redemption of credit points earned against propagation of scheme and enrollment of new individuals as panelist.

Thus, what Speakasia is doing in its own words and to be presented in condensed form is as a sale promotion scheme, however, in reality what Speak Asia and its panelists are doing is an activity which is primarily money circulation scheme under the camouflage of a business enterprise.

It is clear that for the returns to be received, no services are to be rendered by the panelists to Speak Asia Ltd., and returns have to come from similar investors titled as panelists and the structure in the shape of pyramid of panelists is formed.

The modus operandi has been carved out by the company Speak Asia in such a sophisticated manner by employing talent and brain, as a business enterprises, nevertheless it turns out to be a money circulation scheme.

It is so heavily camouflaged, that in absence of effort to understand the modalities and thrashing of facts, the genesis would not surface. However, in the light of respective pleadings now the situation has become vivid.

Those at the bottom keep on paying to those at the top. Prima facie it turns out to be case of money circulation prohibited under section 3, 4, 5 and 6 of Prize, Chits and Money Circulation Scheme (Banning) Act, 1979 and as well offence under section 406, 420, 120-B of IPC.
It's been two gruelling years of marketing spin and a nation-wide campaign of misinformation spread by those involved in the scheme, but there it is.
As to why Bahirwani was denied anticipatory bail, that was primarily due to his obvious involvement in the running of Speak Asia beyond that of a regular panelist (as he has consistently tried to refer to himself).
Judge Joshi noted,
(Bahirwani) claims that he has also invested money to the tune of Rs.64,000/- and he is yet to receive assured returns from the company Speak Asia.

He claims that he is organising or consolidating the persons like him who have to receive something from Speak Asia. Rather he speaks for such panelists.
The above is in direct reference to Bahirwani's involvement in AISPA. Careful not to be seen as running things, it's been blatantly obvious from day 1 that he's the mastermind behind the association and running of Speak Asia at a local level.
He has opened up a blog/site etc. on internet and has published certain text thereon which discloses that he is a propagator of the scheme operated by principal company.

The text on blog is a camouflaging to be panelist, however he is advocating or speaks for protection of Speak Asia and promotion of its activities.
The site mentioned is that of AISPA's website, where Bahirwani published numerous "updates" as the mouthpiece of Speak Asia's management, singing its praises and promoting the idea that Speak Asia would be restarted  (until the EOW started interrogating him and he went underground).
And here's the crux of the anticipatory bail denial,
Notwithstanding the applicant's plea that he too has got same background like the complainant, the applicant has failed to explain as to how he has continued to advocate cause of Speak Asia.
The "complainant" refers to the panelist who filed the FIR the EOW's investigation is based on. A regular panelist, Bahirwani claims he too is of the same caliber and thus has every right to be granted anticipatory bail.
Seeing through the spin however, Judge Joshi disagreed on account of Bahirwani being unable to explain why he so heavily advocated Speak Asia's cause on the website. Indeed far above that of any "regular" panelist.
I suspect that Bahirwani's failure to adequately explain his actions is that in doing so, he would inadvertently reveal to the true extent of his direct relationship with Speak Asia and its management.
It's no secret that Bahirwani's lawyer in the matter, Ahmad Abhdi, has represented Speak Asia's CEO Manoj Kumar in the past.
As to what happens now, that is not quite clear to me. I've read rumblings of Bahirwani taking this to the Supreme Court but given the damning assessment of Speak Asia and Bahirwani's involvement in the scheme, that would seem to appear to be a rather pointless exercise.
Speaking of pointless excercises, on the 18th of March (the day before Judge Joshi's denial of Bahirwani's anticipator bail), Speak Asia filed a writ in the Mumbai High Court,
requesting the Honourable court to direct the Mumbai EOW to hand over the database of the panelist so that we can execute the exit option at the earliest.
The hearing for this application (WP 1127/2013) is set for today (April 5th, 2013). In light of Judge Joshi's analysis of Speak Asia, good luck getting anything passed guys.
Meanwhile the tail end of Judge Joshi's order states that Bahirwani will continue to receive "interim protection" from arrest until April the 12th, but what happens after that is unclear.
One would hope the EOW will seize on the opportunity to arrest Bahirwani and progress further in their criminal investigation. I'm sure the CID and other investigating agencies will have their own questions too.
I suspect that without his arrest protection order, Bahirwani might not be so smug and uncooperative during interrogation.
Whether or not any of this will result in the eventual arrest and bringing in of Manoj Kumar and other ringleaders however, remains to be seen.
Stay tuned…
Footnote: The anticipatory bail denial order was passed on March 19th but was only recently made available. It can be seen in full on the Mumbai High Court website.