Say Your Way Review: Survey scam model resurfaces

Say Your Way launched earlier this year and is headed up by CEO Brian Marsh, Chief Operating Officer Martin Duke and Chief Marketing Officer Kitty Leung.
Say Your Way claim Marsh
has owned and operated advertisement agencies, studios, and other small advertisement businesses throughout the world. He also serves as a board member for several different creative agencies.

Brian has been actively involved in the advertisement industry for 25-plus years and has been involved in the direct selling industry for more than 16 years.
I can't comment on the advertising industry but as far as MLM goes, all I could find was a now defunct blog (brianmarsh.net), indicating Marsh had joined Organo Gold in February 2012:

One would assume with his new CEO responsibilities that Marsh is no longer an Organo Gold distributor.
A Kitty Leung appears to have at some point been involved in Canadian MLM company 'Lifestyles' as a 'Global Marketing Director', marketing botanical juice.
The domain 'sayyourway.com' was registered on the 6th December 2011, however the domain registration information is set to private. As far as MLM companies go, private domain registration is usually a red flag as it indicates a reluctance towards transparency in divulging information about the business.
Furthermore on the Say Your Way company website, a company address is provided at
12/F International Commerce Centre
1 Austin Road West
Hong Kong
A Google search on this address shows a number of businesses operating out of this address, indicating this is nothing more than a virtual office.
Throwing more confusion into the equation, the Say Your Way website is currently being hosted in Singapore and the company's "Disclaimer" states that
You agree that any legal action or proceeding between sayyourway.com and you for any purpose concerning this Agreement or the parties' obligations hereunder shall be brought exclusively in a federal or state court of competent jurisdiction sitting in Indonesia.
This strongly indicates that, despite using a US based domain privacy company, having a virtual office in Hong Kong and website hosting in Singapore, Say Your Way appears to operating out of Indonesia.
Read on for a full review of the Say Your Way MLM business opportunity.
The Say Your Way Product Line
Say Your Way has no retailable products or services. Instead, members are only able to market membership to the company itself.
The Say Your Way Compensation Plan
Say Your Way offer two primary commissions to their members, those paid out upon completion of surveys and those paid out on the recruitment of new members.
Survey Commissions
Say Your Way pay members $20 per advertisement watched, survey filled out or feedback provided (feedback on what though the company does not specify).
Say Your Way will send one of the above to members each week, meaning a standard member can receive up to $20 a week in "survey" commissions.
Say Your Way members however are able to purchase a maximum of 8 "subpositions" with each membership they purchase, with there seemingly being no limit on the amount of membership positions (or subpositions) a member can purchase.
Thus, as long as annual membership fees are paid for each membership account purchased, members are theoretically able to earn unlimited $20 survey commissions each week.
Recruitment Commissions
Using a binary commissions structure, Say Your Way pay out pairing commissions to their members.
A binary commissions structure places you at the top with two member positions directly underneath you. These member positions form the start of two teams, with each splitting into two member positions under it and so on and so forth: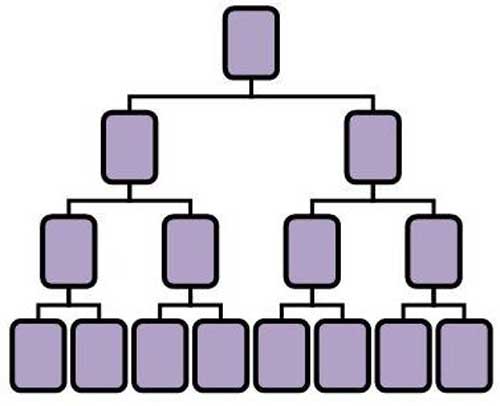 Say Your Way pay out $15 USD for every new member recruited. For every subposition a member creates under their main membership account (limited to 8 per membership account), the company also pays out a $10 commission (effectively functioning as a cashback).
At the end of every day, members are also paid a commission based on the amount of paired positions they have in both their left and right binary teams.
A binary pair is defined as one member on your left team and one on your right team. For each new pair found, Say Your Way pay out members a $25 commission, capped at 20 pairs a day ($500).
Members in a binary downline can only be paired once, thus this is a one-time commission paid out on the creation of new pairs.
Subpositions purchased under a main membership account also have binary teams under them and attract paired commissions, however subposition pairs are counted as pairs of 3 new member positions on both sides of the binary.
Subposition binary pair commissions are capped at 10 a day and pay out $35 a pair ($350 total).
Joining Say Your Way
Membership to Say Your Way is $300 USD annually.
I believe subpositions also cost $300 annually, with a maximum of eight subpositions being able to be purchased under one primary membership position.
Conclusion
Revenue wise analysis of Say Your Way is a no-brainer, with the entirety of revenue coming via the paying of membership fees by company members. Otherwise there's no logical reason whatsoever to charge people money to fill out surveys, unless of course you're using that money to pay out trickle commissions on the proviso that they'll recruit new members before you pay out their initial seed money.
Looking at the surveys, the idea put forth is that the world is just bursting with companies willing to pay people $20 USD a week to do a survey. When you consider that one person can claim $20 no less than twenty-seven times for watching the same advertisement, filling out the same survey or sending in the same feedback form, things get even more implausible.
History wise Say Your Way has a near identical business model to the Ponzi/pyramid scheme hybrid Speak Asia.
Offering members $20 a week for completing surveys and costing $220-$240 a year to join and similar paired binary commissions, Speak Asia was a multi-million dollar Ponzi scheme that was shut down by authorities in India after the company made false claims about having actual survey clients. It was later of course revealed that none existed, meaning all money coming into the company was via membership fees.
Oddly enough, like Say Your Way, Speak Asia was also hosted in Singapore whilst primarily operating offshore in another country. Quoting membership prices in USD, I'm not sure whether Say Your Way is targeting a global audience or have limited themselves to Indonesia.
In any case, the company's legitimacy entirely depends on the existence of companies willing to pay out thousands of dollars each week to have Say Your Way's members fill out their surveys and feedback forms or watch advertisements.
In the absence of any indication or proof of actual corporate clients signing up to the Say Your Way service and given that Speak Asia, with nearly two million members pushing through hundreds of millions of dollars in membership fees, used the same business model and had no such corporate clients, I'm inclined to say they don't exist.
What you're then left with is a simple Ponzi scheme, which pays out an annual ROI using a pyramid scheme binary structure to attract new investors. This is evidenced by how Say Your Way themselves define their business opportunity:
The USD 300 you have invested seems like a tiny speck compared to the earnings that flow in from all directions.

What next? A simple joining process and you are on!
Those looking to join Say Your Way would do well to thoroughly read up on Speak Asia and the millions it left out of pocket in India. Speak Asia's CEO's Manoj Kumar and Harendar Kaur siphoned off hundreds of millions of dollars out of India and are currently wanted by Indian authorities, with both believed to be hiding out in Singapore and Dubai.