RB Global Crypto Bank coder threatens whistleblowers with legal action

A coder behind the RB Global Crypto Bank Ponzi scheme has threatened whistleblowers with legal action.
Bobby Sehgal styles himself as "Bobby Sehgal VP" on Facebook, though we're not sure what he's the Vice-President of.
Nonetheless, not happy about being called out over his involvement in RB Global Crypto Bank, Sehgal took to Facebook yesterday to address his critics.
Directly confronting those who believe he was an integral part of the Ponzi scheme, Sehgal wrote;
I am probably the ONLY admin with balls to come onto this group to comment on my behalf.

I dont know why u guys are trying to damage my name or company which has absoluty no dealings with RB.
The company Sehgal references appears to be Spy-da Music Group, a music production company based out of the UK.
I only got into cryto in 2018. So you dicks going around stating things that are absolute bullshit and NOT facts.

I was simply working as coder. A FUCKING CODER TO HELP FIX PROBLEMS RB HAD.

I have been getting legal advise daily and am now stating the FACTS.

I have done nothing wrong in working for a company i tried to help.

I am now warning you all. The next person that posts my family home address or business that has no dealing with RB you will be talking to my solicitor..

I do NOT own the RB business. I did not receive any payment or members funds.

They are were YOU ALL sent them!!! So stop bringing me into your personal problems with a company. Your problems are NOT with me. Did you all pay me? Did i ask you to send me funds.

I dont even know any of you.

I like others am being patient.

Im just trying to do what is right for the situation i am in. I am not at war with anyone not do i wish to be. Especially with people ive never met or done anything to.

There are many people that know me closely and would 110% disagree with each and every comment you have posted about me. That's NOT me, my personality or character to ever FUCK any one over. Especially people I dont know.

Yes I have people invested. Maybe like you maybe not. But ask yourselves this. If you had a problem with any company would be you be taking it out on each employee personally. The answer quite simple is NO.

Ffs people stop this shit with me. Its getting out of hand!

I will not comment any futher. If my company details are NOT removed in the next 24 hours.

You will be hearing from me then my solicitor.
Despite claiming he's only an unpaid coder, Bobby Sehgal's Facebook profile is plastered with RB Global Crypto Bank advertising: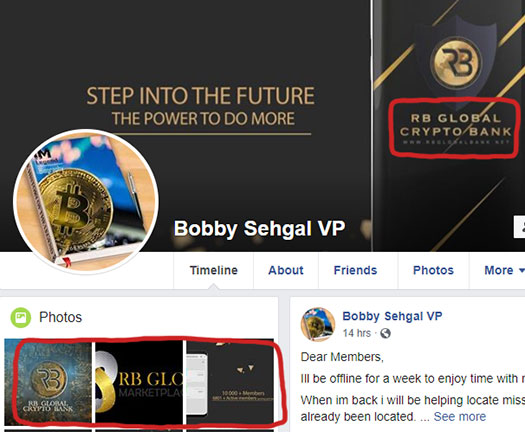 Purportedly, in a since-deleted news post on RB Crypto Global Bank's website, Sehgal admitted to having "over 100 downlines" in the scam.
Hi @everyone my loyal followers. This is Bobby Sehgal. I have access to the news channel at the moment!

THERE IS NO COUP! THERE ARE NO OTHER ADMIN MEMBERS WITH ME. THERE IS NO OTHER BUSINESS I WISH FOR YOU TO FOLLOW ME INTO.

I CHOSE TO DO THIS AND STAND TO LOSE ALL BTC THAT I BUILT OVER THE 1 YEAR.

1 HAVE OVER 100 DOWNLINES TO ANSWER TO THAT HAVE BEEN OR I'VE BEEN INFORMED ARE BEING BLOCKED.

THEY HAVE DONE OR SAID ABSOLUTLY NOTHING?

HAVE THEY BREACHED RBs and Lauries Terms & Conditions?

Today I've have been threatened

I AM IN MORE DEBT THAN I FIRST STARTED RB. YOU HAVE ALL SEEN THE WORK I HAVE PUT IN AND AGAIN….YES AGAIN…I ALSO HAVE NOT BEEN PAID.

WHICH WAS PROMISED TO ME AND YOU GUYS TIME AND TIME AGAIN!

I GOT INTO THIS TO MAKE A BETTER LIFE FOR MY FRIENDS AND FAMILY.

DO NOT INVEST ANYMORE OF YOUR HARD EARNED MONEY!

WAIT UNTIL YOU ARE BETTER INFORMED TO WHAT IS HAPPENING. I will be in touch with you all!

@Laurie times up mate! I have started what I need to. Your the one who chose to play these games.

You had your chance buddy I will not be backing down like the last members you got rid of.

To all other member, believe me I know how you feel!

I sacrificed most of my savings, time, energy and friendship with others to help Laurie to make this a success!
Back in May Sehgal was advertising an "RB Global Marketplace".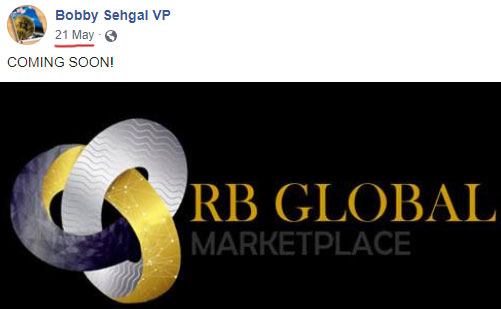 As at the time of publication the RB Global Crypto Bank website is offline.
The status of owner Laurie Suarez and funds invested into RB Global Crypto Bank is unknown.