Race Cycler the direct successor of TNT Rotator?

In our initial BehindMLM review of Race Cycler, it was noted that affiliates were naming Kent Brown as the owner of the company.
As is typical with the MLM underbelly, the amount of smog surrounding Race Cycler is as thick as a Beijing Monday.
In the aftermath of the failed August 8th launch, Race Cycler affiliates "in the know" have been holding calls where a combination of server errors and payment processor problems have been cited for Race Cycler's launch delay.
When exactly Race Cycler will launch is up in the air, with affiliates confirming problems with both Paypal and Solid Trust Pay being largely behind the delays.
Paypal have a strict no MLM policy (which extends to its MLM underbelly variants), but the problems with Solid Trust Pay are an eye-opener. Solid Trust Pay aren't exactly known for their adherence to regulatory compliance, so if even they won't have anything to do with Race Cycler, make of that what you will.
I have seen iPayout touted as a possible replacement, but nothing concrete. If they do decide to get on board, it'd certainly be sending mixed messages to the industry.
It was only a few weeks ago iPayout kicked Argent Pay to the curb, with the scheme later confirming they had compliance issues in the US.
Anyway, while Race Cycler scramble to find a payment processor desperate enough to take on the risk of managing backoffice transactions for their cylcler pyramid, new information suggests the scheme might be more closely related to TNT Rotator than first thought.
As previously revealed in our Race Cycler review, Kent Brown was an affiliate in TNT Rotator: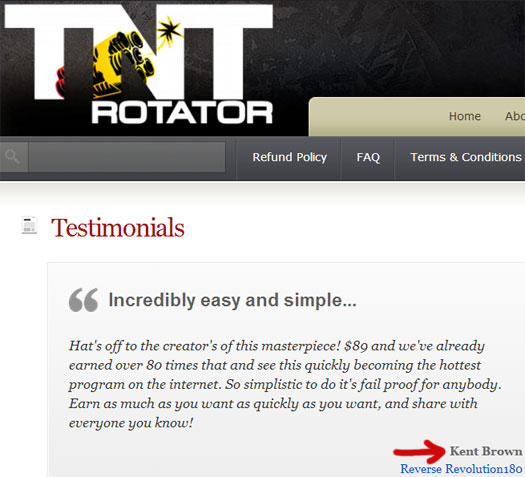 He wasn't the owner though, leading us to believe that if he was indeed behind Race Cycler, that he was branching out on his own to position himself at the apex of his very own cycler scam.
Our research begins with us trying to establish who actually owns TNT Rotator.
Unfortunately the TNT Rotator website isn't much help. There's no mention of who's running things and the "tntcycler.com" domain registration is set to private.
Our first clue is on the TNT Rotator page itself, where a link to "TextAdsViewer" is displayed on the homepage: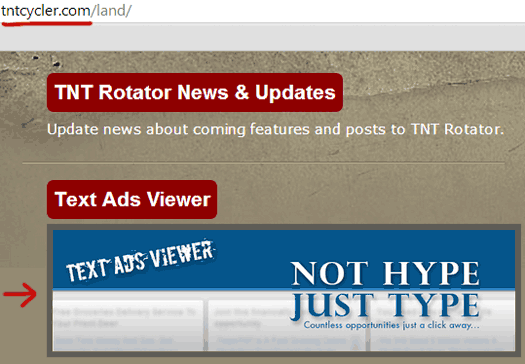 A visit to the TextAdViewer website ("textadviewer.com") reveals it to appear to be an ad dump for TNT Rotator affiliates.
If one tries to login into the site, they're advised that
to have a membership to this website, you must join TNT Rotator at this time.
Note at the bottom of the page the text attributing ownership of the site to "Get Success LLC". Remember that name.
Our next step is finding a link between Get Success LLC and TNT Rotator. The corporation doesn't appear anywhere on the TNT Rotator site, however the web designer the owner of TNT Rotator used to design the TNT Rotator site includes it in their online portfolio.
In listing TNT Rotator in their portfolio, Austin Web Development reveal that the owner of TNT Rotator is indeed Get Success LLC: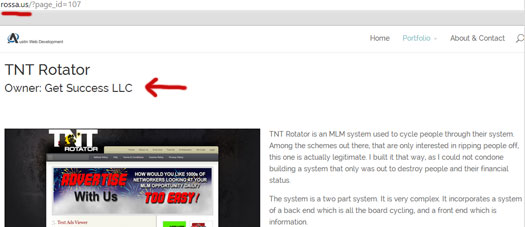 Alright Oz, so Get Success LLC owns TNT Rotator – what does that have to do with Race Cycler?
Before Paypal shut them down, one Race Cycler affiliate posted a guide on how to fund a Race Cycler account through Paypal: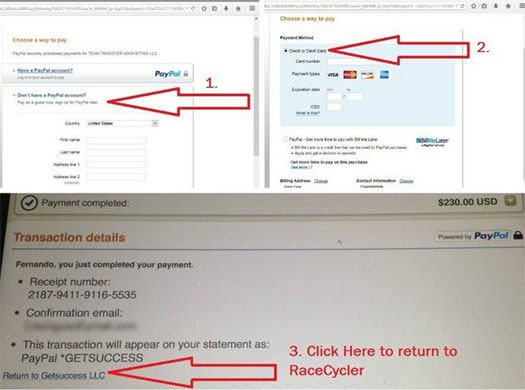 Note that third step, specifically the company name associated with the Paypal account the $230 Race Cycler fee was paid into.
"Return to Get Success LLC".
Shutdown or not, the same company that's behind TNT Rotator are/were accepting payments for Race Cycler. Is it just a co-incidence that Race Cycler's inner circle then just happen to be TNT Rotator affiliates?
Hardly.
Whoever owns Get Success LLC quite obviously owns Race Cycler too.
And that would be…?
Get Success LLC is a registered corporation in South Carolina. Unfortunately however, and fitting with the private domain registrations of Race Cycler, TNT Rotator and TextAdsViewer domains, the company was registered through an agent.
Thus the South Carolina corporation listing for Get Success LLC is a dead-end: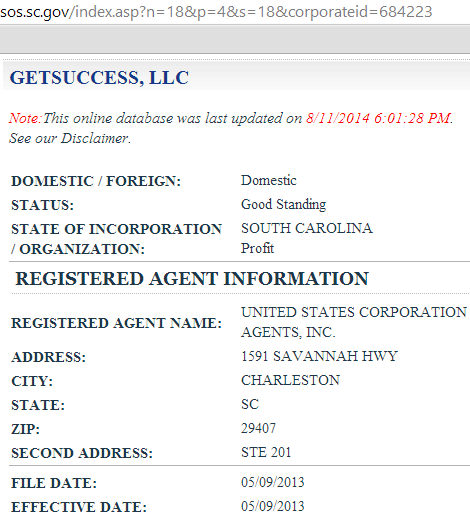 Whoever is running Race Cycler, TNT Rotator and Get Success LLC clearly doesn't want to be found out.
My guess?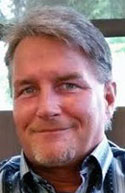 A Blogger blog was registered in 2013 over at "tntrotator.blogspot.com". The blog contains one post, written by a Ronnie Young (right).
The post is essentially a recruitment ad for TNT Rotator, however it's worth noting that the signup links point to the TNT Rotator website itself. Absent is an affiliate link, indicating that Young is the admin/owner of the scheme.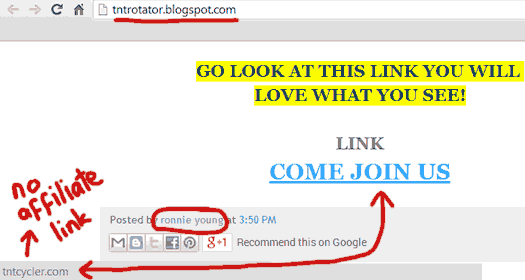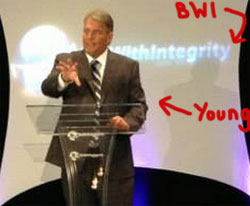 That would of course make him the owner of Get Success LLC and Race Cycler.
Prior to TNT Rotator Ronnie Young was involved in the Zeek Rewards reload scam Bid With Integrity.
Whether or not Young himself was involved in Zeek Rewards is unclear, however at least one person linked to his Google Plus account was an affiliate: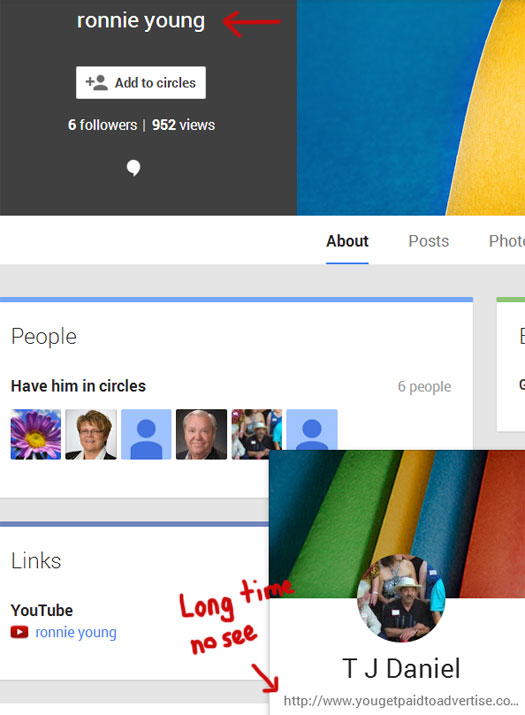 The account in question belongs to a "T J Daniel", who writes in his Google Plus bio:
I am a true believer that with the right opportunity, tools, and training a person can generate any type of income that they desire online… If they are willing to put forth the effort.
I have been an entrepreneur for most of my adult life. I owned companies in the State of SC for many years.

Roughly 5 years ago, I discovered the opportunities that were available online and have had great success in generating some incredible monthly incomes.

I have made it my mission to share what I have learned with as many people as possible………..

The Company that I'm with now Zeek Rewards is the most Amazing profitable online business that anyone can make money with in 24 hours at the time you Start……..
Zeek Rewards of course was shut down by the SEC back in 2012. Unfortunately though it appears Daniel hasn't learnt anything since, with the latest post on his Google Plus feed being a recruitment pitch for Ponzi/pyramid hybrid Argent Global: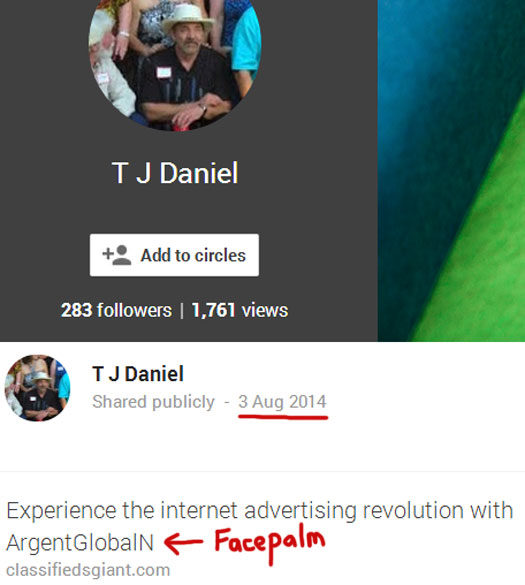 If you ask me, Ronnie Young's circle of scamming friends on Google Plus and his TNT Rotator blog being absent of an affiliate link is more than just co-incidence.
Another lead I found was the use of a getsuccessllc Gmail address, in a recruitment spam comment on a torrent website of all places.
The bizarre comment was left on torrent for a pirate copy of the movie the Ultimate Life:

The original page is no longer available, so I had to bring it up with Google cache.
The website linked in the comment redirects to a TNT Rotator YouTube video hosted by a "Terry Rogers". Whether or not Rogers is directly involved in Get Success LLC is unclear.
Personally I'm surprised nobody has asked Kent Brown about it yet. Although I suppose everyone's probably distracted by the thought their $230 Race Cycler fees are probably now locked in Young's suspended STP and Paypal accounts.
Update 28th January 2017 – The SEC has revealed Race Cycler was a $1.32 million dollar Ponzi scheme. Herman Ronnie Young has settled with the SEC and will pay $342,510 in disgorgement.