R Network securities fraud continues with iX Global

What's left of R Network is being funneled into newly launched iX Global.
The transition is being framed as a "partnership" and was announced earlier this month.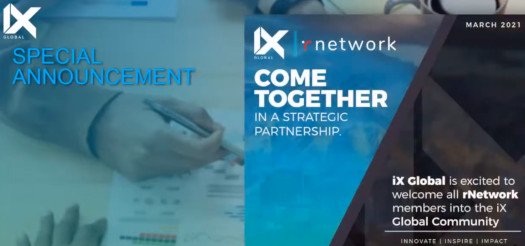 Presumably the "partnership" includes an undisclosed financial agreement with R Network founder Richard Smith.
R Network surfaced in early 2019, as a continuation of Digital Vault.
Digital Vault was a spinoff of Nui, although Richard Smith did his best to pretend otherwise.
The original concept saw R Network pitched as an alternative bank, powered by RevvCard.
RevvCard was essentially a $150 physical representation of a digital wallet, to be used by Nui's Kala bagholders.
Soon after R Network was announced, it was revealed that physical RevvCards wouldn't be available for the better part of a year.
By February 2020 RevvCard had still yet to materialize. In mid 2020 BehindMLM revisited R Network, noting RevvCard had been "quietly dropped".
Our R Network revisit coincided with the company rebranding itself as an ecommerce platform.
Presumably to keep the business afloat, R Network affiliates were being offered "stock packages".
Neither R Network or Richard Smith were registered with the SEC, prompting us to call both out for securities fraud.
Fast forward to March 2021 and R Network's history has been swept under the carpet.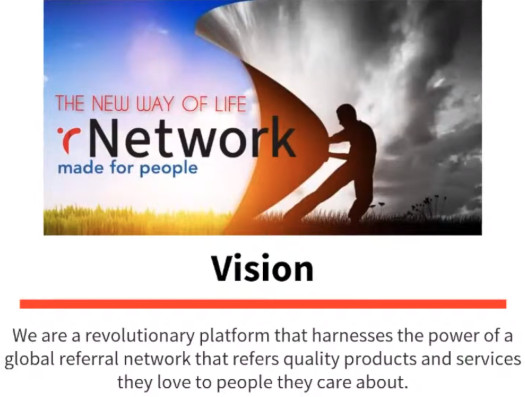 As above, apparently R Network is a "global referral network that refers qualify products and services".
That brings us to iX Global.
As reviewed here on BehindMLM last month, iX Global fronts an education platform.
Behind that are "AI trading self managed accounts", promising 5% to 20% monthly returns.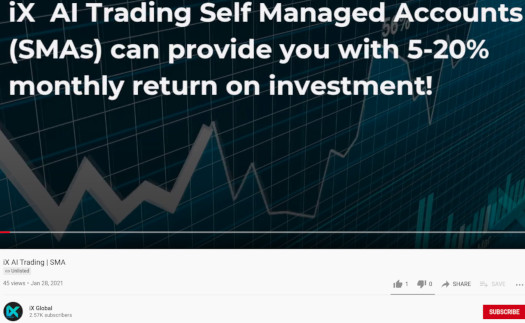 Naturally neither iX Global or its co-founders are registered with the SEC either.
As far as I can tell other than a few discounts, the iX Global partnership funnels R Network affiliates into the company.
Before rushing to sign up to yet another fraudulent investment scheme, perhaps what's left of R Network should ask where their previously promised stock options are.
Or what happened to the ecommerce platform. Or RevvCard. Or the opportunity to "own the banks".
Where did it all go?