R Network committing securities fraud thru "stock ownership"

In a recent official R Network marketing video, a "common stock ownership" scheme was pitched to prospective affiliates.
Neither R Network or their executives are registered with the SEC, meaning the offer constitutes securities fraud.
The marketing video in question is part of R Network's current "90 day awareness campaign" promotion.
The video is hosted by R Network Master Distributor Jon Holbrook and Jeremy Jenkins, "the first person" Holbrook enrolled.
R Network first came to BehindMLM's attention in April 2019. Back then Founder Richard Smith was pitching RevvCard, a debt card that, to the best of my knowledge, never launched.
RevvCard appears to have been quietly dropped and now R Network is marketing an ecommerce platform.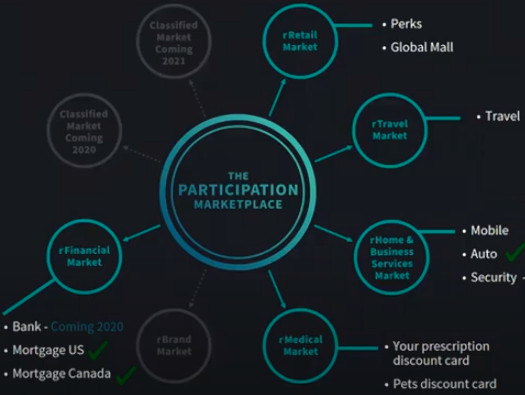 Affiliates pay $25 and then $50 a month on subscription. Commissions are paid when they recruit others who do the same via a 3×10 matrix.
Mixed in a free membership options, constituting R Network's retail offering. Based on the tone of Holbrook's and Jenkin's presentation however, the money is in recruitment.
Around twenty-five minutes into the presentation Jenkins pulls up a slide detailing "common stock ownership".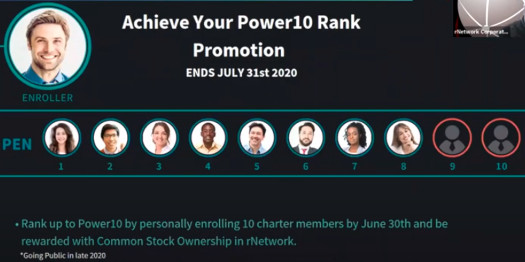 As per the screenshot above, R Network affiliates qualify for common stock ownership by recruiting ten affiliates by June 30th.
As explained by Jenkins, common stock ownership is offered on the representation R Network will be "going public in late 2020".
[24:55] We are going public this year in 2020. And we've got a promotion going.

For all those who have personally enrolled ten people there is a stock package for you.

It's a thousand shares and we've extended it because we want to make sure any(one) can participate.

If by the end of July you have enrolled ten people, you will get that stock package.
Putting aside whether R Network does or doesn't go public by the end of 2020, if the company is awarding affiliates stock now that's a public securities offering.
As I stated at the beginning of this article, neither R Network, R Net Holdings, founder Richard Smith or presenters Jon Holbrook or Jeremy Jenkins are registered with the SEC.
That means irrespective of anything else, R Network is committing securities fraud.
Jenkins mentions R Network's stock ownership scheme has "been extended", suggesting its been available for some time.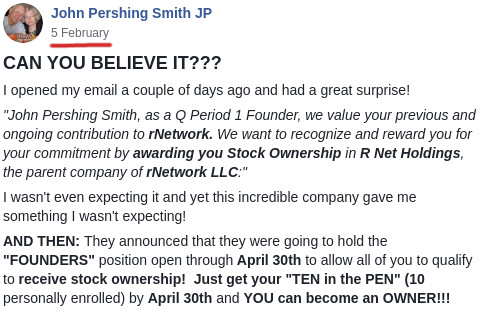 The video cited in this article was uploaded to Jeremy Jenkins' YouTube channel on June 10th, 2020.
R Network is based out of Utah. Whether the SEC takes any action against the company remains to be seen.
Update 19th March 2021 – As of March 2021, R Network has effectively been merged into iX Global.
Update 24th March 2021 – Jeremy Jenkins has removed the YouTube video cited in this article from his channel.