Victim group calls for "urgent action" against QNet in India

QNet fraud across India is so rife that there are victim's associations set up specifically to combat the pyramid scheme.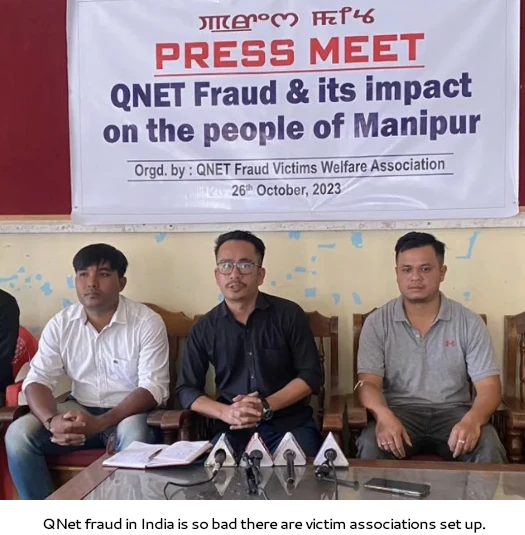 Following increased illegal QNet recruitment in Manipur, the statewide QNet Fraud Victim's Welfare Association has called for "urgent action"
As reported by the Ukhrul Times, the Manipur QNet Victim's Welfare Association accuses QNet of targeting unemployed youths and violence victims in relief camps.
They exploit platforms like QNET to spin stories of massive earnings, resulting in extensive scams that have financially devastated countless individuals.
One recent victim lost ~$1500 USD.
Promised substantial earnings and a secure business opportunity … instead she encountered a series of training sessions that left her feeling deceived.

She was even encouraged to recruit others into the scheme, contributing to the apparent pyramid-like structure.
Upon realizing she'd been scammed the victim requested a refund. QNet ignored her.
The QNet Victim's Welfare Association is now calling on Indian authorities to register First Information Reports against QNet promoters in Manipur.
In addition, a "comprehensive investigation" into QNet's ongoing fraud is being sought. "Measures to protect" consumers from QNet, as well as "support and assistance" for existing victims is also requested.
QNet scammers local to Manipur include Umendra Yengkhom, Manikumar Heisnam, Molung Korungthang, Premkumar Khundongbam and Surbala Puyam.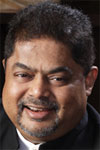 QNet is run by Malaysian national Vijay Eswaran (right).
Eswaran is a Malaysian national who Malaysian authorities, as long as QNet isn't promoted in Malaysia, do nothing about.
Officially QNet is banned in India, yet the company continues to illegally recruit new victims nationwide. Following a crackdown on Vihaan Direct Selling India, QNet now goes by "Qnet Vihaan".
So far eighteen arrests have been made in connection to QNet's latest recruitment drive.