QNet India shut down, management and top promoters hunted

QNet's Indian operations have been shut down by the Union Ministry of Corporate Affairs (MCA).
The company's management and top promoters are also wanted by authorities.
QNet operates in India through the shell company Vihaan Direct Selling India Private Limited.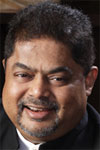 QNet itself is run out of Malaysia by Vijay Eswaran (right).
An investigation into Vihaan by the Cyberabad Police and Registrar of Companies, revealed "various fraudulent activities aimed at duping investors."
BehindMLM reviewed QNet in 2017. Based on the company's business model and compensation plan, we concluded QNet was a pyramid scheme.
Indian authorities have concluded that
products sold (within QNet) were immaterial and the firm ran an illegal product-based pyramid scheme.
We largely attributed regulatory challenges in shutting the company down to QNet's excessive use of shell companies.
Other shell companies used by QNet to operate in India include Goldquest, Questnet and Pallava Resorts.
According to the MCA, QNet has laundered over Rs. 200 billion out of India ($2.79 billion USD).
In light of QNet India being shutdown, authorities have
appealed to the public not to join or make payments to the Vihaan group or any firms operating MLM or ponzi schemes.

"There are 38 cases, and 70 people associated with the firm were arrested in Cyberabad.

There are cases in other parts of the country too," Cyberabad Police Commissioner VC Sajjanar said.
The MCA also issued a Public Notice warning against QNet and Vihaan on August 14th.
In the notice the MCA details prosecution and investigation into Vihaan across multiple Indian states.
The products in these schemes have become merely a means of disguising or laundering investments in the pyramid schemes while the dynamics of chain promotion system are essentially the same.

In fact, money from sales must go through the company's infrastructure and only a portion of payout is rebated to participants.

But most of it goes to top level Independent Representatives and rest of the amount is spread amongst tens of thousands of participants, most of whom loss money [sic].
In addition to shutting QNet down, Indian authorities have issued look out circulars for
Michael Fereira [sic] and eleven others who are associated with the company as directors and promoters.

Ferreira (right), who is 80 years old and holds an 80 percent stake of Vihaan, was arrested in 2016.
In 2017 the Indian Supreme Court decided it'd be a good idea to stay proceedings against QNet and release Ferreira.
Ferreira's current status and whereabouts are unknown.
QNet's response thus far has been to declare Indian investigations into the company as lacking 'merit & understanding of the business'.
QNet insists its business model is "fully legitimate and compliant as per Indian laws", but failed to specify how.
To date Malaysian authorities have expressed no interest in investigating QNet or Vijay Eswaran.