7 QNet scammers arrested in Togo, criminally charged

Seven QNet promoters have been arrested in Togo's capital city Lome.
As per a June 28th press-release from Togo's National Police;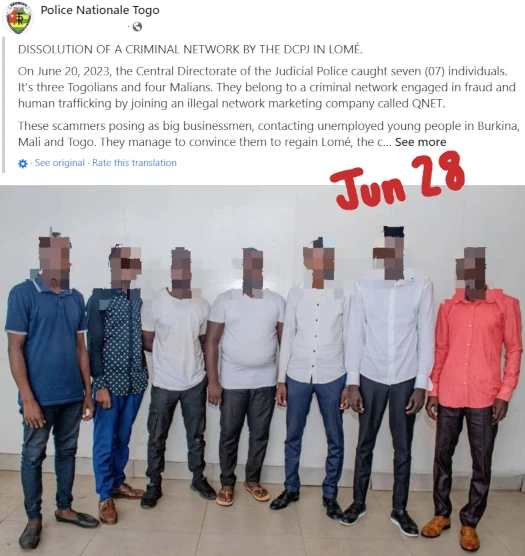 On June 20, 2023, the Central Directorate of the Judicial Police caught seven (07) individuals; three Togolians and four Malians.

They belong to a criminal network engaged in fraud and human trafficking by joining an illegal network marketing company called QNET.
The Togo National Police claim the QNet promoters "posed as big businessmen" and targeted unemployed young people in Burkina, Mali and Togo.
Young people were lured to Lome on the promise of employment. After arriving however, they were effectively kidnapped and cut off from their families.
The QNet scammers forced the victims to sign up for the pyramid scheme, and then forced them to recruit new victims into QNet.
Each victim must pay between 500,000 and 3,000,000 CFA as a training fee. People trapped by this network of criminals are stripped of their property.

To get out of this misadventure, every victim must, in turn, lure others into the same trap. If successful, for each new "take", he is paid a portion of the subscription fee.
A raid on QNet's headquarters in Lome revealed 73 Togolese and 21 foreigners being held hostage.
Documents seized reveal that these individuals collected the amount of F20.000.000 from their victims (~$33,256 USD).

One of the culprits owns five buildings and several plots of land in Lomé.
Upon being interrogated, the QNet promoters admitted to fraud and stated they are part of a group that operates in "several countries in the sub-region".
The promoters suggesting their scamming was being coordinated by a "criminal network", run from QNet's headquarters in Malaysia.
The seven suspects have been charged with fraud and human trafficking.
Togo neighbours Ghana, a country with a long history of QNet hostage recruitment scams. In February 2023, sixty QNet scammers were arrested in Ghana for violating a national ban on the company.
The victims were lured to Ghana on the promise of employment in the mining, sports and food industrys, only to be kidnapped and forced to promote QNet.
It seems the QNet scammers might have moved on from Ghana to Togo. It's likely they will continue to kidnap victims until Togolese authorities initiate a similar nation-wide QNet ban.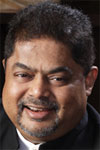 The QNet pyramid scheme is run out of Malaysia by Vijay Eswaran (right).
As long as they receive their cut of the fees kidnapped victims are forced to pay, QNet turns a blind eye to human trafficking fraud across Africa.
Since its launch in 1998, Malaysian authorities have failed to take action against QNet and Eswaran.