Organo Gold caught up in $13.7 million Vietnamese Ponzi scheme?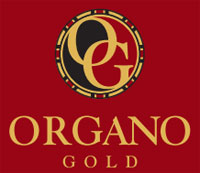 Authorities in Vietnam are looking to prosecute Nguyen The Anh (note that's his name, not the word "the"), for orchestrating a $13.7 million dollar Ponzi scheme.
Supposedly Anh ran his own MLM company, Phuc Gia Bao Investment Joint Stock Company (more commonly known at "68 company"), which relied heavily on convincing others it was part of Organo Gold.
The company launched a multi-level marketing scheme for the Organo Gold coffee brand.

This venture did not do well, so The Anh called for business co-operation for marketing the Lingzhi Red Lucerne coffee.
The second reiteration of Anh's company, named Phuc Gia Bao Investment & Trading JSC ("868 company"), solicited investment via packages ranging from $540 to $1570.
In return, partners would receive VIP coffee vouchers, invitations to important meetings, travelling packages, and interest of 24 – 80 percent a month.
As I understand it Anh's first company was basically his own Organo Gold distributorship. When that flopped, Organo Gold's coffee was distributed through vouchers as a marketing incentive for a separately initiated Ponzi scheme.
Through that Ponzi scheme, which ran from July 2015 till collapse in February 2016, Anh and thirteen accomplices were able to convince around 8600 investors to invest over $13.7 million dollars.
Now I know what you're thinking (because it was my first impression too); Ok Oz, so this schmuck attached Organo Gold products to his own Ponzi scheme. It's not like they knew about it, right?
Officially Anh's Ponzi scheme had nothing to do with Organo Gold. What I'm struggling with though is apparently nobody at Organo Gold knew this was happening?
To begin with, Organo Gold didn't officially open in Vietnam till December 2015. So how was Anh marketing Organo Gold openly in Vietnam from July 2015?
And this wasn't some unknown backwater enterprise either. Anh presented his companies in public as "official marketing representatives" of Organo Gold proper.
Organo Gold logos and marketing materials were used at Anh's company events, of which there were seemingly many held nation-wide.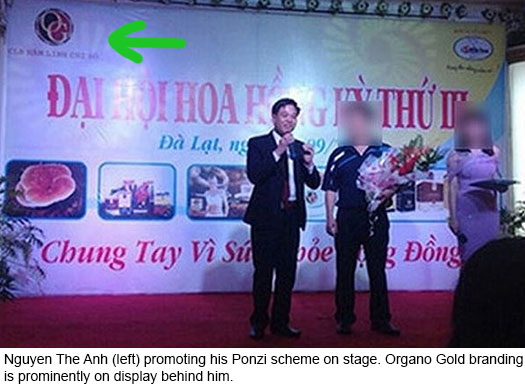 The company even managed to open up a supermarket at one point,
which was taken down shortly after, because it was besieged by investors who had not received the promised returns.
Between his two companies Anh opened 'eighteen branches and to offices in 15 cities and provinces' across Vietnam.
While (Anh) presented his companies as representatives of the Canadian firm, all he did was buy their products and offer it to investors for free.
I don't know how much Organo Gold product Anh purchased to convince over 8600 investors to sign up, but it had to be a significant amount.
Not withstanding again, the question of how Anh managed to procure Organo Gold products in Vietnam in the first place.
And you're telling me that while this was going on for seven months, nobody at Organo Gold batted an eyelid?
Not even one of Anh's 8600 investors ever contacted Organo Gold with an enquiry or to fact check?!
To be clear, I'm in no way suggesting or insinuating Organo Gold had anything to do with Anh's Ponzi scheme, that's on him.
But how the hell did Anh's presumably huge monthly purchase volume and promotion of Organo Gold, in a country the company wasn't licensed to operate in, not set off alarm bells?
Somebody had to be Anh's upline, and somebody that distributor's upline… and if you followed the chain of recruitment high enough – you'd inevitably wind up at Organo Gold corporate itself.
Or was it simply a case of, so long as Anh was generating considerable commissionable sales volume, look the other way and don't ask?
Unknowingly or not, stolen investor funds have been funneled into Organo Gold through Anh's Ponzi scheme.
Whatever amount that turns out to be, I definitely think there's a case for Organo Gold to answer here.
Update 5th October 2018 – Organo Gold's general counsel claims the products used to promote The Anh's Ponzi scheme were counterfeit.