Who is Li Dexin to OneCoin?

OneCoin's use of shell companies is almost comical at this point.
As soon as one bank account is shut down, OneCoin opens up a new one in another country with a new shell company name.
Last month, after losing a Deutsche Bank account, OneCoin created an account in Italy under the name "Educamax Services SRL".
That account was shut down within 24 hours of OneCoin announcing it. A few weeks later OneCoin announced they'd opened up a new account in Hong Kong, using the name "Foshan Everbright Import & Export Company Limited".
An eagle-eyed investigator over at TruffaCoin has discovered a connecting link between the two companies.
According to an Italian Chamber of Commerce filing, Educamax Services SRL was incorporated in Italy on September 1st, 2016.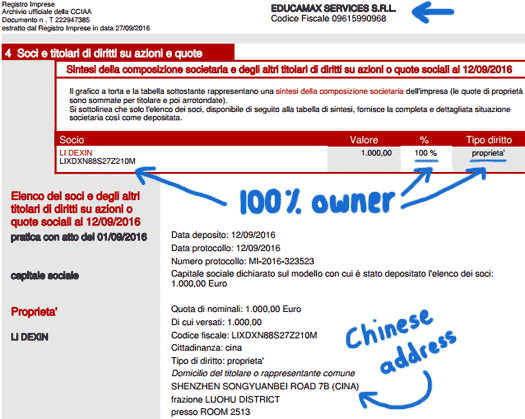 Li Dexin is listed as the sole administrator and owner of the company, through an Luohu District address in Shenzen City, Guangdong in China.
Foshan Everbright Import & Export Company Limited is a shell company set up by Asia BC.
On their website, Asia BC sell Hong Kong company formation and business registration. The company also markets a "guaranteed Hong Kong bank opening service".
We used to work in Hong Kong banks
We have network of Hong Kong bankers
We turn failed applicants to open bank accounts
Asia BC set up shell companies using the name format "ASIABC XXX Limited".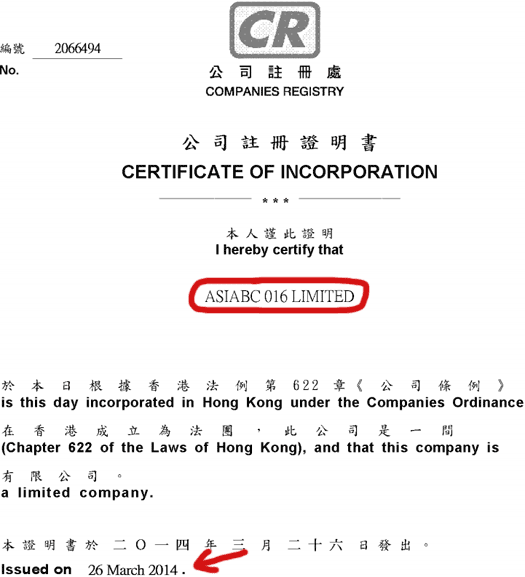 Foshan Everbright Import & Export Company Limited was initially incorporated as ASIABC 016 Limited back in March, 2014.
On September 1st, 2015, ASIABC 016 Limited changed its name to Foshan Everbright Import & Export Company.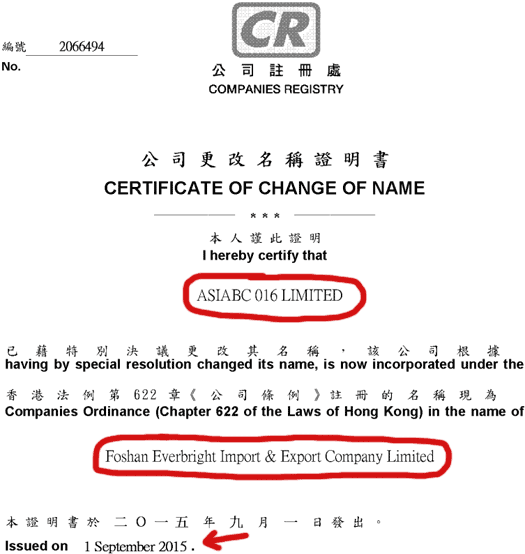 This is presumably when OneCoin purchased the company from Asia BC.
Lee Yin Chun was listed as the original Director of Foshan Everbright.
In April 2016 Chun resigned and, you guessed it, Li Dexin was appointed sole Director of the company. Again an address in Shenzen City, Guangdong in China was used.
Unfortunately here's where the Li Dexin trail goes cold.
Who Li Dexin is and what his role is within OneCoin is unclear. The company has to date not made any information about him public.
All we know is that, since around late 2015, OneCoin have used multiple bank accounts in Li Dexin's name to launder millions of dollars of affiliate funds through.
How much is OneCoin paying Li Dexin? Is he acting alone?
Entrusted with large sums of invested funds, why hasn't OneCoin introduced Li Dexin to their affiliates? And why doesn't OneCoin have any bank accounts in its own company name?
Welcome to the murky depths of OneCoin's business operations…
Earlier this year it was reported that authorities in Guangdong, another city in Guangzhou, arrested local OneCoin affiliates and seized millions of dollars.
While the investigation is believed to be ongoing, whether Guangdong authorities are aware of Li Dexin's involvement in OneCoin is unclear.
According to the Chinese government, OneCoin is illegal in China.