Top investor claims OneCoin "is purely just a financial company"

The ruse behind OneCoin using newly invested funds to pay off existing investors is that the company sells cryptocurrency education.
This education is delivered in the form of lengthy PDF files, filled with content either copied from third-parties with no attribution or loosely rewritten.
Upon quizzing a random selection of OneCoin investors as to the contents of the cryptocurrency education they supposedly bought, you'd likely get an equally random selection of blank stares.
Despite OneCoin's token efforts to enforce pseudo-compliance to push the "we sell education" line though, every now and then the truth simmers to the surface.
Today that truth is brought to you courtesy of Kaj Naparstok.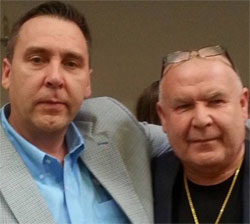 Kaj Naparstok (on the left with OneCoin top earner Juha Patiala), is widely credited as a leader within OneCoin.
Naparstok regularly speaks at organized OneCoin promotional events and is originally from Finland.
Today, along with a number of Finnish OneCoin leaders, Naparstok can be found hiding out in Thailand.
Seemingly frustrated with people not understanding the concept behind OneCoin, earlier today Naparstok took to Facebook to set the record straight.

Still today many people don't really understand our concept. Read this to understand really what is OneCoin and what is OneLife.

Onecoin is just a financial company building up world's biggest payment solution.

OneCoin gives you an e-wallet with an opportunity to mine and trade with coins. OneCoin is purely just a financial company.
Pegging OneCoin as a Ponzi scheme from day one, that OneCoin is now identifying itself openly as a "financial company" is news to me.
Such a company would be required to register itself with financial regulators in every market it operates in. Yet to date, I'm unaware of any such registration on OneCoin's behalf.
Onecoin has nothing to do with network marketing anymore.

Through its digital payment solution based on cryptocurrency OneCoin will empower billions of people by providing them easy, secure and fast access to banking.

Our alternative payment solution will create a real revolution, based on technology that makes banking and money transactions almost free, unlimited and realtime really fast.
So OneCoin, who are evidently unable to hold onto a legitimate bank account for a few days, even when they register it through a shell company, is going to offer banking services worldwide?
And the regulated finance industry is just going to throw open the door to an unregistered entity that's purportedly laundered billions of dollars through Ponzi fraud?
That's one hell of a lofty ambition.
All your commissions are based solely on your personal efforts together with your team. All the commissions you get comes from the sales of OneLife products you and your team makes by distributing OneLife products.
Funny thing though is that the only product OneCoin sells are tokens, which when converted to OneCoin Ponzi points, facilitate the use of newly invested funds to pay off existing investors.
Despite that being the text-book definition of a Ponzi scheme though, Naparstok insists
OneLife is NOT a money circulating, pyramid or ponzi scheme. If somebody claims so. They don't understand at all what they are talking about.
Conveniently, Naparstok doesn't elaborate on how OneCoin using newly invested funds to pay off existing investors isn't a Ponzi scheme.
Despite this, Naparstok positions himself as a primary source of information on OneCoin;
Real #Leaders, Real #Networker and Real #Investor will never Search reviews on GOOGLE.

They will look for Real reviews from the members who are in the company and do the Real research about the company.

They will understand the concept, analyze how company generates money and then they will invest into it.
Real reviews that cover everything except OneCoin's use of newly invested funds to pay off existing investors?
Talk about half-assed education…