Hooker arrested after making off with OneCoin scammer's stash

If the trend of single elderly European gentlemen attached to the MLM underbelly popping up in Asia left you thinking "hmmm", rest assured for most of them it was purely a business decision.
…
Nah, just kidding.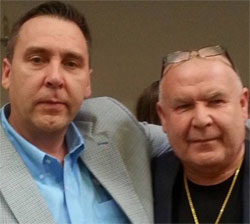 Kaj Naparstok (right, with Juha Parhiala) is from Finland and currently hiding out in Thailand.
In OneCoin marketing material, Naparstok is described as a "Team Leader".
Naparstok is participating in a "OneCoin Asia Tour", which has him and other "team leaders" currently scamming people in Cambodia
A few nights ago Naparstok returned to his hotel room with a female employee of Naga World casino.
Bang bang bang, long story short the next morning Naparstok woke to discover his… uh, guest, had made off with $88,929.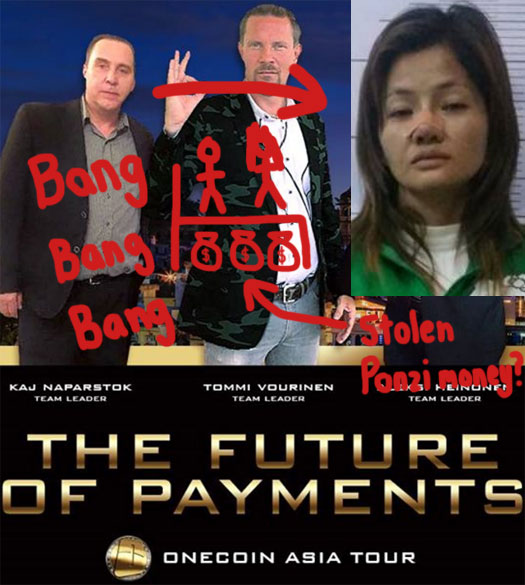 What was Naparstok doing with almost 90 grand in his hotel room?
Something something Ponzi scheme we don't really know.
Anyway, after searching for the woman, Naparstok discovered she'd been arrested on December 8th on a drug possession charge.
Turns out while visiting her husband in prison, the woman left a black bag in the parking lot.
Upon exiting the prison and collecting her bag, prison staff stopped her and asked for identification.
She opened the bag and a small pouch of meth-amphetamines fell out… whoops.
The prison guards detained the woman and turned her over to local police.
Under interrogation, the woman also admitted she'd stolen $88,929 on the morning of December 7th, after "spending the night together" with Naparstok.
During questioning the suspect it turned out that she stole money from a Finnish man on December 7 2016 at 7AM at Comfort Star 2 Hotel which is located in Phsar Thmey 3 commune, Daun Penh district, phnom Penh after the victim braught the suspect to his hotel to spend the night together.

They had sex multiple times but while he was sleeping Ms. Sovannara stole $88,926 and fled the hotel.
Upon discovering her arrest, Naparstok rocked up to the police station, identified the woman and filed a complaint.
A raid on a property saw police recover $34,000, which was returned to Naparstok. Photos of the recovered money show Naparstok's stash was in $100 denominations of USD.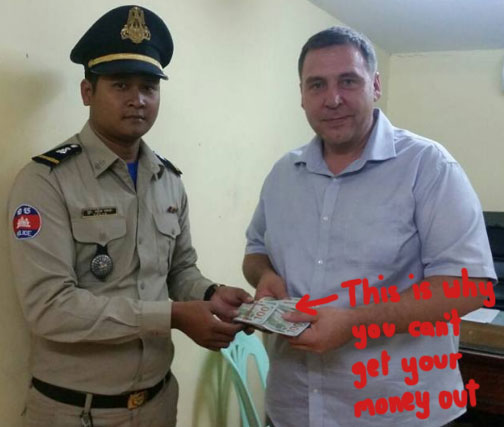 What happened to the missing $54,929 is unclear.
Naparstok's hooker was formally charged yesterday for drug possession and theft. I'm guessing she'll probably wind up in prison like her husband.
Ah… scammers scamming scammers, it never gets old.