OneCoin under regulatory investigation in Germany

Regulatory investigations of OneCoin are spreading across Europe, with Germany the latest country to launch an investigation into the suspected Ponzi scheme.
The Federal Financial Supervisory Authority (commonly known as BaFin), is Germany's banking, insurance, securities and money laundering regulator.
Yesterday Der Spiegel, one of Europe's largest media publications, reported that BaFin have opened up an investigation into OneCoin.
The financial authority BaFin has the internet currency OneCoin in their sights.

The authority shall consider whether the company OneCoin Ltd., founded by the Bulgarian Ruja Ignatova, requires authorization to conduct financial transactions in Germany.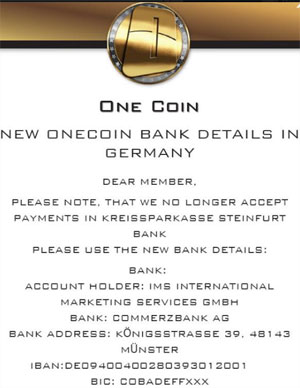 The BaFin investigation could be a significant blow for OneCoin, who since March have solicited affiliate investment through Commerzbank AG.
Commerzbank is Germany's second-largest bank, holding a nationwide network of branch offices, numerous offshore branch offices and representations in more than 50 countries globally which employs a total of 51,782 employees as of June 2014.

It offers its clients retail and commercial financing services, investment banking services, asset management, and private banking services. (Wikipedia)
Whether OneCoin's previous account with Kreissparkasse Steinfurt was shut down voluntarily is unknown.
After OneCoin affiliate funds are deposited with CommerzBank, what happens next is murky.
Back in March Finnish media reported Ignatova launders OneCoin money through shell companies registered in her mother's name.
As is typical with regulatory investigations, BaFin offered "no comment" to Der Spiegel when asked for additional information.
OneCoin is currently under investigation in Sweden and Finland. The Austrian Consumer Protection Association has also issued a warning against OneCoin investment.
Last week OneCoin announced they will be holding a gala event in London, at the Wembley Arena (also known as the SSE Arena).
At the time of publication, whether OneCoin is under regulatory investigation in the UK is unknown.
Tickets to the Wembley Arena event cost up to 200 EUR, with OneCoin's public management and top investors expected to attend.
Attempts to verify OneCoin's announcement with Wembley Arena staff last week have thus far gone unanswered.
Update 6th June 2016 – I just received the following email reply from Wembley Arena staff regarding the purported June 11th booking:
On Saturday 11 June The SSE Arena, Wembley has been hired for a private event.

Customers will receive details about the event from the hirer directly.
Hopefully that puts to rest discussion of whether the OneCoin Coin Rush event is taking place there or not.