OneCoin struggling to keep websites behind reverse-proxy

After using CloudFlare for years, the reverse-proxy provider started showing phishing scam warnings for OneCoin back in January.
As reported by BehindMLM readers, affected websites include OneCoin's own, OneLife and DealShaker.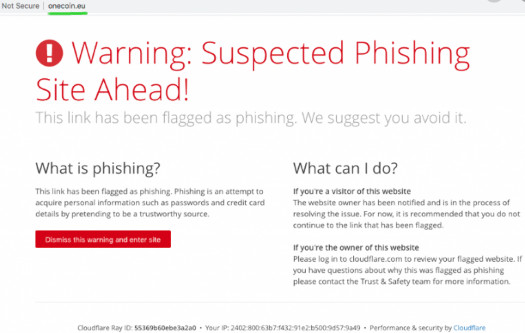 Not all jurisdictions were affected, but it was widespread enough to hinder recruitment efforts.
OneCoin attempted to fix the phishing scam warning by changing website hosts to Hong Kong based HGC Global Communications in February.
That didn't work and the phishing scam warning to OneCoin website visitors persisted.
Less than a week ago OneCoin ditched CloudFlare for Sucuri.
This got rid of the phishing warning but, presumably after being informed of the switch and conducting their own internal investigation, Sucuri booted OneCoin from their service within a few days.
Within the last 24 hours OneCoin has now hitched its websites to DOSarrest. Whether they permit OneCoin's websites to stay behind their service remains to be seen.
OneCoin's jumping from one reverse-proxy service to another is reminiscent of their banking woes in 2016.
After months of signing up with various banks in different countries and getting booted over fraud concerns, OneCoin lost its last bank account in November 2016.
The company simply gave up and stopped accepting bank wires.
Part of the reason OneCoin's bank account musical chairs went on for so long was the use of shell companies.
With reverse-proxy services it's impossible to mask who the service is for. As soon you put a website behind their service they can see it on their end.