OneCoin promoter in Ecuador sentenced to five years prison

A OneCoin promoter in Ecuador has been sentenced to five years in prison.
Ivonne Ortiz was a prominent promoter of the OneCoin Ponzi scheme in Ecuador.
Ortiz featured in official OneCoin marketing material, appearing to be pretty high up the food chain.Marketing material featuring Ortiz dates back to 2016, meaning its possible Ortiz was one of the first OneCoin promoters in Ecuador.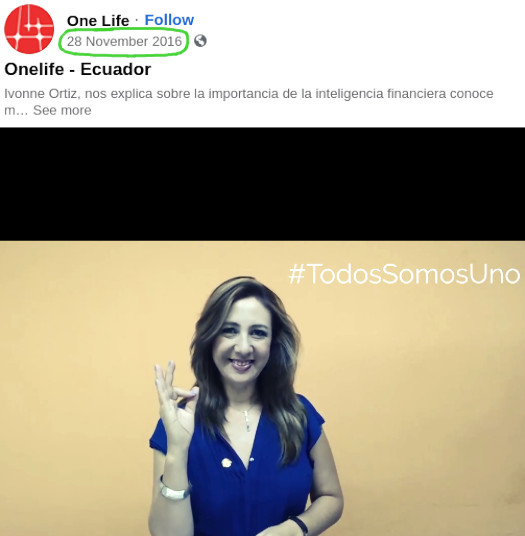 Following complaints from OneCoin victims, Ecuadorian authorities opened an investigation into Ortiz last year.
The investigation found Ortiz lured people into OneCoin on the premise of earning a return through OneCoin tokens.
Ortiz's victims were instructed to deposit funds into a savings account, held in the name of Ortiz's minor daughter.
"After receiving the money, Ivonne O. gave her victims a code which they entered on a website, which apparently provided their investment.

However, as time passed the victims could not access the digital portal, confirming the deception they were subjected to", the Public Ministry detailed in a statement.
At Ortiz's trial three OneCoin victims claimed to have given her $10,000 each. Additional evidence presented included victim testimony and financial records.
Based on this evidence, the Judged of the Pichincha Criminal Court found Ivonne O. guilty and sentenced her to five years in prison.
Ortiz was found guilty on charges related to marketing income potential through an unauthorized alternative currency.
In addition to serving a prison sentence, Ortiz will also have to reimburse $10,000 to her three victims and pay a $4800 fine.
On the monetary side of things Ortiz seems to have gotten off lightly. If she was pitching OneCoin since at least 2016, it's a given she personally recruited far more than three investors into the scheme.
The real loser here however is Ortiz's daughter, who was eight in 2019.
As a result of her mother chasing Ponzi dreams, she'll spend half of her teenage years without her around.