OneCoin payment delays triggered by Hong Kong account closure

Almost immediately after news of OneCoin's Hong Kong bank account being shut broke, the company pushed out an announcement about payment delays.
In light of ongoing closures, OneCoin had opened an account with China Construction Bank (Asia) Corporation Limited using the shell company name Foshan Everbright Import & Export Company Limited.
Two weeks later the account was abruptly terminated. To date OneCoin haven't informed affiliates whether the account was shut down by Hong Kong police, the bank or the two working together.
What we do know however is that OneCoin affiliates can now expect long withdrawal delays.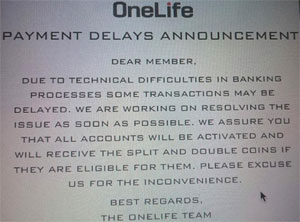 A notice in the OneCoin affiliate backoffice began appearing yesterday.
It reads;
Dear member,

Due to technical difficulties in banking processes some transactons may be delayed.

We are working on resolving the issue as soon as possible.

We assure you that all accounts will be activated and will receive the split and double coins they are eligible for them.

Please excuse us for the inconvenience.
Whereas the real money side of OneCoin is in limbo, the Ponzi points back-end is chugging along with no problems.
And why wouldn't it? It's not like the points script is pegged to any sort of reality (or real money).
You get a billion points! You get a billion points! Everybody gets a billion points!
As per the OneCoin affiliate backoffice, OneCoin does still have two bank accounts standing.
One with United Overseas Bank in Singapore and the other with Bank of Africa in Tanzania. Possibly due to transfer limits (or no withdrawals from these accounts), OneCoin seems unable to meet its withdrawal needs with these accounts.
Another possibility is, what with the magic doubling of affiliate OneCoin points (at an internal value of €6.9 EUR each), that OneCoin has or is about to run out of money.
OneCoin's social media profiles meanwhile continue to be inundated with complaints from affiliates wondering why the company can't process ROI withdrawals.
But why should 1 withdraw 10 One coins a day? I really don't understand that concept cz it's not working for me as I need my whole sum of money. ..now I invest a large amount of money but can only withdraw 10 coins per day. ..that's not fair.
When I join one coin there was no educational package in June 10th 2016 it was till July then education package come out they only does this later on if dr ruja goes court she will say it was educational package not investment these ppl are cleaver and make millions where we make nothing ..

other truth is KYC is cuz ppl in Bitcoin gangers and drug lords have coins there dr Ruja don't want this happen to onecoin for here own safety, cuz if onecoin crash then dr ruja and her team will not see another day ..

all the splits and everything is control by onecoin no proof of block chain no servers .. hard to believe these ppl.
Return my invested money immediately.
My coin not selling why?
And those are just a selection of comments OneCoin hasn't had a chance to delete yet.
Stay tuned…