OneCoin obtains Cyprus account. Singapore bank account frozen?

Over the past few weeks affiliates have been complaining about funds frozen in OneCoin's United Overseas Bank.
The status of OneCoin's bank account with UOB in Singapore however is currently unclear. Rather than use their company name, OneCoin's UOB account is held under the shell company Vernada Trading Pte Ltd.
In related news, on October 21st the Monetary Authority of Singapore added OneCoin to their Investor Alert list.
The Investor Alert List provides a listing of unregulated persons who, based on information received by MAS, may have been wrongly perceived as being licensed or authorised by MAS.
The list certifies that OneCoin is not authorized or licensed by MAS. Appearing on a regulatory alert list is not good for business and might have prompted the UOB freeze.
Suggesting OneCoin might have given up on their UOB account, in the last 24 hours a new bank account has popped up in affiliate backoffices.
OneCoin's latest bank account is with Hellenic Bank in Cyprus.
As with previous accounts, OneCoin are not using their company name. Instead, the new Cyprus account has been opened using "Eastern Project Investments Limited".
This appears to be a shell company purchased through Lydor Markets: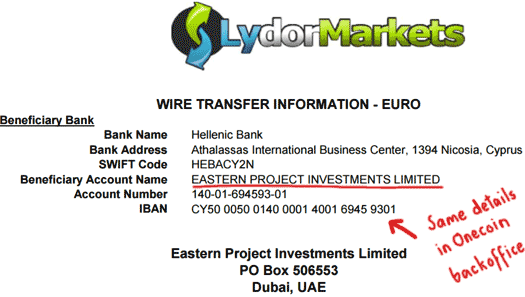 On their website, Lydor Markets advise they charge €75 EUR for access to
an account with a regulated financial firm in order to be able to trade financial instruments.
In the case of OneCoin, that appears to be the use of Eastern Project Investments Limited to dupe Hellenic Bank and evade regulators.
How long that lasts remains to be seen.
In other news, OneCoin's newly appointed CEO Pablo Muniz appears to be MIA. Munoz hasn't been seen or heard from since his appointment last month.
On a daily basis OneCoin affiliates flock to OneCoin's social media pages to complain about not being able to sell their OneCoin points (read: withdraw their money).
Other than continue to delete these comments, OneCoin hasn't addressed the long-standing issue.
New affiliates are not told of withdrawal problems, with top investors instead advising them to keep their money in OneCoin for as long as possible through incentives like CoinSafe.
These same top leaders then use Ted Nuyten's Business For Home to boast about the millions of dollars they're allegedly making each month: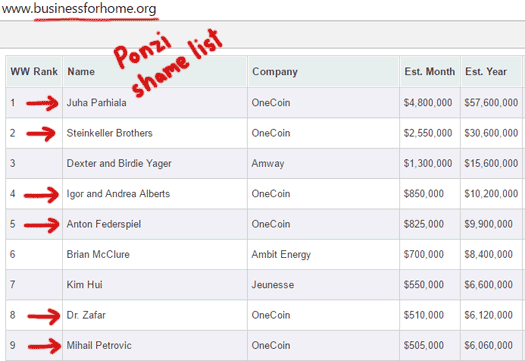 The backlog of withdrawal requests will likely only get worse, with OneCoin routinely running promotions that double Ponzi points allocated to their investment packages.
Stay tuned…