OneCoin investment packages approach a quarter million Euros

Last week OneCoin announced they were introducing a new €188,888 EUR "Supreme Trader" package.
On top of that they've now introduced a Super Combo package, coming in at a whopping €225,500 EUR.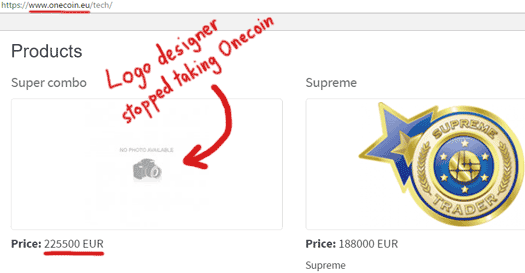 Further stretching the "affiliates are buying education" fiction, OneCoin's new packages contain the same "educational" PDF files as their €5500 EUR Tycoon Trader package.
The only difference between the packages are the amount of Ponzi points an affiliate receives, however OneCoin maintain they do not directly sell OneCoins.
At the time of publication, OneCoin represent that one OneCoin is internally worth about €6.8 EUR.
Outside of the OneCoin business opportunity however, the value appears to be much lower.
Spice Village bill themselves as a "modern Pakistani/Indian buffet eatery" in London, UK.
On their website, Spice Village advise they "accept cash only for now". Recently the eatery has put up OneCoin marketing posters up in their shop windows.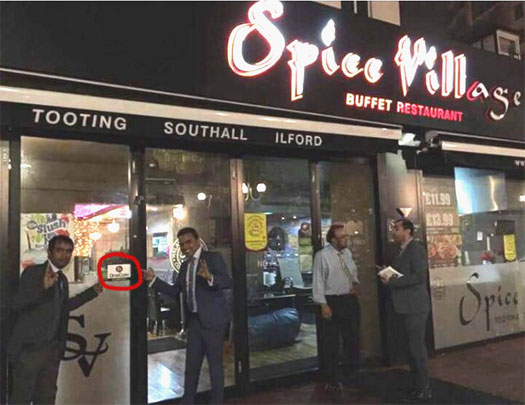 MuroBBS member c-mo reached out to Spice Village and was told that the eatery does indeed accept OneCoin as payment.
There is a catch though. While Spice Village do accept OneCoin, they do so at an exchange rate of 100 OneCoin to £1 GBP: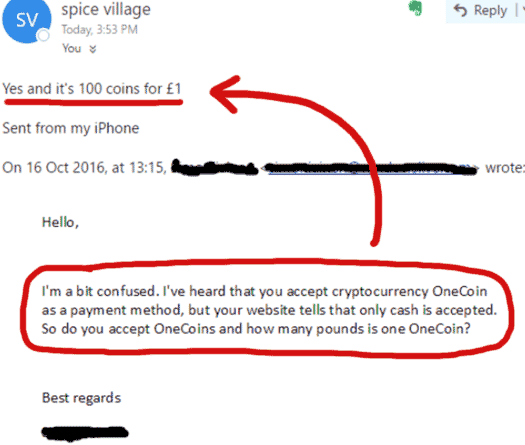 A buffet meal at Spice Village is £13.99 GBP, which means a OneCoin affiliate would need to transfer 1399 OneCoins to the Spice Village owner to eat one buffet meal.
At the current OneCoin internal exchange rate, this comes to €9513 EUR.
So as a patron you either rock up to Spice Village and pay £13.99 cash for your meal, or log into your OneCoin backoffice and transfer €9513 EUR (£8572 GBP) worth of OneCoins.
More pointedly, Spice Village have set the value of one OneCoin they're willing to accept at £0.01 GBP. That works out to €0.011 EUR per OneCoin, which is just 0.16% of the internal OneCoin value of €6.8 EUR.
A BehindMLM reader recently reached out to OneCoin to ask how merchants can accept OneCoin as payment.
OneCoin support informed them that
OneCoin cannot still be used as a payment method as it is still not in public.

Once the currency is available in public, it will be officially announced to all our members.
OneCoin's current timeline sees them promise to go public sometime in 2018. The company had previously promised to go live with 500,000 merchants by April, 2016.
With OneCoin confirming OneCoin cannot be used as a payment method by merchants, you're probably wondering how merchants like Silo Sushi in Queensland, Australia are accepting OneCoin then.
The answer is they aren't. The owners of merchants like Spice Village and Silo Sushi have signed up as OneCoin affiliates.
A OneCoin affiliate can go to these businesses and in exchange for a service (a meal in these instances), login to their backoffice and transfer OneCoin points directly to the business owner's OneCoin affiliate account.
The business owner then writes off the cost of the meal in real money as a fiat currency loss (unless they're one of the few able to actually exchange OneCoin for real money internally).
How this works with respect to local tax laws is unclear. But I'm sure the handful of business owners who have attached the OneCoin Ponzi scheme to their businesses have sought competent financial advice.
I mean it's not like accepting OneCoin Ponzi points under the table won't come back and bite the business owners in the ass, right?