OneCoin hire Symbol Media Group for Ponzi promotion

The elephant in the room regarding OneCoin's upcoming "CoinRush" event, is the yet to be announced venue.
Despite not knowing where in London the CoinRush will be held, OneCoin are charging affiliates up to €200 EUR for tickets.
Unconfirmed word on the grapevine is that top OneCoin downline group, "One Dream Team", were first to announce the venue as Wembley Arena;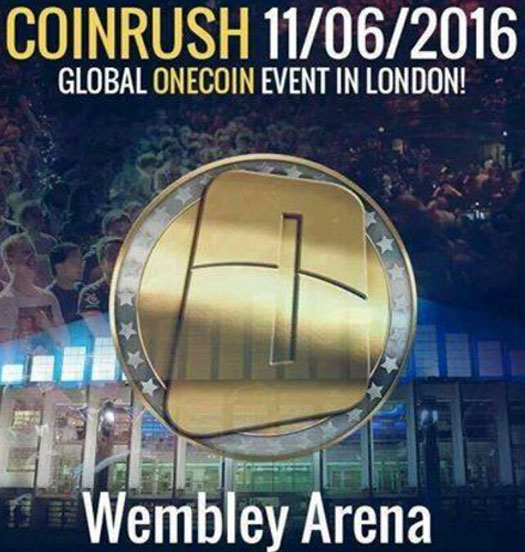 Wembley Arena is a 12,500 capacity indoor stadium in northwest London.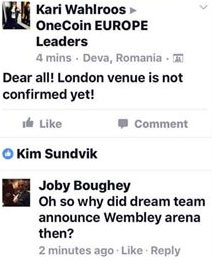 One Dream Team's announcement was premature, with OneCoin top investors later claiming the venue had yet to be chosen.
Whether this means OneCoin approached Wembley Arena management and were later turned down is unclear. OneCoin corporate have maintained radio silence on the issue.
What we do know is One Dream Team house some of the highest earning investors in the scheme. They have access to OneCoin management so it's strange they'd rush to announce incorrect information.
As the CoinRush event draws closer, OneCoin yesterday announced the launch of a "CoinRush London" website.
Aimed at providing OneCoin investors with information about the upcoming event, the "location" section of the website is marked "to be announced".
The footer of the website reveals the site was designed by DotSlave, a "web design and development" company.
The CoinRush London website domain however is registered to Yuliana Nakova of "Simbol Media Grup" (English name: Symbol Media Group).
Symbol Media Group are a Bulgarian-based public relations firm, of which DotSlave is a component of.
Interesting…
According to the Symbol Media Group website, the company is based out of Sofia, Bulgaria.
Services offered to clients by Symbol Media include strategic planning, advertising, media planning and buying, public relations, web design and development and digital campaigns and social media marketing and event planning.
How deep OneCoin's relationship with Symbol Media Group goes is unclear, however it would explain the event flyers, promotional videos and social media account management OneCoin uses.
Regarding the CoinRush event, it seems strange that OneCoin would hire a complete PR firm for just web development.
Symbol Media Group would certainly be able to organize and manage the CoinRush event. And logically, if you're going to go with an all-in-one type PR company, surely you'd make the most of their services?
One advantage of using a third-party to run the event would be that everything could be booked in their name. Using a third-party for venue bookings is one way to get around venue management otherwise declining OneCoin.
Venues in London have developed a reputation for being unaccommodating of Ponzi schemes.
Typically all-inclusive PR services like that provided by Symbol Media Group don't come cheap, which also raises the possibility of clawbacks once regulators catch up.
In the case of Zeek Rewards and TelexFree, two MLM Ponzi schemes that rival OneCoin in scope, we've seen court-appointed Receivers go after vendors who provided services to the scams.
Certainly organizing and managing a promotional event for thousands of Ponzi investors would qualify for a merchant clawback, should it one day come to that.
Not to mention the damage to your professional reputation a relationship with a Ponzi scheme client might cause.
Reputable and well-known clients featured on the Symbol Media Group website include
Nova TV – "one of the biggest and most watched TV media in Bulgaria"
eMag – "the biggest online retailer in Central and Eastern Europe"
FOX International Channels – "the company manages the audience favorite channels like National Geographic Channel, FOX, FoxLife, 24Kitchen and others"
IAMS – globally recognized pet food manufacturer and
Eukanuba – another globally recognized pet food manufacturer
Pending further developments on the venue of OneCoin's CoinRush event being announced, we'll keep you posted.