OneCoin acquires collapsed BNG International pyramid scheme

BNG International rose to prominence in early 2015, following the collapse of the Wish Club Ponzi scheme.
Modeled on the $1.8 billion dollar Ponzi scheme TelexFree, Wish Club itself was a reboot of the notorious Brazilian pyramid scheme, Blackdever.
By the time Brazilian authorities moved to shut Blackdever, only R$200,000 ($57,472) out of an estimated R$36.4 million ($10.4 million USD) pumped into the scheme was recovered.
Needless to say the overwhelming majority of Blackdever affiliates lost money in the scheme.
Rogério Alves, identified as one of the architects of Blackdever by Brazilian authorities, was a prominent figure in Wish Club.
Wish Club launched in late 2013 and by August 2014 had collapsed. As with Blackdever, the overwhelming majority of Wish Club investors lost money.
Out of the ashes of Wish Club's collapse rose BNG International.
Under the guise of selling energy drinks, BNG International charged affiliates 299.95 to join. Commissions were paid on the recruitment of new affiliates, with residuals tied to recruited affiliate's monthly autoship orders.
Alexa statistics for the BNG International website domain suggest the scheme began to collapse this time last year.
BNG International was operated out of Portugal by John Mercucci (sometimes spelt Marcucci), the former President of Blackdever.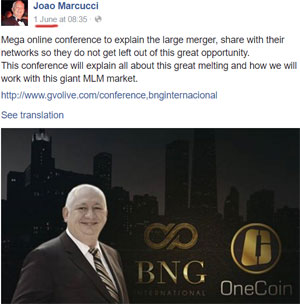 OneCoin have yet to publicly announce their acquisition of BNG International, however Mercucci went public with the announcement on June 1st.
Mercucci was in attendance at OneCoin's recent "CoinRush" event in London.
The acquisition of BNG International marks OneCoin's third European scam purchase. How much OneCoin paid Mercucci for the BNG International affiliate email database is unclear.
At the time of publication the BNG International website was unresponsive. Google cache shows the site was still active as of June 8th.
What we do know is BNG International is the third-generation of one of the most publicized pyramid schemes in Brazil.
Reports from BNG International affiliates claim the company has not paid out any commissions for "over a year".
BNG's affiliate-base is probably desperate to recover funds some of them have lost thrice-over, which fits perfectly with OneCoin's ever-present need of new investor funds.
Since June 1st, Mercucci has been actively promoting OneCoin to the BNG International affiliate-base.
Whether the acquisition of BNG International breaks OneCoin into the Brazilian market remains to be seen.