German Public Prosecutors investigating OneCoin reps for fraud

In the aftermath of BaFin's regulatory ban of OneCoin on April 28th, promotion of OneCoin in Germany has come to a screeching halt.
Yesterday, top German affiliate Udo Deppisch was forced to cancel two OneCoin events in Germany that had been organized prior to the ban: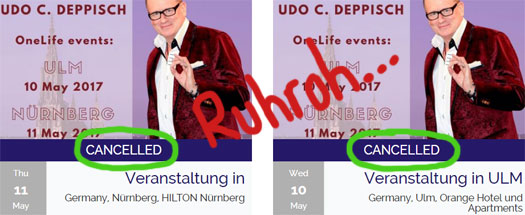 Not content with having thwarted the scheme locally, now the Bielefeld Public Prosecutors Office has confirmed an ongoing fraud investigation.
According to the Public Prosecutors Office, the investigation concerns "OneCoin representatives" tied to IMS International Marketing Services.
IMS is a shell company OneCoin set up to accept payments from OneCoin investors in Germany. BaFin estimate that OneCoin laundered over $424 million through IMS bank accounts.
When BaFin moved to seize the accounts, only $31 million was recovered.
IMS International Marketing Services was acquired by OneCoin when they purchased the OPN pyramid scheme off Frank Ricketts.
Ricketts is believed to be the architect of much of OneCoin's money laundering network.
According to the Bielefeld Public Prosecutors Office, 'seven representatives from the Onecoin environment' are being investigated for fraud and violations of laws governing Germany's payment services regulations.
The investigation began "months ago", following a money laundering report filed by a bank in Bielefeld.
Bielefeld is a city in the north-east of the German state, North-Rhine Westphalia.
A representative from the Office confirmed to Suddeutsche Zeitung that while the investigation is currently focused on IMS payments, it 'could expand in the future'.
At the time of publication the Public Prosecutors Office investigation into OneCoin is ongoing. As of yet no suspects have been named.