Armenta's OneCoin class-action lawyers gone in just 3 weeks

On January 28th, attorneys from the law firm Krantz & Berman LLP put in a notice of appearance for Gilbert Armenta.
Armenta is a defendant in the OneCoin victim class-action.
On February 16th,  just shy of three weeks into representing Armenta, the Krantz & Berman LLP attorneys have withdrawn.
Specific details haven't been provided but the following is from a declaration of one of the attorneys;
Under New York Rules of Professional Conduct 1.16(c)(5) & (10), a lawyer may withdraw from representation if certain conditions are satisfied.

One of those conditions relates to the payment of fees, and one is if the client freely consents to the withdrawal.

We represent to the Court that both of these conditions for withdrawal are satisfied here.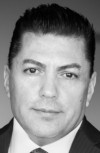 Reading between the lines, it seems Armenta (right) wasn't able to or was unwilling to pay his attorneys.
The withdrawal follows a motion by the Krantz & Berman LLP attorneys, seeking to extend Armenta's time to respond to the class-action complaint.
On January 29th the motion was granted, with the court noting;
Absent extenuating circumstances, the Court is highly unlikely to grant any further extensions of Mr. Armenta's time to respond to the complaint.
In light of his attorneys bailing, the court has given Armenta until March 17th to find new counsel – failing which he'll proceed pro se.
A new response deadline has been set for April 7th.
In parallel criminal proceedings, Armenta is scheduled to be sentenced on April 2nd.