Argentinian OneCoin scammer shows no remorse

Coming up on nine months of being held in custody, one of Argentina's top OneCoin promoters still feigns ignorance towards the $4 billion Ponzi scheme.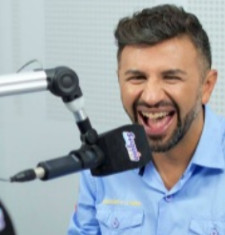 Edgar Moreno (right) was one of eight OneCoin promoters arrested by Argentinian authorities last December.
Moreno, a prominent local radio and television presenter, promoted OneCoin across Argentina and Panama "for at least three years".
As a well-known local, Moreno's arrest continues to generate local curiosity.
Seeking answers, a reporter from Suquia secured an exclusive telephone interview with Moreno.
In response to the simple question, "What happened to you?", Moreno replied;
The most astonished person by my arrest was me.

Those who know me personally are aware I am a good man and an entrepreneur, not a criminal or scammer.
How much Moreno made recruiting victims in OneCoin is unclear. The victim that sparked the criminal investigation is alleging a personal loss of €70,000 EUR.
When asked, "Has it ever crossed your mind that the cryptocurrency you were promoting could be false?", Moreno dodged the question.
Look, there are currently fourteen defendants in this case.

I ask you: Can you imagine going out to gather fourteen people with experience, work, family, friends, roots, and no criminal record to associate them with committing a crime? It is impossible!
Moreno took issue with the arrested being labeled ringleaders, stating "there are no Indians, we are all chiefs."
Moreno went on to claim one of complainants was "one of the best sellers of (OneCoin) education packages".
OneCoin bundled so-called "educational packages" with token investment. Despite being set up as an intended shield against regulatory action, the defense hasn't worked in any OneCoin related criminal action to date.
Moreno continued to deflect onto the other complainant;
The other alleged victim is a policeman from the province of Córdoba from the Complex Causes Crimes Unit, a great seller of educational packages who got tired of publicly stating that ours was a legal undertaking.

What a coincidence! the complaint for alleged fraud was reported and it was voluntarily submitted.
Moreno claims to have filed an answer to the criminal case against him but that a decision remains pending.
When they arrested me, I imagined that in less than 10 days my innocence was proven, but here I am, I have been waiting for my situation for almost nine months.

I opposed it and we appealed for preventive detention before the Control Judge, but he never responded.

Given the lack of response from the control judge, we decided to go to international protection systems.

We presented a request for Precautionary Measure before the Inter-American Commission on Human Rights and we did the same before the United Nations Working Group on Arbitrary Detentions.
Moreno and his co-defendants remain in custody as the criminal case against them continues.
Moreno maintains the preventive detention of OneCoin scammers in Argentina is an abuse of justice.