HopRocket Review: JM Ocean Avenue launch travel opp

Despite an advertised July 15th launch, at the time of publication the HopRocket website only features a marketing video.
An affiliate website is live over at "myhoprocket.com", but fails to disclose who owns the company.
It isn't until one looks up domain registration info that who is behind HopRocket is revealed.
Both the HopRocket and MyHopRocket website domains are registered to Fred Ninow of Ocean Avenue LLC, with an address in the US state of Utah also provided.
Ocean Avenue was first launched  back in 2012 by Ninow and Ken Dunn.
In May 2014 Dunn left Ocean Avenue, claiming at the time:
The idea of walking away from MLM and OA is the toughest decision that I have ever had to make.

Ocean Avenue is in great hands with Fred & Staci, Tuffy & Theresa and the field leaders. It is an amazing opportunity. I would recommend it to anyone asking. I just have another direction that I need to go in.
One month later, Ocean Avenue merged with JM International to create JM Ocean Avenue.
As per a press-release issued on October 1st, 2014:
JM International, currently operating based in China and had expanded market to nearly 20 countries and regions around the world, is a hub for cutting-edge research and development and offers a wide range of healthcare related consumer products.

June 5, 2014, Ocean Avenue and JM International, both multi-national direct sales companies, today announced a merger to create opportunities for distributors and customers by expanding to over 25 new markets around the world this year, offering a broader and deeper range of products and increasing sales.

The venture, JM Ocean Avenue, is collaboration between two companies whose combined strengths will result in a global company able to produce and deliver innovative products through a superior and far-reaching global distributor network.
The JM Ocean Avenue website lists Jacky Zhang as "Global CEO" of the company, presumably appointed at the time of the merger.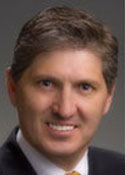 Somewhat curiously, Fred Ninow (right) does not appear on JM Ocean Avenue's listed Executive Team or Board of Directors.
Infact Ninow's name does not appear anywhere on the JM Ocean Avenue website, leaving his position within the company a complete mystery.
With Ninow's name popping up on the HopRocket domain registration, it's probable that this might be a separate side venture of JM Ocean Avenue that he's been put in charge of.
Before the JM International merger, Ocean Avenue offered access to a "vacation club":
Claiming to have partnered with an unspecified "world-renowned travel agency", membership to the Ocean Avenue Vacation Club is available to Ocean Avenue customers who spend a minimum of $50 on product purchases.

Details on the Vacation Club are sketchy, save that Ocean Avenue affiliates and customers will be able to book resort accommodation and cruises.
Unfortunately pending full disclosure by HopRocket, the executive management structure of the company is currently unknown.
As always, if an MLM company is not openly upfront about who is running or owns it, think long and hard about joining and/or handing over any money.
The HopRocket Product Line
HopRocket's retail membership is $49.95 and then $19.95 a month.
This membership provides access to travel discounts and as well as HopShop: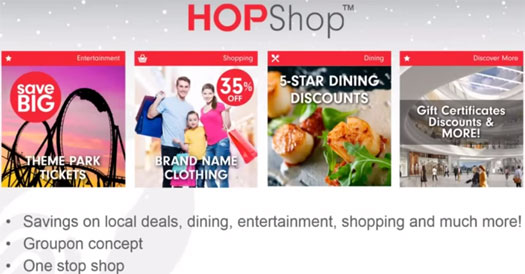 HopRocket claim HopShop provides access to "dining, sporting events, theme parks, appliances and name-brand clothing" discounts.
The HopRocket Compensation Plan
The HopRocket compensation plan pays affiliates to sell travel to retail customers and other affiliates.
HopRocket affiliates are also paid to acquire customers and recruit other HopRocket affiliates.
HopRocket Affiliate Ranks
There are eight affiliate ranks within the HopRocket compensation plan.
Along with their respective qualification criteria, they are as follows:
Senior Brand Advocate – not disclosed
Team Leader – 15,000 GV a month
Senior Team Leader – 30,000 GV a month
Premier Team Leader – 60,000 GV a month
Social Marketing Director – 150,000 GV a month
Social Marketing Senior Director – 300,000 GV a month
Social Marketing Executive – 600,000 GV a month
Social Marketing Ambassador – 1,000,000 GV a month
Note that GV stands for "Group Volume" and is sales volume generated by an affiliate's entire downline. GV includes the sale of travel, customer signups, affiliate recruitment and monthly retail customer and affiliate membership fees.
Rank Advancement Bonuses
HopRocket affiliate are paid the following bonuses for qualifying at the following affiliate ranks (one-time):
Premier Team Leader – "leadership development trip"
Social Marketing Director – $5000 and a "$7500 value trip"
Social Marketing Senior Director – $10,000 and a "$15,000 HOPE trip"
Social Marketing Executive – $50,000 and a "Wonder of the World trip"
Social Marketing Ambassador – $100,000 and a "customized trip"
Rocket Rewards
Some components of the HopRocket compensation plan payout in Rocket Rewards.
RocketRewards are dollar for dollar discounts that can be put towards purchases in the HopShop (see HopRocket product line section of this review).
Retail Customer Sign-up Bonus
HotRocket affiliates are paid $20 for each retail customer (non-affiliate $49.95 a month membership) they sign up.
Recruitment Commissions
Recruitment commissions in HopRocket are paid out via a unilevel compensation structure.
A unilevel compensation structure places an affiliate at the top of a unilevel team, with every personally recruited affiliate placed directly under them (level 1):

If any level 1 affiliates recruit new affiliates, they are placed on level 2 of the original affiliates unilevel team. If any level 2 affiliates recruite new affiliates, they are placed on level 3 and so on and so forth down a theoretical infinite number of levels.
HopRocket cap payable unilevel levels at three, with how much of a commission paid out determined by what level of the unilevel team a newly recruited affiliate is placed:
level 1 (personally recruited affiliates) – $40
level 2 – $20
level 3 – $10
Residual recruitment commissions are also available to HopRocket affiliates. These commissions are paid out using the same unilevel compensation structure, extended down nine levels of recruitment:
levels 1 to 5 – $10
levels 6 to 9 – $8
Note that earnings on certain unilevel levels are tied to a HopRocket affiliate's rank:
earnings on level 5 – must be Senior Brand Advocate or higher
earnings on level 6 – must be Team Leader or higher
earnings on level 7 – must be Senior Team Leader or higher
earnings on level 8 – must be Premier Team Leader or higher
earnings on level 9 – must be Social Marketing Director or higher
Bonus Recruitment Commissions
If three affiliates are recruited within 30 days of joining HopRocket, a bonus $150 commission is paid out.
If these first three affiliates go on to recruit three new affiliates too (within 60 days), a Go Pro Camera or $250 bonus is awarded.
If second level affiliates (9) go on to recruit three new affiliates each (within 90 days), a $1000 vacation is awarded.
If all of the above is completed within 35 days of a HopRocket affiliate signing up, a $2500 bonus is paid out ($1000 if done in 60 days).
Finally, if a HotRocket affiliate recruits and maintains three monthly fee-paying affiliates, their own $59.95 monthly membership fee is waived.
HopPass Commissions
Every HopRocket affiliate receives 30 HopPasses when they sign up, and then 10 each month.
When a HopRocket affiliate hands out HopPasses and they are used by retail customers to book travel, a $200 Rocket Rewards commission is paid out per HopPass used.
Travel Commissions
A Rocket Rewards commission is paid out when retail HopRocket customers book travel, equating to the difference between the retail and wholesale price of the travel booked.
Note that any HopPoints used towards travel discounts eats into any commissions paid out (at a rate of 1 HopPoint equal to $1).
HopPoints
HopPoints are awarded to both retail customers and HopRocket affiliates as follows:
Retail customers = 50 HopPoints at sign-up and then 20 HopPoints a month
Affiliates = 300 HopPoints at sign-up and then 60 HopPoints a month
HopPoints can be put towards discounts within HopRewards, at a rate of 1 HopPoint being equal to $1.
Generation Bonus
HopRocket's Generation Bonus uses the same unilevel compensation structure used to pay out recruitment commissions.
Generations are calculated in each individual unilevel leg, defined when a Team Leader or higher ranked affiliate is found.
Up to three Generation Bonus payouts are possible, tied to the rank of the affiliate qualifying for the bonus:
Team Leader rank = 1% bonus on one generation per unilevel leg
Senior Team Leader rank = 1% bonus on the first generation and 2% on the second per unilevel leg
Premier Team Leader or higher rank = 1% bonus on the first generation, 2% on the second and 3% on the third per unilevel leg
The Generation Bonus itself is paid out on the Team Leader's entire downline's monthly sales volume.
Lifestyle Bonus
The Lifestyle bonus is a monthly bonus awarded to qualified HopRocket affiliates, as determined by their affiliate rank:
Team Leader – $500 in Rocket Rewards or $250 cash
Senior Team Leader – $800 in Rocket Rewards or $400 cash
Premier Team Leader – $1000 in Rocket Rewards or $500 cash
Social Marketing Director – $1500 in Rocket Rewards or $750 cash
Social Marketing Senior Director – $2000 in Rocket Rewards or $1000 cash
Social Marketing Executive – $2500 in Rocket Rewards or $1250 cash
Social Marketing Ambassador – $3000 in Rocket Rewards or $1500 cash
Global Bonus
The Global Bonus is made up of 2% of HopRocket's unilevel sales volume (recruitment commissions).
HopRocket affiliates can earn shares in the monthly Global Bonus pool, with how many shares determined by their affiliate rank:
Social Marketing Director – 1 share
Social Marketing Senior Director – 2 shares
Social Marketing Executive – 5 shares
Social Marketing Ambassador – 10 shares
Joining HopRocket
Affiliate membership with HopRocket is $299.95 and then $59.95 a month.
If a HopRocket affiliate recruits and maintains three affiliates, the $59.95 a month fee is waived.
Conclusion
Whereas pretty much every travel-based MLM opportunity focuses exclusively on recruitment, HopRocket offers up a decent enough effort at travel commissions.
In paying out the difference between retail prices offered (available to HopPass trial members and $49.95 retail customers), HopRocket's travel commissions work much the same as any other retail commission.
What will be interesting to observe however is whether or not the retail prices offered are competitive.
Given that there's a wholesale price offered to affiliates, there's obviously a markup at retail level. Markups (and therefore commissions) are notoriously razor-thin in the travel industry, so how far off the mark HopRocket's retail travel prices are when compared to their wholesale offering will be interesting.
Too high and retail activity within the opportunity will fail to materialize.
Too low and affiliates won't bother focusing on it, instead opting to focus solely on recruitment commissions. And that brings us to HopRocket's red-flags.
For reasons I'm not entirely sure of, HopRocket offer recruitment commissions down nine levels of recruitment.
There's no justification for this, with the commissions clearly paid out of the fee new affiliates pay when they sign up.
This lends itself to chain-recruitment, with commissions also paid out on the ongoing monthly fees paid (through the unilevel).
That an affiliate's monthly fee is waived if they recruit three fee-paying affiliate's doesn't help, further incentivizing a focus on recruitment over retail.
Ditto the Global Bonus, which redistributes a portion of company-wide affiliate fees to those with the biggest downlines.
You sign up as a HopRocket affiliate for $299.95, recruit others who do the same and collect recruitment commissions down nine level of recruitment.
I suppose the counter to this is the HopPass, which offers retail customers a $200 discount on booked travel.
One thing I'm not clear on though is whether or not this discount eats into the retail commission offered on purchased travel. $200 is likely to drop the price to below wholesale, meaning there's actually a negative margin against the wholesale price.
HopRocket affiliates are paid the $200 HopRewards, but those can only be put towards discounts through HopShop.
Details on HopShop are currently sketchy, but it appears to be an e-commerce portal HopRocket will fill with third-party products and services.
There's nothing wrong with that in and of itself, but if the offerings aren't up to scratch then HopRewards are likely to be ignored – focusing affiliate attention back onto recruitment.
I didn't see anything in HopRocket marketing or presentations stating whether or not affiliates can use HopPasses. This left me questioning how effective handing out five HopPasses to $49.95 retail customers would be.
If they do distribute the HopPasses they receive to additional retail customers though, then that could be a great way to drive genuine retail activity throughout the business ($49.95 retail customers only earn HopRewards).
One final point I'll address is the migration of JM Ocean Avenue affiliates into HopRocket.
As per a HopRocket affiliate webinar I watched:
If you moved over from JM Ocean Avenue your position's already there, you just use your old username and password.

Your downline was moved over as a courtesy, everyone who was in JMOA was moved over here.
As far as I know this isn't disclosed to prospective HopRocket affiliates who aren't in JM Ocean Avenue.
How big the JM Ocean Avenue affiliate pool migrated into HopRocket is I have no idea, but pre-made downlines and team migrations from an existing opportunity isn't exactly what I'd call an even field for newcomers.
How successful is a new HopRocket affiliate who had nothing to do with JM Ocean Avenue going to fare against established teams that might number in the thousands?
There's a lot to think about there, and I'll leave you with the somewhat standard advice I give to prospective affiliates looking to join an opportunity that might see chain-recruitment its primary focus:
Before joining, make sure you check with your potential upline as to how much retail volume they generated over the prior three months. Take that figure and then compare it to what they earned in recruitment commissions.
Also throw some vacation ideas at them and see what they come back with. Take those figures and compare them to what you can find elsewhere.
That alone should give you a enough information to begin your assessment of HopRocket affiliate membership, while you gnaw over some of the bigger issues we've covered in this review.
Good luck!
Update 3rd August 2015 – Following the resignation of four JM Ocean Avenue executives (including Fred Ninow), it's been asserted that HopRocket has nothing to do with JM Ocean Avenue.