Neora sued by former Nerium supplier for false product testimonials

Neora's former product supplier, Nerium Biotechnology and Nerium Skincare (together represented as Nerium Biotech), have sued the company for allegedly using false product testimonials.
In a July 23rd lawsuit filed in the Northern District of Texas, Nerium Biotechnology claims Neora is
using customer testimonials and "before and after" photographs of customers who used Biotech's Nerium brand products to falsely advertise its new products and stifle competition.
Nerium Biotechnology's dispute with Neora (then Nerium International), date back to a 2016 contract dispute lawsuit.
That lawsuit resulted in a June 2018 settlement, of which only some of the terms were ever made public.
In addition to what we've already reported regarding the settlement, Nerium Biotechnology has revealed the agreement required Olson to
change the name of Nerium International 'to something not "confusingly similar" to Nerium';
stop using the word Nerium in its business operations;
never refer to Neora as a successor to Nerium International;
stop selling products manufactured by Nerium Biotech that used its patented "Nerium oleander extraction process";
release all trademarks and website domains used to sell Nerium Biotech products;
turn over all copyrighted and copyrightable materials pertaining to Nerium Biotech's products;
make Neora's distributors aware of the above restrictions and enforce their compliance.
Further discussing the settlement, Nerium Biotech states dispute that lead to the initial lawsuit
was one of Olson's creation, as he had diverted tens of millions of dollars into his own pocket and was already in the process of improperly leveraging the NERIUM brand (which always belonged to Biotech) to peddle products that did not have the same active ingredient as the Nerium oleander products.

Caught red-handed, Olson agreed to pay Biotech $10 million and to give up International's name, history, star product, and the goodwill associated therewith.
Nerium Biotech alleges that, by using testimonials pertaining to Nerium Biotech's products, Olson has violated the settlement agreement.
Instead of a clean break from "Nerium," Olson "rebranded" International to a confusingly similar-sounding name, "Neora," hoping to forever intertwine the company with Biotech's highly successful NERIUM Products.

Instead of relying on real reviews of real Neora customers who actually used its new products, Neora put out false ads using recycled video footage of International's customers' reviews of NERIUM Products and passed them off as its own.

Instead of relying on "before and after" photographs of Neora customers using its new products, Neora simply reused old "before and after" photographs of International's customers who used NERIUM Products.

Instead of relying on its own results and being honest with the world about when its products came on the market, Neora put back-dated entries on its marketing blog and doctored old newspaper headlines to falsely make it appear as though it has been selling its new products years before the products were being sold.

Ironically, many of these false statements are found on Neora's website promoting its ad campaign, "Real People, Real Results."
Nerium Biotech claims Neora is intentionally deceiving the public and "causing significant confusion the marketplace".
And not only is the company doing it, so too are Neora's distributors.
Neora's Brand Partners continue to conflate Neora's new products with Biotech's NERIUM Products.

That confusion is causing, and if left unrestrained will continue to cause, irreparable harm to Biotech.
Neora's use of Nerium Biotech's products expired in May 2019. The company claims it is about to "reintroduce Nerium brand products" into the marketplace.
Nerium Biotech also claims Neora and Olson have thus far failed to turn over copies of copyrighted and copyrightable marketing materials, as required by the agreed upon settlement.
Nerium Biotech claims the reason Neora has failed to turn over the material is because
Neora is now using those materials, and other false advertisements, to deceive the public into thinking that customers of Biotech's NERIUM Products obtained their results using Neora's new products.
One of the new products Nerium Biotech cites is "Neora Firm – Body Contour Cream", which is a direct competitor to their "NeriumFirm – Body Contouring Cream" product.
Again in violation of the settlement agreement, Nerium Biotech cites the following as evidence of Neora representing its new products are a continuation of Nerium Biotech's previously sold products.
People are happy with an iPhone 7 until the iPhone 10 is released with upgrades and new technology, then everyone wants the new and improved version.

The same is true for skincare technology, you must constantly be upgrading your science.

Instead of taking the easy road and resting on their laurels, Neora strives to improve their products when science and nature offer an authentic opportunity to make them even more powerful and effective.

Age IQ Night and Day Creams are the perfect example of seizing the opportunity to bring customers an even better product.
Jeff Olson purportedly made the above comments on May 31st, 2019.
Answers Nerium Biotech to Olson's representation;
The problem for Neora (and for the public) is that Neora's new products are not "new and improved version[s]" of the products that resulted in the "before and after" photographs and customer testimonials in its advertising.

Unlike the NERIUM Products, none of Neora's new products use NAE-8® (Nerium Aloe Extract) as their active ingredient.

Yet, Neora continues to use customer testimonials and "before and after" photographs of customers who used NERIUM Products to sell its new, non-NAE-8® products.

Neora's actions are false and deceptive.
Specific examples provided by Nerium Biotech include testimonials in a February 2019 Neora Firm marketing video: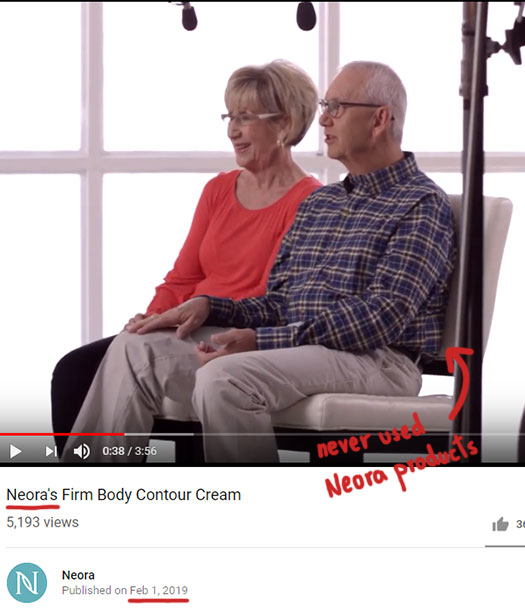 Which as below are taken from a 2015 Nerium Firm testimonial reel: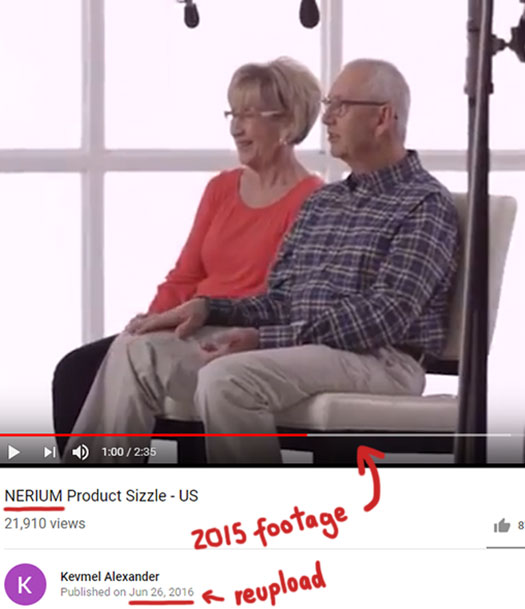 Footage featuring Olson himself talking about Nerium products also appears to have been recycled.
As have
before and after photos from Neora's filter feature on their website; and
entries on Neora's official blog (backdated to 2017 because they were copy and pasted from the now defunct official Nerium blog);
Examples of deception include:
the changing of a Forbes article headline to a quote by Amber Olson to promote the article on Neora's website;
placing Neora product alongside independent media articles that do note feature Neora's products; and
Neora distributors using false before and after images on Instagram.
In an attempt to stop Neora, Nerium Biotech is seeking an injunction.
It is now evident that Neora never intended to adhere to its obligations under the IP Agreement and compete fairly with Biotech. Neora and Olson apparently see Biotech's distribution of Nerium oleander skin care products as a direct threat to Neora's new line of non-Nerium oleander products.
As per the settlement agreement, any disputes arising as a result of the agreement are to be mediated through arbitration.
Cited claims of relied include
violations of the Lanham Act (false advertising); and
breach of contract
If the requested injunction is granted, Neora will be required to comply with the settlement agreement – namely removing fraudulent advertising and making a public statement to clarify any caused confusion.
Stay tuned…
Update 10th September 2019 – Following Neora's the removal of the identified offending material, Nerium Biotech has dismissed its lawsuit.