My Advertising Pays small claims court case filed

The UK's small claims court is available to the public for recovery of funds not exceeding £10,000 GBP ($13,000 USD).
Not willing to take the collapse of My Advertising Pays lying down, an affiliate is using the court in an attempt to recover over £4000 GBP in losses ($5200 USD).
As documented by Tara Talks, a small claims case was filed against Tony and Lynne Booth on July 25th.
The Booths assisted Mike Deese in running My Advertising Pays from the UK. Tony Booth cited himself as My Advertising Pays' Communications Executive.
Together the Booths are believed to have received a large percentage of funds invested by My Advertising Pays affiliates.
On August 11th it was confirmed that the Booths had responded to the lawsuit.
Via a letter from their attorney, the Booths informed the plaintiff they intend to defend the matter.
Dear Miss ********

Booth – Litigation Matter Against *******

We act for Mr & Mrs Booth in respect of the claim you have brought against them.

We enclose acknowledgement of service that has been registered online.

It is our clients instructions that we are to defend the whole of the claim not least because any agreement you had was with a limited company and not our clients.

Yours sincerely,

Haworth & Lees Solicitors Limited
The matter will now be heard before a Judge, who will decide whether the Booths are responsible for My Advertising Pays' affiliate's financial losses.
Since My Advertising Pays collapsed the Booths have continued to scam people through The Advert Platform.
The Advert Platform management arrangement between Mike Deese and the Booths appears to be the same as that of My Advertising Pays.
On Facebook Tony Booth was observed showing off a recently renovated kitchen: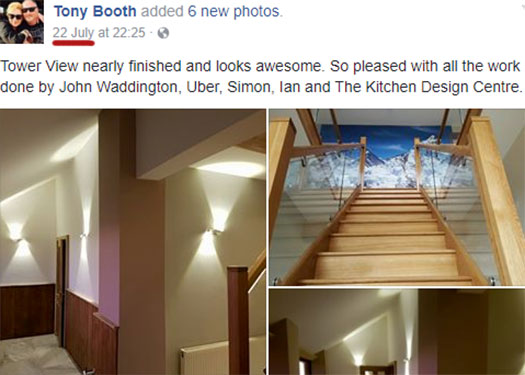 How much of My Advertising Pays and The Advert Platform invested funds the Booths have spent renovating their house is unclear.
Update 20th October 2017 – A few hours ago the following announcment was made on "The Advert Platform/My Advertising Pays – Scam" Facebook page;
It's with much sadness that we have to report that the Small Claims Case against Tony and Lynne has been thrown out.
Details on why the case was thrown out have yet to surface. Some explanations as to why the case wouldn't succeed have been brought up by readers in the comments below.