My Cycler to reboot as cryptocurrency mining package Ponzi

Manos Sergakis launched My Cycler a year ago after his One World Ads Ponzi scheme collapsed.
My Cycler offers Ponzi ROIs through a five-tier matrix cycler.
Alexa traffic estimates show a decline in My Cycler traffic  throughout 2017:

What this means for a cycler Ponzi is that recruitment has slowed down such that the majority, if not all of the company-wide matrices have stalled.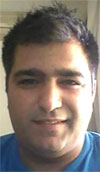 In a nutshell, over the past year Sergakis (right) has stolen who knows how much money from My Cycler affiliates. He's achieved this through admin positions and funds attached to positions trapped in stalled matrices.
Rather than cut his losses, admit the majority of My Cycler affiliates will cop a loss and do a runner, Sergakis is doubling down with a new scam.
In line with the current MLM underbelly trend, Sergakis is relaunching My Cycler as a cryptocurrency mining scam.
The majority of online Ponzi schemes these days launch as either cryptocurrency mining and/or trading scams.
My Cycler is going the trading route, with a marketing presentation claiming the company will mine bitcoin, dash, ethereum, litecoin, pascal and monero.
Naturally no proof of mining or mining generated revenue is provided.
My Cycler affiliates invest in "bitcoin mining shares" on the promise of a 20% ROI, paid at 0.5% a day.
The more bitcoin mining shares you purchase the more profits you can make daily.
Referral commissions are paid on affiliate investment down two levels of recruitment (unilevel):
level 1 (personally recruited affiliates) – 7%
level 2 – 3%
A matching bonus is also paid on ROI payments, however My Cycler marketing materials don't go into specific details.
Regardless, cryptocurrency mining of any kind doesn't deliver a fixed daily ROI – and so Sergakis' Ponzi ruse is exposed.
Like the original adcredit Ponzi, bitcoin mining packages are just an excuse to solicit new investment to pay off existing My Cycler affiliates.
And whereas a 120% ROI on invested funds paid with newly invested funds isn't sustainable in and of itself, Sergakis will have to stretch funds even thinner to keep the cycler side of the business ticking over.
What this ultimately means for My Cycler affiliates is even bigger losses when the bitcoin mining package revenue inevitably dries up.