Mining City claims 20,000 affiliates now able to withdraw

Mining City is claiming 20,000 affiliates have regained access to withdrawals.
Firstly I'd be surprised if Mining City actually had 20,000 active investors left.
Secondly Mining City's social media accounts remain flooded with claims of withdrawal problems.
The claim that 20,000 Mining City investors are able to withdraw doesn't add up.
As per Mining City's announcement, shared on December 23rd;
We are thrilled to announce that over 60,000 accounts have completed the KYC process and are in the process of passing the AML and compliance process.

Overall, 20,000 account holders have passed the KYC, AML and compliance process and now have access to all account features on the Mining City platform.
Mining City blames its KYC process for locking affiliates out from withdrawals.
We must stress that the main reasons of many KYC failures so far have been due to:

*Bad quality of videos or photos

*Not carefully following instructions provided during the KYC process by the vendor

*Trying to pass the KYC process with more than one account – you should only try to pass KYC with your main account, as any attempts to try to pass KYC with secondary accounts may risk failure and your efforts will only go towards slowing the process down even further for yourself and other users and will generate additional KYC-related costs for users and MC
Despite claims of 20,000 investors being able to withdraw, here's what Mining City's social media looks like:
One interesting screenshot reveals since the launch of WELCASH, ELCASH daily return payments have trickled down to practically nothing.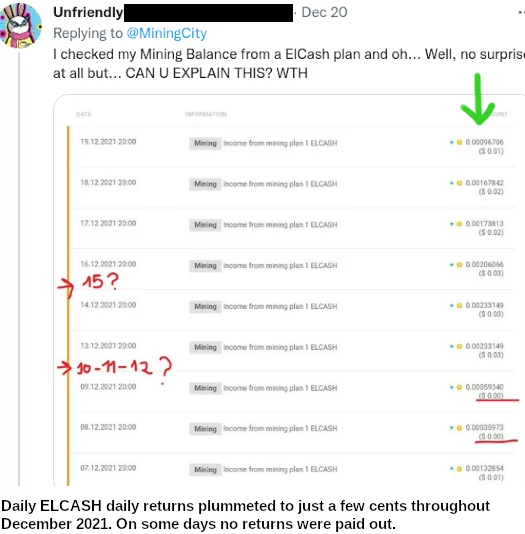 This is in line with what happened to BTCV daily payments, prompting the launch of ELCASH.
With ELCASH on the rocks, Mining City launched WELCASH in late November.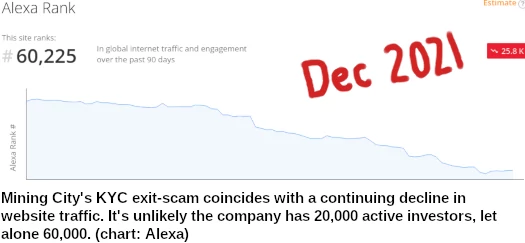 As opposed to a quick shut down, it appears Mining City's collapse is set to continue as a long and painfully drawn out process. We'll keep you posted.