Massive Liyeplimal securities fraud lawsuit filed in US

A group of Plaintiffs have filed a securities fraud lawsuit against Liyeplimal and associated scammers in the US.
The parties list is so long it spans three pages. Plaintiffs also managed to rip off BehindMLM without citation.
Liyeplimal was a simple MLM crypto Ponzi scheme, operated through limo and XAF.
The scam was created and operated by Emile Parfait Simb.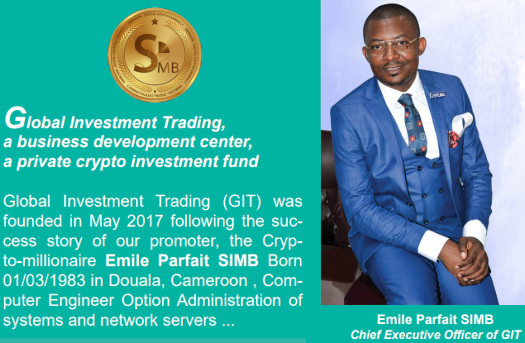 Simb's precursor Ponzi to Liyeplimal was Global Investment Trading, which collapsed prior to Liyeplimal's launch in 2018.
After Liyeplimal collapsed for the second time back in February, Simb was arrested in Cameroon.
He was then promptly released and fled the country in early June.
Cameroonian authorities are suspected of assisting Simb, who is believed to have fled on a diplomatic passport issued by neighbouring Central African Republic.
That brings us to Plaintiffs' Liyeplimal securities fraud lawsuit, filed in the District of New Jersey on June 23rd.
Named Plaintiffs in the lawsuit are: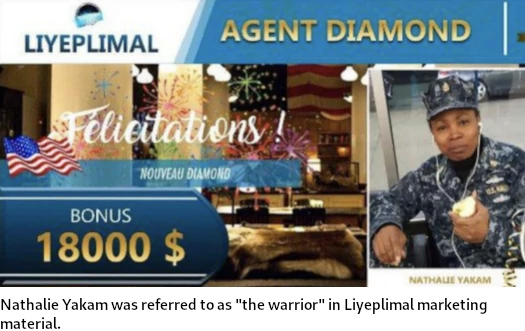 Solomon Kabore (Virginia, US)
Hilaire Bouda (New York, US)
Mayessa M. Koulibay Leman (New York, US)
Sirina Savadogo (Georgia, US)
Noelie Tapsoba (New York, US)
Eleonore Tientcheu (California, US)
Rosine Foukeng Diouda (South Carolina, US)
Francois Emmanuel Nguetta (South Carolina (US)
Hyppolitte Djouda (South Carolina, US)
Arthur Tiam Ngnepiepaye (Texas, US)
Edith Tche (Mississippi, US)
Armel Bemmo (Nevada, US)
Armel Constant Boguissogo (Nevada, US)
Timothee Ntamack (Maryland, US)
Dieudonne Mananga (Texas, US)
Paul Ekwalla Ekollo (Canada)
Sabine Hortense Ntsama (Canada)
Annie Ngo Dipoumbi (New York, US)
Nwafo Wandji Cathy Stella (Cameroon) and
Kumakolo Frida Paola (New York, US)
The one hundred and twenty-four named Liyeplimal Defendants are:
Global Investment Trading S.A. d/b/a Liyeplimal
Simtrex Commercial Brokers LLC ("Simtrex")
Emile Parfait Simb (Cameroon, fled the country and is on the run)
Cecile Jeannette Fotso Benga (Canada)
Joseph Flaubert Nya (Canada)
Mbogmis Nee Bassomo Marthe Angeline (Cameroon)
Serge Fogue (not specified)
Yetna Yetna Mathieu (Cameroon)
Aimé Samuel Koum (France)
Alain Bessala (Canada)
Albert Noel Tchuente (Michigan, US)
Aloys Rodrigue Nouck (Cameroon)
Anny P N Elodie Assih (unknown)
Augustin Bouda (unknown)
Augustine Reine Souvenirs Ngo Nhiomog U Maih (Cameroon)
Benoît Bea Moualal (Cameroon)
Bernard Bayiha (Cameroon)
Bienvenu Bamouni (Burkina Faso)
Boubakar Diarra (Cameroon)
Brice Houssou (unknown)
Charles Takam Noule (Maryland, US)
Christophe Nyobe Nlend (Cameroon)
Claudine Manga (Cameroon)
Claudine Sylvie Eloumou Akama Epse Manga (Cameroon)
Clementine Nadege Moualal (Cameroon)
Daniel Le Bon Kema'euga Tchouzou (Cameroon)
Daniel Njome Moussinga (Cameroon)
David Christian Kom (Cameroon)
Desire Olomo (Cameroon)
Jack Rayane Djapa Tchagwo (Canada)
Dominique Bitjoka (Cameroon)
Edouard Arsen Ouattara (New Jersey, US)
Ekwalla Nathan Guy Herve Ntone (Cameroon)
Emmanuel Foko (unknown)
Germaine Simb (Cameroon)
Evelyn Moche (Maryland, US)
Ferdinand Ngangue (unknown)
Fils Ngai Ngai (unknown)
Frederick Some M (unknown)
Fru Anna Ebenye Epse Fru (Cameroon)
Anne Ebenye Epse Fru (Cameroon)
Gilles Aujol (France)
Sacko Dapa (France)
Honorine Ratolojanahary (Cameroon)
Jacques Landry Bikai (Cameroon)
Jean Calvin Abela (Cameroon)
Jeanne D'arc Bidjoni (Cameroon)
Jeff Jullian Djapa Sapeya (Cameroon)
Jeffe Koumbou F (Cameroon)
Jodel Armand Mandeng Ntsimi (Cameroon)
John Mandeng (Maryland, US)
Jules Honore Nyeck (Cameroon)
Julienne Ndje (Cameroon)
Junior Maih (Mauritius)
Koanda Ousmane (Burkina Faso)
Laure Epiphanie Ndakgo (Canada)
Lise Amandine Mouendi (Cameroon)
Mahamadou To (Burkina Faso)
Mambo Epse Koum Julienne (unknown)
Martin Brochu (France)
Mateck Epouse Bayiha Josephine Nicole (Cameroon)
Mathieu Yetna Yetna (Cameroon)
Mensah Dakevi (Togo)
Monique Yohana Ngo Maih Bahoya (France)
Muriel Christille Tedjo (Cameroon)
M'wetigne Frederic Some (Burkina Faso)
Nathalie Yakam (Virginia, US)
Nathan Guy Ekwalla (Cameroon)
Nemesious Mouendi Mouendi (Cameroon)
Ngo Ndebi Epse Libam (Cameroon)
Pangsou Innocent (Cameroon)
Paul Dongue (Cameroon)
Paulin Nyobe Simon (Cameroon)
René Ayina (Cameroon)
Rene Hermann Ngouadje (Cameroon)
Richard Engoulou (Canada)
Samuel Aime Koum (Cameroon)
Sebastien Panny (unknown)
Serge Patrick Fotue (Cameroon)
Severin Pefoumbou (Virginia)
Simon Ouedraogo (Burkina Faso)
Soulemanou Mefire (Cameroon)
Soumare Fatoumata (France)
Thomas Timothée Manga (Cameroon)
Rudy Thibault Ikele Matiba (Cameroon)
William Henry Mbom Maih (Guinea-Bissau)
Willy Tchuilen Ngatcha (Canada)
Pamela Judith Youmbi Nguenang (Cameroon)
Yvette Mevazara (Burkina Faso)
Pierre Zoungrana (Burkina Faso)
Seraphine Dento (unknown)
Xavier Claude Feudjio (Germany)
Sumch Tarek (unknown)
Tanzil Ahmad (unknown)
Franck Kabore (New York, US)
Roussel Ngangwa (Canada)
Stephanie Mamseu (Canada)
Albert Ngog (Texas, US)
Marie Delphine Bang (Washington, US)
AnneGeorgette Bekono (Canada)
Patrick Messi (unknown)
Eric Denis Ngono (Canada)
Achille Djouta (Canada)
Nathalie Yamb (Switzerland)
Olivia Ravaka Malala Rakotonarivo (Madagascar)
Nicole Rasolonjatovo (Madagascar)
Steve Arnold Djoumessi Nguekeng (Canada)
Jolande Petipa (Canada)
Monique Tatiosop (Canada)
Armelle Kuemo (Canada)
Marie Joseph Vogtembing (Virginia, US)
Severin Pofoumbo (Virgina, US)
Gildas Ngambou Mbouna (Texas, US)
Sandrine Fami-Etetmen (New York, US)
Marie Brouard Nee Marie Bassomo (unspecified)
Jean-Jacques Moiffo (France)
Wilfried Fami (Canada)
Charline Lema (France)
Hervé Simon Eone Eone (France)
Jean Louis Messang (Switzerland)
Henri Noël Moukouri Missipo (Cameroon)
Edwige Biteu (New York, US)
Cabral Libii Li Ngue (unknown) and
Landry Antoine Lemogo (Cameroon)
While the majority of Liyeplimal defendants are based out of Africa, I was surprised to see the large percentage of US Plaintiffs. There is also a smattering of US based Defendants.
Plaintiff's lawsuit, filed by attorneys Galen Criscione (Criscione Ravala LLP) and Ross E. Pitcoff (Ross Pitcoff Law), appears to borrow heavily from BehindMLM's independent research.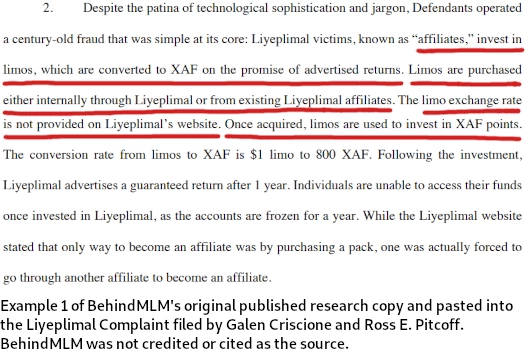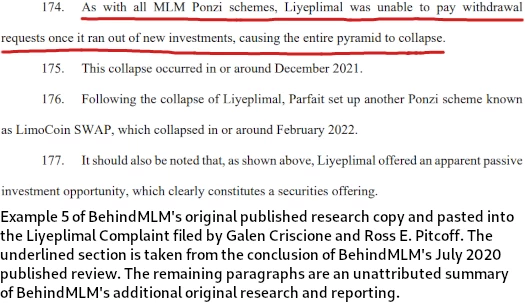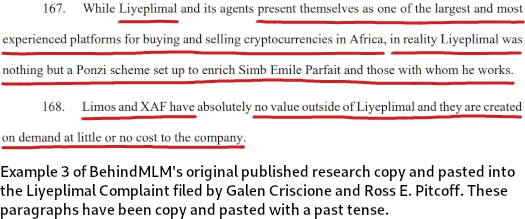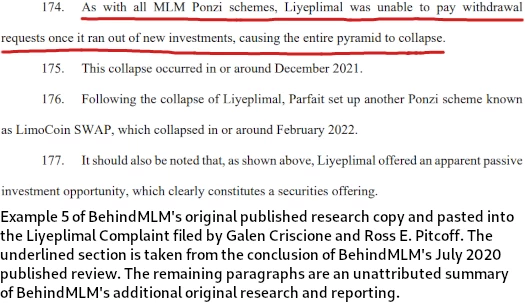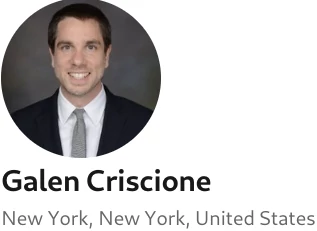 Criscione and Pitcoff cite other sources, however BehindMLM is not credited.
Instead the attorneys pass off BehindMLM's original research as their own work.
Plagiarism in federally filed complaints is certainly disappointing to see.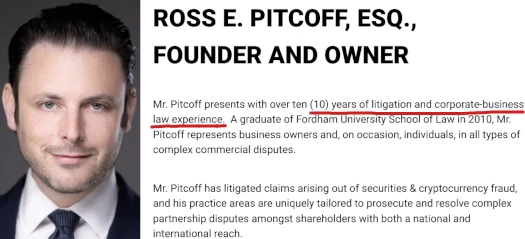 That aside Plaintiff's Complaint alleges Liyeplimal is a Ponzi scheme that violated US securities law. RICO allegations have also been enacted.
The Defendants scheme is a textbook example of a Ponzi scheme and utilized the financial system of the United States to perpetuate this fraud on residents of the United States and others throughout the world.

Plaintiffs, by and through their undersigned counsel, allege in this action for violations of … the Securities Exchange Act of 1934 and … the Securities Act of 1933.

Plaintiffs further bring this action complaining that Defendants violated Plaintiffs' rights under the New Jersey Influenced and Corrupt Organizations Act ("New Jersey RICO"), and New Jersey Common Law by engaging in, inter alia, breach of contract, unjust enrichment, fraudulent inducement, fraudulent misrepresentation, negligent misrepresentation, conversion, and fraud and conspiracy.
The Complaint alleges Plaintiff investor losses at over $1.6 million. Keep in mind this is just an estimate of the Plaintiffs' losses. Total Liyeplimal losses are much higher.
Plaintiffs are seeking recovery and punitive damages of up to $16.6 million across twelve causes of action.
Due to the large number of Defendants I can see service being a nightmare in this case. Not sure how it's going to play out.
Simb being on the run (in Russia or elsewhere), is also likely to present issues in a civil case.
Stay tuned for updates as we continue to track the case.