Lyoness suspends voucher Ponzi scheme in Italy

In response to authorities announcing a preliminary investigation, Lyoness has suspended investment from Italy.
Late last month the Italian Antitrust and Consumer Protection authority revealed it had begun a preliminary investigation into Lyoness' business activities.
Specficially, the AGCM were focusing on
Lyoness' misleading terms and conditions;
misrepresentations regarding the actual probability of making money in Lyoness; and
how Lyoness is marketed in Italy (in a broader sense)
Within forty-eight hours of news of the AGCM's investigation breaking, Lyoness informed Italian affiliates it was suspending its voucher investment scheme.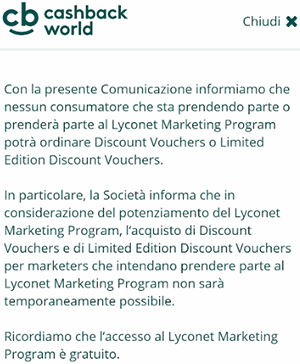 A message in the backoffice of Lyoness' Italian affiliates reads;
With this Communication we inform that no consumer who is taking part or will take part in the Lyconet Marketing Program will be able to order Discount Vouchers or Limited Edition Discount Vouchers.

In particular, the Company informs that in consideration of the upgrading of the Lyconet Marketing Program, the purchase of Discount Vouchers and Limited Edition Discount Vouchers for marketers wishing to take part in the Lyconet Marketing Program will not be temporarily possible.

Recall that access to the Lyconet Marketing Program is free.
Originally "accounting units", today Lyoness orchestrates its Ponzi scheme through "discount vouchers".
Tellingly, Lyoness don't inform their affiliates as to why they've suspended voucher investment.
The irrelevant shopping cashback side of Lyoness will still operate in Italy. Without the Ponzi side of the business to hold it up though, expect a sharp downturn in Italian Lyoness activity.
Which ultimately could spell disaster for Lyoness as a whole. Alexa currently estimate that Italy makes up just under half of website traffic to the Lyoness website.
Stay tuned…
Update 15th January 2019 – AGCM has concluded Lyoness is a pyramid scheme and fined the company €3.2 million euro.