Leafit Review: Social network photo spam?

When I first began researching Leafit, I wasn't sure if I was looking at a reincarnation of 2012s vLeaf Ponzi scheme or if it was something else altogether.
Digging up the archives, I headed over to vLeaf's old website domain ("vleaf.com"), which confirmed that these two companies were indeed one and the same: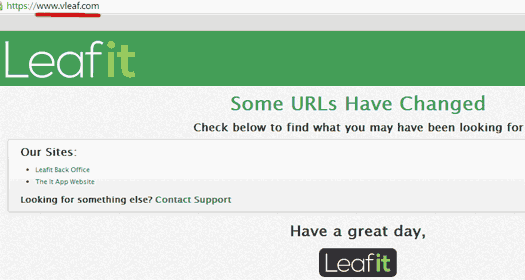 Why the vLeaf and Leaf International branding was abandoned I have no idea, but today the company is going by the name Leafit.
One possible reason is vLeaf's business model:
Building on the traditional Ponzi scheme "buy advertising and earn a ROI" model, Leaf International introduces a retail offering to the recipe, throws in some online marketing tools and pairs it with a 3×9 pyramid scheme.
That vLeaf was destined to collapse was a given, however when exactly that happened is unclear.
The Leafit website domain ("leafit.com") was first registered way back in 2006, however the domain details were only recently updated on July 27th. This is probably a good indication of whereabouts the domain was re-purposed to begin marketing Leafit as an opportunity.
That said, the Leafit website in its current state isn't all that helpful: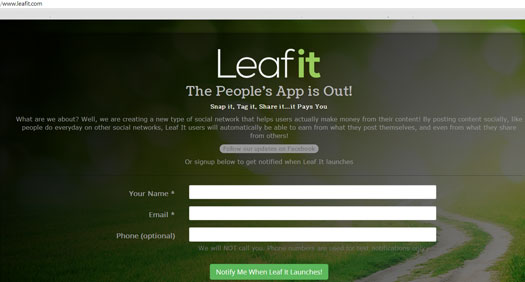 What are we about? Well, we are creating a new type of social network that helps users actually make money from their content!

By posting content socially, like people do everyday on other social networks, Leaf It users will automatically be able to earn from what they post themselves, and even from what they share from others!
Hmm.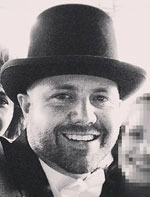 The website Leafit affiliates are pushing, "leafit.biz" is a bit more useful, offering up some basic information about the opportunity.
One pleasant change from vLeaf is that ownership of the company is now fully disclosed. Heading up Leafit is Founder and CEO Lawrence Sowell (right).
Somewhat curiously, on his LinkedIn profile Sowell only cites involvement with Leafit beginning January 2014.
Sowell's Twitter meanwhile reveals he was most definitely involved in vLeaf:
Sowell's background appears to be in marketing and promotion. Before vLeaf and Leafit, Sowell launched Get2Marketing in 2007.
Taken from Sowell's Get2Marketing corporate bio:
Lawrence's passion for marketing and promotions began when he was 18 years old in College. Little did he know, by the age of 22 he would have done 2 musical tours and over 20 promotional events with headline names like Nelly (hip hop), Sawyer Brown (country).

Lawrence has since moved his passion to the internet where he is an expert at ad concept creation, branding strategy's, website analysis, online and offline marketing, ad placement, and reporting.
This advertising background is probably what laid the foundation for the failed vLeaf Ponzi/pyramid hybrid attempt.
As far as MLM goes, I wasn't able to find any involvement by Sowell on the affiliate or executive side. This indicates that vLeaf was Sowell's first MLM venture.
Some of Sowell's co-workers are also worth mentioning too. On Leafit's Fundable investor page the company advises that it's 'interested in raising funds from accredited investors.'
At least one investor seems to have jumped in, with Sowell noting in a July 16th update about a "Private Placement Memorandum" (PPM) that
The PPM has been launched after recently closing the Friends and Family Offering. On it's first day one investor purchased stock in the amount of $50,000.
If you scroll down the main Leafit Fundable page, management is listed along with Leafit's master associate, Vaughn Tarver.
Research reveals that Tarver was heavily involved in the penny-auction scheme BidXcel: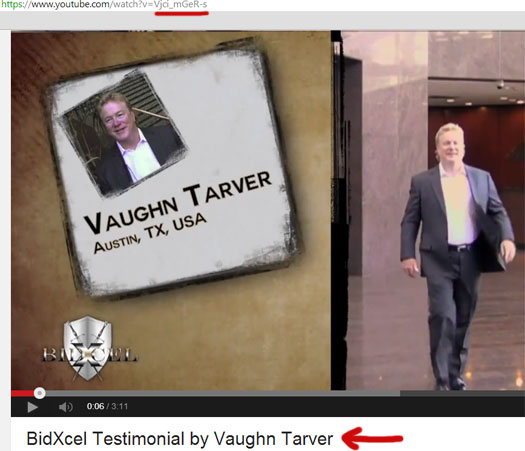 After being in the industry for 24-plus years, I would say in the last six months I have seen more change than I did in the previous 20 years combined.
BidXcel wasn't as bad as some of the more obvious Ponzi scheme penny auctions that launched in the post Zeek Rewards era, but still permitted affiliates to directly invest and receive a ROI if they created dummy customer accounts.
Launched in September 2012, BidXcel ran out of new affiliate funds to pay off existing affiliate investors a few months later in March 2014. Abruptly and without forewarning or clear communication to its affiliate-base, BidXcel management did a runner and left those who had invested hanging.
Speaking of Zeek Rewards, also listed on the Fundable website is Mike Green. Green is credited as Leafit's VP of Sales and lists his location as Spokane, Washington on his LinkedIn profile:

Green also currently appears to be one of the net-winners in the Zeek Rewards Ponzi scheme. Clawback litigation was recently launched against net-winners in the Zeek Rewards Ponzi scheme who failed to negotiate a settlement with the Receiver.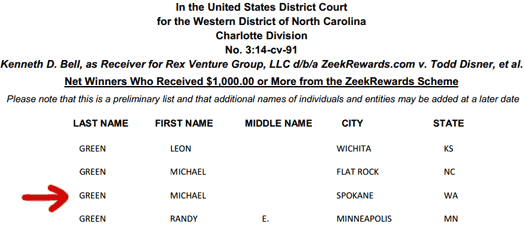 Green's name appears on the Receivership's list of net-winners who earned $1000 or more and refuse to return the stolen Ponzi funds they were paid back to the scheme's victims.
Steve Heiman is named Leafit co-founder and COO, and is also co-owner of Sowell's Get2Marketing company. MLM wise I'm not entirely sure but Heiman might be an ex-affiliate of StemTech International. Various replicated affiliate pages for a Steve Heiman in StemTech (affiliate ID: 1004901) are currently cached by Google (they are otherwise no longer publicly available).
Heiman's LinkedIn profile also credits him with involvement in vLeaf.
As is clear from the above, Leafit's management and master associate certainly have a colorful history. We know what's attracted them as MLM marketers in the past, but has Leafit changed from vLeaf's original advertising-based Ponzi points model?
Read on for a full review of the Leafit MLM business opportunity.
The Leafit Product Line
Leafit's product appears to be a mobile app that enables users to post photos on third-party social networks.
Promotional material for the app mentions a "social network", but whether or not this is a fully fledged social network or merely something integrated within the Leafit app is not clarified.
The idea behind the app appears to be the tagging of products in photos that users of the app upload to social networks.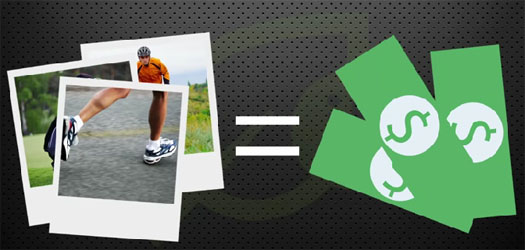 When the Leafit app detects a product tagged in a photo, it then attaches an affiliate shopping link (from a third-party merchant) to the photo.
There's no mention of any costs to the user, however there is a "free affiliate" option mentioned in the compensation plan. This indicates that basic usage of the app (along with single-level non-MLM commissions) will be free.
The Leafit Compensation Plan
Leafit's compensation plan pays affiliates on the recruitment of new affiliates. If recruited affiliates continue to pay monthly membership fees, residual commissions are paid out via a matrix.
Commissions are also available on any product or service purchases made through Leafit's app.
Recruitment Commissions
Leafit pays a direct commission on the recruitment of new affiliates, paid out down a maximum nine levels of recruitment.
level 1 (personally recruited affiliates) – $50
level 2 – $10
level 3 -$5
levels 4 to 9 – $3
How many levels of recruitment a Leafit affiliate can earn on is determined by how many affiliates they themselves have recruited:
recruit 1 affiliate = earn on levels 1 to 3
recruit 3 affiliates = earn on levels 1 to 6
recruit 5 affiliates = earn on all 9 available levels
Residual Recruitment Commissions
Residual recruitment commissions in Leafit are paid out via a 3×9 matrix.
A 3×9 matrix places an affiliate at the top of a matrix, with three positions directly under them (level 1):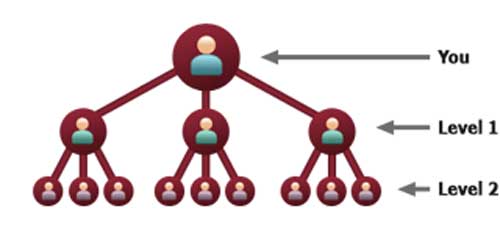 In turn, these three positions branch out into another three positions each (level 2), and so on and so forth down a total of 9 levels (29,523 positions in total).
Positions in the matrix are filled via affiliate recruitment, with commissions paid out of the monthly fees Leafit affiliates pay.
How much of the monthly affiliates fees are paid in commissions is determined by what level that affiliates sits on the matrix, in addition to how many affiliates the qualifying affiliate has personally recruited:
recruit 1 affiliate and earn $2 on matrix levels 1 to 3
recruit 3 affiliates and earn $2 on matrix levels 1 to 6
recruit 5 affiliates and earn $2 on matrix levels 1 to 8 and $5 on level 9
Note that in order to satisfy the requirements to earn commissions, affiliates recruited must be paying their monthly membership fee (counted as active).
Matrix Commissions Match
Leafit affiliates are able to earn a matching bonus on any matrix earnings affiliates in their downline earn, payable down five levels of recruitment.
How many levels of recruitment a Leafit affiliate can earn a matrix match on depends on how many affiliates they recruited and the weekly sales volume they generate:
Manager (recruit 3 affiliates and have a downline that has generated at least 600 points in sales volume) = a 5% match on level 1
Director (recruit 5 affiliates (2 of which must be Managers) and have a downline that has generated at least 1500 points in sales volume) = 6% on level 1 and 5% on level 2
Senior Director (recruit 10 affiliates (3 of which must be Directors) and have a downline that has generated at least 5000 points in sales volume) = 7% on level 1, 6% on level 2 and 5% on level 3
Executive (recruit 15 affiliates (4 of which must be Senior Directors) and have a downline that has generated at least 25,000 points in sales volume) = 8% on level 1, 7% on level 2, 6% on level 3 and 5% on level 4
Senior Executive (recruit 20 affiliates (3 of which must be Executives) and have a downline that has generated at least 200,000 points in sales volume) = 10% on levels 1 to 5
I believe sales volume solely includes monthly membership fees paid by affiliates. The example provided in the Leafit compensation plan states that the monthly $49 affiliate fee is equal to 49 sales volume points.
e-Commerce Commissions
When a product is sold through the Leafit app (via a tracked affiliate link embedded into a shared photo), Leafit pay out the affiliate who published the photo a percentage of the commission they receive from the third-party merchant who stocks the product or service sold.
This percentage is split between an affiliate and their downline as follows:
free affiliates earn 10% of the commission the third-party merchant pays Leafit
paid affiliates can earn from their own sales and that of their downline, at a rate of 10% on their personal sales and 5% on any sales made down 9 levels of recruitment
Joining Leafit
Paid affiliate membership to Leafit is $149 and then $49 a month.
Free affiliate membership is also available, however this excludes an affiliate from the MLM components of the Leafit compensation plan.
Conclusion
Leafit unfortunately isn't all that different business-model wise to vLeaf, but before we get into the compensation plan let's take a look at their "product".
In the sense that Leafit is an MLM business opportunity, their app doesn't really qualify as a product in and of itself. It doesn't appear to cost anything and it simply tacks on an affiliate link provided by third-party vendors.
If we go even deeper into the app,
when you post a photo to Leafit, your friends and followers on Facebook, Twitter, Instagram and Pinterest will see it, too.

When your friend clicks on an item in a photo you've posted, they'll be automatically directed to whichever one of over 18,000 retailers has that item at the lowest price.

With just one more click of a button, they can buy the item, and once they do, a portion of the profit will come back to you!
Well gee-whiz. If only affiliate marketing was that easy.
The hell do you need Leafit for? Just sign yourself up to Amazon and start spamming photos with affiliate links attached yourself.
Chances are though you're going to make squat. I'm not the biggest of social network users but I've certainly got better things to do than stare at photos of products someone I'm connected to spams my way.
And with the tacking of an affiliate link breaching into advertising territory and the receiving of published photos being entirely unsolicited, make no mistake – this is spam.
Leafit try to counter this by dangling the viral carrot infront of prospective affiliates.
The example provided in the Leafit app presentation is a photo of a running shoe: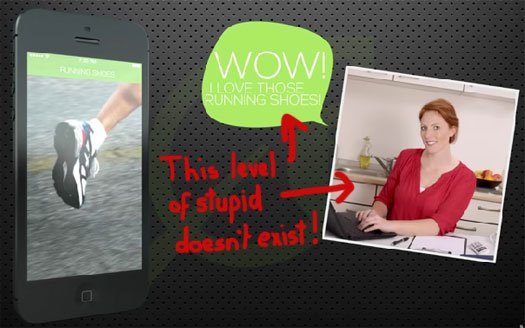 Yeah look, nobody in their right mind is going to sharing your photo of a shoe.
And if you think it's going to "go viral"… bloody hell.
I mean cmon, has a product photo with an attached affiliate link ever gone viral in the history of the internet? Contrary to what Leafit project would have you believe, affiliate marketing on social networks is not cake.
And this is where the wheels come off the wagon.
Sure Leafit pay out commissions if anybody actually does buy anything through the app, but it's a token add-on.
Here's the core of the business:
Sign up and pay your $149 participation fee. Start recruiting others and get them to pay their $149 too. Each time this happens you get paid.
Want to get paid more and down more levels of recruitment? Simply recruit more affiliates.
And as long as everyone continues to pay their $49 a month participation fee, everybody gets paid.
Other than pooling funds each month so that Leafit can pay out those who recruit the most, what Leafit affiliates are paying $149 and then $49 a month for is a mystery. The app is free so it's certainly not that. Nor is it the attaching of affiliate links to photos backend, because free affiliates have access to that too.
A pyramid scheme by any other name?
Leafit would certainly appear so. And in that sense, all we've got here is the abandoning of the Ponzi advertising side of vLeaf, with the pyramid scheme aspect left intact.
A company name-change and the mashing of said pyramid scheme with a rather useless social network spam marketing app – and bingbaddaboom;  Here we are.
Leafit affiliates can totally ignore the app and just focus on the recruitment of affiliates and getting paid out of their monthly membership fees. And while that's happening, absolutely nothing is being sold to retail customers.
Or as Leafit put it in their policies and procedures:
Leaf It is built upon a foundation of honesty, mutual respect, fairness and ethical business standards.

Leaf It recognizes the importance of creating for its customers and distributors a business environment that fosters trust and integrity.
Riiiiiiiiiiight.