LaunchV Review: Vappnet reboots after failed 2013 launch

The original idea behind Vappnet was to pay affiliates a percentage of prize money won by customers and affiliates playing games on "Vappey", Vappnet's gaming platform.
Vappnet's product is a "games platform" app they call "Vappey". Vappnet claim that Vappey will give 'away thousands of dollars in cash and prizes'.

"As well as Free games there are also paid competitions, with tickets from just $1.00 where you can win great prizes like, Designer handbags, watches, Dream Trip Vacations, Cars and even Homes."

A promotional video on the Vappnet website says users of Vappey will "get to play simple fun skill-based games for free. Games like Mega Memory, where you can test your skills and sharpen your brain."
Vappnet launched around mid to late 2013 but flopped shortly thereafter.
I'm not sure exactly when, but Vappnet disappeared at some point after launch, resurfacing months later in what appears to be a reboot campaign branded "LaunchV".
No mention of Vappnet's previously launch attempt is made on the LaunchV website, with the company's name only present in tiny footer text:

At the time of publication, the LaunchV website is little more than a recruitment capture page. Some details about the upcoming reboot of Vappnet have emerged though and after receiving a few reader requests, figured it was worth doing a review.
The Company
Whether or not Vappnet will launch under "LaunchV" or "Vappnet" isn't clear, but I'd assume LaunchV is just the name of their prelaunch reboot. Currently the Vappnet website is not open to the public, demanding visitors enter a login and password before they can proceed (ditto Vappey, the gaming platform).
Craig Haggard was named CEO of Vappnet, however whether or not he's still involved is unclear (for more information see BehindMLM's original Vappnet review).
The Compensation Plan
Sometime in the last week or so detail so of the LaunchV version of Vappnet's compensation plan leaked, although they don't currently appear to be available.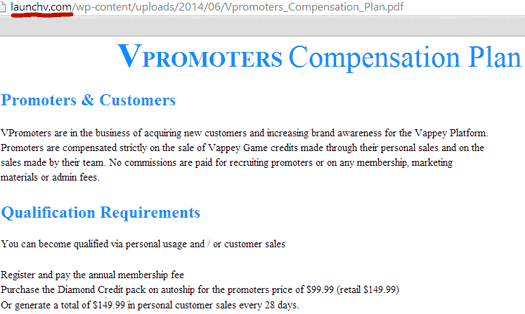 Vappnet has advised those that sign up that they plan to release their compensation plan 'on the last day of our Pre-launch'.
When exactly that is though is unclear. The LaunchV website currently advises that something is happening in 19 days from today (July 1st). Whether or not that's going to be Vappnet's pre-relaunch launch or actual opportunity relaunch is not clarified.
In any event, Vappnet's first incarnation saw it charge affiliates $88 to participate, and then $39.95 in monthly autoship. The product behind the opportunity was "gaming tickets", which were priced at $1 a ticket.
Ticket volume was paid out at a rate of 5% per the total volume of tickets sold by an affiliate and their downline. Recruitment commissions were also offered, paying out $100 per five Vappnet affiliates recruited.
Vappnet's new compensation plan still offers direct recruitment commissions, but now combines them with a retail option.
Vappey game tickets (now called "credits") are sold in a "Diamond Pack", which costs affiliates $99 and retail customers $149.99. Presumably credits are still available at $1 a pop each, however this is not clarified in the LaunchV compensation plan material.
Diamond Packs are commissionable, paying out '$50.00 per person per month for all level 1 personal sales'.
A unilevel style compensation plan is still used, paying out '$2.00 per person per month' from level 2 down an additional eight levels of recruitment (10 levels total).
Game credit sales volume generated outside of Diamond Pack purchases is still paid out at a rate of 5% (down the same ten unilevel levels).
10% of any cash prize won by an affilaites downline (capped at ten levels of recruitment) and any of their personal customers, is also payable as a bonus.
LaunchV provide cash prize examples of between $10 to $1000 for their "free games" and $499 to $79,999 for "paid games".
Joining Costs
No mention is made of any additional affiliate costs in the LaunchV compensation plan material, which would peg affiliate costs at $99. The LaunchV compensation plan does mention an "admin fee" though, so it's likely that $99 is not the total cost of signing up as a LaunchV affiliate.
Note that affiliates need to qualify for commissions, which requires the ongoing monthly purchase of a Diamond Pack ($99 a month), or the selling of one to either a recruited affiliate or retail customer.
If an affiliate self-funds their commission qualification, this is creates an ongoing monthly expense of $99. If they sell a Diamond Pack to either a recruited affiliate or retail customer, then only the intial $99 fee (plus unspecified admin fee) applies.
Conclusion
The problem with Vappnet's original model was the issue of recruitment commissions being paid and the question of where the game prize money was going to come from.
In Vappnet v2.0 (or LaunchV if they decide to call the company that), unfortunately recruitment commissions are still a part of the business model.
A Vappnet affiliate can focus on trying to sell Diamond Packs and Game Credits to retail customers, or they can just sign up themselves, pay $99 a month to qualify for commissions and then focus on recruiting new Vappnet affiliates – earning $50 a pop and the same every month recruited affiliates purchase game credits pay their commission qualification fee.
As with the original Vappey model, I'm thinking retail is once again going to be entirely non-viable. As far as the Diamond Packs go, clearly the $149.99 retail option is a joke, or pseudo-compliance effort at best.
Nobody but Vappnet affiliates are going to be forking over $149.99 ($99 for affiliates) to play games they might have a chance of winning money in. When you consider that at least 33-50% of these fees are paid out in commissions, that leaves an awfully small game prize pool.
Vappnet's suggestion that $80,000 might be paid out (short of perhaps once annually) as a game prize is laughable.
In my original Vappnet Review conclusion below, replace $40 with $99 and my thoughts on Vappnet are once again summed up:
Short of Vappnet sitting on some innovative games they're not bothering to release any details on, I predict the company is just going to wind up being affiliate-heavy, with everyone paying $40 autoship a month to earn that 5% of everyone below them.
At present LaunchV is signing up free customers, which means prospective affiliates can expect to be bombarded with bombastic numbers of people who have signed up.
As usually happens with these "reserve your spot" free prelaunches though, once push comes to shove only the tiniest fraction are going to be interested in paying $99 a month to earn off affiliates in their downline who pay the same.
I'm really not seeing how Vappnet's relaunch is going to be any different from their first. It's the same offering, only now participation costs more.