KashhCoin Ponzi scammers arrested in India

Among the sea of MLM pump and dump shitcoins launched this year, KashhCoin seems to have mostly flown under the radar.
Marketed with the usual comparisons to bitcoin, KashhCoin even went so far as to represent it was accepted by several well-known merchants: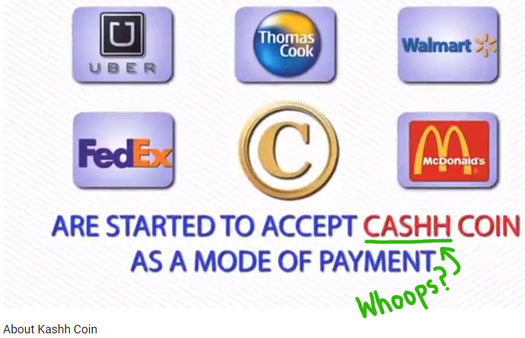 The reality was that KashhCoin was ultimately worthless, with those investing in it only doing so because of the attached MLM opportunity.
KashhCoin solicited investment of $10 or more for a daily ROI of 1 to 2%. Direct and residual refferral commissions were also paid on funds invested by recruited affiliates.
KashhCoin represented to affiliates the value of KASHH would explode, prompting gullible investors to part with real money for worthless pre-mined coins.
KASHH did eventually launch as a publicly tradeable cryptocurrency in February, 2017.
After an initial pump peak of around 5 cents, KASHH promptly crashed to its current value of $0.000177.
Despite KashhCoin claiming it was owned and operated by VKS International, a Dubai based marketing company, in reality it was run by Indian scammers.
Following a compliant filed by a KashhCoin investor who claimed to have lost over $20,000, an investigation was launched by the Delhi police Crime Branch.
That investigation lead to the arrest last Thursday of one of the men behind the scheme.
The Delhi police Crime Branch has busted an inter-state gang involved in duping investors by selling fake digital currency (cryptocurrency) on Thursday.

The cops have arrested one Narender (32), a native of Sonipat in Haryana, from Delhi, who was the operational hand of the gang in Delhi.

The other gang members were operating the syndicate from Gujarat, Rajasthan, UP, and Mumbai.
Interrogation of Narender has revealed the names of his accomplices, however for now they are still at large.
According to Joint Commission of Police Alok Kumar, 'several police teams have been formed to arrest the others'.
No word yet on whether any of the stolen investor funds have been recovered.
Personally I wouldn't be surprised if the funds hadn't already been laundered out of the India, beyond the reach of local authorities.
This is the typical MO of MLM cryptocurrency scams, making them all the more dangerous to invest in.
Not only do investors lose their money as the Ponzi scheme inevitable unravels, but recovery of victim funds without international cooperation is next to impossible.
Update 7th October 2018 – KashhCoin founder Asif Ashraf Malkani has been caught and arrested by Indian authorities in New Delhi.