Joy to Live Review: Recruitment and lack of retail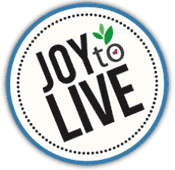 Joy to Live was launched in 2010 and operate in the health and nutrition MLM niche.
The company was founded by CEO Gerald Ricks and is headquartered in the US state of Utah.
On their website Joy to Live claim to be owned by parent company "Elite Marketing Alliance, Inc."
A quick visit to the Elite Marketing Alliance website reveals a near identical product line and compensation plan (EMA appears to be an MLM business opportunity in and of itself).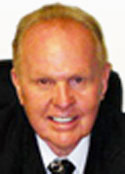 Management wise Gerald Ricks (photo right) is nowhere to be seen on the Elite Marketing Alliance website, with the company naming a Robert Yukes (also known as Bob Yukes) as company President.
Curiously, both Elite Marketing Alliance and Joy to Live display different information on their respective domain registrations.
Joy to Live's website domain ("joytolive.net") is registered to "Quantum Marketing" in Montana, whereas Elite Marketing Alliance ("elite22.com") is registered to "Elite Alliance LLC" in Kansas.
Including Utah, that's three US states linked to Joy to Live and I'm not entirely sure what's going on there.
MLM history wise, prior to Joy to Live, Gerald Ricks appears to have been involved in the MLM company "AlivaMax" (launched in 2008).
AlivaMax sell "supplements" and although the company's website is still active, today they appear to be a retail-only storefront.
Read on for a full review of the Joy to Live MLM business opportunity.
The Joy to Live Product Line
Joy to Live offer a health and nutrition product range, primarily focusing on nutrition, detox and anti-ageing product lines.
Aerobia – a "liquid oxygen" drink containing vitamin B12, aloevera and CoQ10 (Coenzyme Q10, a "controversial" supplement)
Elixir Blast – a "complete nutritional drink"
LeJoyva – instant coffe containing ganoderma mushroom, goji berry, mangosteen and yarchagumba.
Yarchagumba is
a fungus that parasitizes larvae of ghost moths and produces a fruiting body. The fungus germinates in the living larva, kills and mummifies it, and then the stalk-like fruiting body emerges from the corpse.
Neutra-Cleanse – "digestive support" capsules
Optimum-Weight Loss – appetite suppressant
Ionic Silver – kills "bacteria and other microbes" whilst strengthening the immune system
Affinity – "youthfulness, increased vitality, stronger immune system, reduced imflammation, enhanced sexuality".
Joy to Live claim the use of Affinity
may diminish the negative effects of anemia, asthma, cancer, chronic fatigue, Crohn's disease, diabetes, fibromyalgia, obesity, osteoporosis, sexual inadequacies and thyroid dysfunction.
Fulvia – a fulvic acid based "anti-aging capsule".
Lissome – Anti-aging skin serum 'comprised of peptides and neuropeptides'.
JTL Dental Whitening System – increase teeth whitening in as few as three days.
The Joy to Live Compensation Plan
Joy to Live offer their affiliates recruitment commissions and residual commissions via a 3×10 matrix.
Recruitment Commissions
Joy to Live pay affiliates on the recruitment of new affiliates down two levels of recruitment (personally recruited affiliates and any affiliates they recruit).
How much of a commission is paid out is dependent on what membership package a new Joy to Live affiliate signs up with:
$33 Enrollment Package – $15 on level 1, $4.50 on level 2
$66 Enrollment Package – $30 on level 1, $9 on level 2
$99 Enrollment Package – $45 on level 1, $13.50 on level 2
$132 Enrollment Package – $60 on level 1, $18 on level 2
Silver Package ($198) – $90 on level 1, $27 on level 2
Gold Package ($396) – $180 on level 1, $54 on level 2
Ruby Package ($594) – $270 on level 1, $81 on level 2
Diamond Package ($990) – $450 on level 1, $135 on level 2
Matrix Commissions
Residual commissions are paid out monthly to all qualifying affiliates using a 3×10 matrix compensation structure. In order to qualify for a commission a Joy to Live affiliate must purchase at least one product each month.
A 3×10 matrix compensation structure places an affiliate at the top of the structure with three legs directly underneath them (level 1). These three positions in turn each have three positions under them (level 2) and so on and so forth down 10 levels.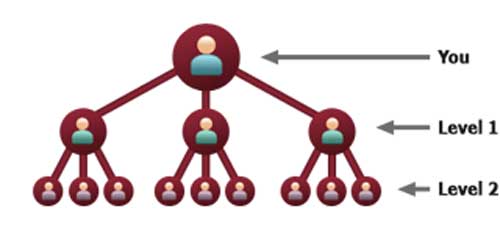 Each of these positions can be filled via the recruitment of a new Joy to Live affiliate, either by direct recruitment or the recruiting efforts of an affiliates up and downlines.
Commissions are paid out as a percentage of the personal volume generated by Joy to Live affiliates in the matrix (downline), with how many levels an affiliate is paid out on dependent on their Joy to Live affiliate membership rank:
EBO (basic affiliate membership) – 2% on level 1, 3% on level 2, 10% on levels 3 and 4 and 5% on level 5
EBO2 (30 PV and 60 GV) – 2% on level 1, 3% on level 2, 10% on levels 3 and 4, 5% on level 5 and 2% on level 6
Silver (30 PV and 300 GV) – 2% on level 1, 3% on level 2, 10% on levels 3 and 4, 5% on level 5 and 2% on levels 6 and 7
Gold (30 PV and 1000 GV) – 2% on level 1, 3% on level 2, 10% on levels 3 and 4, 5% on level 5 and 2% on levels 6 to 8
Ruby (60 PV and 4000 GV) – 2% on level 1, 3% on level 2, 10% on levels 3 and 4, 5% on level 5 and 2% on levels 6 to 9
Diamond (60 PV and 12,500 GV) – 2% on level 1, 3% on level 2, 10% on levels 3 and 4, 5% on level 5 and 2% on levels 6 to 10
PV stands for "personal volume" and includes an affiliates own personal purchases from Joy to Live. GV stands for "group volume" and is the volume generated by an affiliates downline (other affiliates in their matrix).
Note that both GV and PV rank requirements are monthly.
Affiliates can qualify either via volume or buying into the compensation plan directly (which qualifies an affiliate at a specific rank for 12 months).
Matching Bonus
Silver and above ranked Joy to Live affiliates qualify for a Matching Bonus on the matrix commissions of all personally recruited affiliates.
Silver – 25%
Gold – 50%
Ruby – 75%
Diamond – 100%
Car Bonus
If a Joy to Live affiliate generates 100,000 GV a month (recurring), they qualify for a $822 a month car bonus.
House Bonus
If a Joy to Live affiliate generates 200,000 Gv a month (recurring), they qualify for a $2220 a month house bonus
Joining Joy to Live
Affiliate membership to Joy to Live ranges from $33 to $990.
Affiliates can either join as an EBO for $33 to $132 or buy into the compensation plan at either the Silver ($198), Gold ($396), Ruby ($594) or Diamond ($990) membership levels (buy-in rank qualification lasts 12 months).
Conclusion
In researching the corporate structure of Joy to Live, I'm unable to adequately explain the need for Joy to Live when Elite Marketing Alliance appears to be a fully fledged MLM company in its own right.
Evidently, neither are EMA – when I clicked on the "Why EMA existed" link on their website, I was presented with a page that told me the information was "coming soon".
With EMA launched in 2010… it doesn't seem like this is going to be publicly explained anytime soon.
Moving onto the compensation plan, despite the existence of tangible products, I think the key red flag here is a sole focus on affiliate purchases.
Retail commissions do appear to exist with the existence of a retail storefront on the Joy to Live website (or I should say links to a retail storefront which is actually hosted on EMA's website). Visitors can plug in an affiliates ID code to credit them with commissions or just buy from the company directly.
The focus in Joy to Live squarely appears to be joining up as an affiliate, recruiting new affiliates and earning a commission on everyone's monthly autoship.
One could argue that products are infact being purchased by affiliates but the intent behind the purchases drags Joy to Live into strong red flag territory.
First and foremost there's the whole buying into the compensation plan thing. First and foremost this is a membership fee and the fact that how much you spend determines how much commissions you earn for 12 months.
The fact that this membership fee is commisionable is of course yet another red flag.
After signing up, affiliates then can only qualify for matrix commissions by buying at least one product. You have to buy something or you don't earn squat.
Pretty much all you're looking at here as an affiliate is signing up new affiliates and earning on their initial membership fee and their subsequent recruitment efforts, and earning a percentage of every affiliate in your downline's monthly autoship order.
Oh and recruit enough affiliates to generate the specified volume targets and you can take home a matching bonus on the earnings of your personally recruited affiliates too.
As you can see retail, if any exists at all, is purely an afterthought. Retail commissions and retail customers aren't mentioned anywhere in Joy to Live's compensation plan material.
As a potential Joy to Life affiliate, a quick check with your potential upline should clarify the existence of any retail customers. Given the way the compensation plan is stacked however, I'd be very surprised if any existed.
Approach with extreme caution. Well, unless perhaps you're really into caterpillar corpse coffee…