Jearseph Review: $5 matrix codes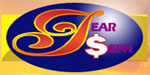 The Jearseph website domain was registered on the 19th of September 2013, however the domain registration is set to private.
There's no information on the Jearseph website indicating who owns or runs the business, but the company does provide a certificate naming a "Joeffrey Pizarro Cambangay" as the owner of a "JRCPH Marketing".
The certificate appears to be issued Philippine Department of Trade and Industry, with an address in the Philippines provided.  There's no indication as to what the relationship (if any) is between JRCPH Marketing and Jearseph.
Cambangay seems to have started promoting Jearseph shortly after registering the website domain, with an ad for "JRCPH Network" dated August 18th 2013 appearing on Sulit.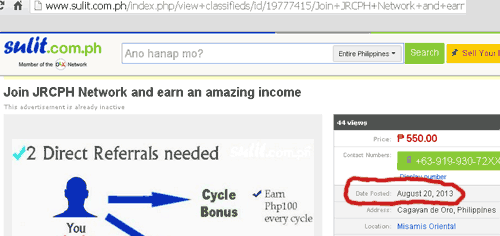 Join JRCPH Network now and earn in 4 ways. An amazing hybrid complan made and worth joining for. You get a product-value package plus an opportunity to have a business and an income.

Just refer 2 people and your in.
The Jearseph website domain is provided at the end of the advertisement.
On his Facebook page, Cambangay is heavily promoting something called "Silver Singkwenta Cycler".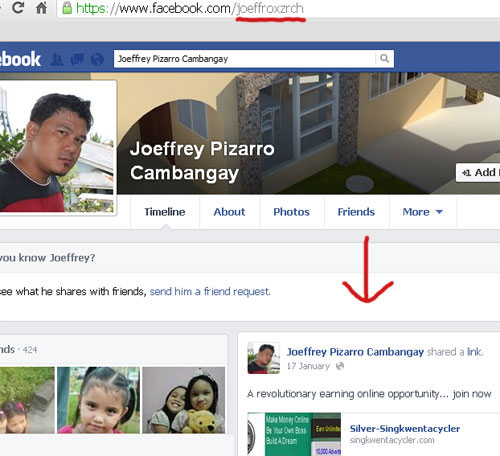 A revolutionary earning online opportunity… join now.
From what I can gather, Silver Singkwenta Cycler appears to be a 100 pesos to join affiliate recruitment scheme. Whether Cambangay runs Silver Singkwenta Cycler is unclear, but given the similarities between its website and that of Jearseph, there's a high probability he does.
Read on for a full review of the Jearseph MLM business opportunity.
The Jearseph Product Line
Jearseph has no retailable products or services. Affiliates join the company and then purchase $5 codes.
Each code provides an affiliate a position in Jearseph's compensation plan along with '10,000 ad credits and (access to) ebooks'.
The Jearseph Compensation Plan
The Jearseph compensation plan revolves around affiliates joining the company and then purchasing $5 codes.
Each code provides an affiliate with positions in multiple matrices, each paying commissions varying from 10 cents  (2×1) to $17,700 (3×10) once the position cycles.
A $2 "matching bonus" is also paid out when personally recruited affiliates cycle out of a 2×2 matrix.
These matrices are filled as affiliates purchase $5 codes and get their own position(s) in Jearseph's compensation plan.
Jearseph also offer recruitment commissions,  paying out $1 per recruited affiliate who purchases a $5 a code.
Joining Jearseph
Affiliate membership to Jearseph is free, however affiliates must purchase $5 codes (compensation plan positions) if they wish to earn any commissions.
Conclusion
With no retailable products or services and all commissions offered requiring the direct or indirect recruitment of other affiliates, Jearseph fits the definition of a pyramid scheme.
Affiliates join for free, purchase $5 positions and then through a series of matrices earn commissions once enough new positions have been purchased. They are also compensated directly for each new paying affiliate they bring into the scheme.
Cycling out of matrices via spillover (the recruiting efforts of others) is possible, however the process is much faster if an affiliate themselves does the recruiting.
As with all pyramid schemes, once the recruitment slows down (along with the sale of $5 codes), the matrices will stall and so too will the commissions Jearseph pays out.
If I had to take a guess, with Silver Singkwenta Cycler using Philippine pesos, it appears Cambangay is trying to launch the same scheme under the name "Jearseph" using USD.
Unfortunately for Cambangay, whether he uses pesos or USD – both companies equate to nothing more than obvious pyramid schemes.