Investigation confirms Detail MaxiNet was a Ponzi scheme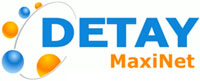 An ongoing investigation into Detail MaxiNet has confirmed it operated as a Ponzi scheme.
Turkish authorities shut down Detail MaxiNet under suspicion of fraud about two weeks ago.
Known locally as "Detay MaxiNet", Detail MaxiNet affiliates invest $590 to $2242 on the promise of a monthly ROI for 12 months.
Details of the ongoing investigation into Detail MaxiNet were published by the Turkish Customs and Trade Ministry on April 6th.
According to the Customs and Trade Ministry, 18,352 Detail MaxiNet paid $16.2 million in fees, $5.6 million of which was paid out in recruitment commissions.
On the investment side of things, Detail MaxiNet solicited $57.5 million from affiliates, with purported SEO and advertising services only generated $3.2 million.
These figures saw the Customs and Trade Ministry conclude;
Revenue generated by Google SEO and Digital Advertising services is far less than the amount of payments by affiliates.

Earnings are determined by a pyramid system based on member expansion.

Members in the system are paid daily income, premium income and career bonuses which are based on income from members in the lower house transferred to other members in the upper steps of the system.

Career advancement can be achieved and other members behave according to certain conditions. Typical pyramid system features have been identified.
Upon being shut down two weeks ago, Detail MaxiNet's owner Alper Tatiker claimed the company was operating "within the framework of the law".
The Customs and Trade Ministry have forwarded their findings to the Chief Public Prosecutor's Office for further evaluation.