INB Network's AI Marketing collapsing, withdrawals disabled

The AI Marketing Ponzi scheme attached to INB Network is collapsing.
For the second time this month, affiliate withdrawals have been disabled.
AI Marketing appears to have initiated its exit-scam on or around July 12th.
At the time AI Marketing claimed Russian authorities had added the company's website to a blacklist.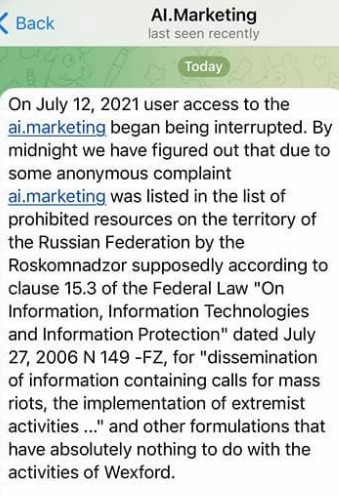 "Wexford" refers to Wexford Alliance Limited, a Hong Kong shell company AI Marketing uses to launder invested fund through.
A few days later, on or around July 14th AI Marketing affiliates began reporting ongoing withdrawal problems.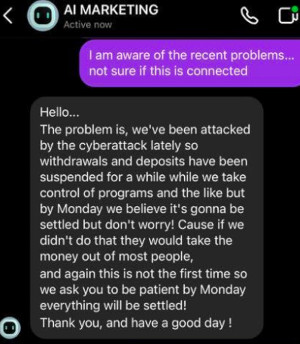 The new excuse AI Marketing's admins have come up with is the company has been "attacked by the cyberattack".
The problem is we've been attacked by the cyberattack lately so withdrawals and deposits have been suspended for a while wile we take control of programs and the like but by Monday we believe it's gonna be settled but don't worry!

Cause if we didn't do that they would take the money out of most people, and again this is not the first time so we ask you to be patient by Monday everything will be settled!
Whether AI Marketing withdrawals are re-enabled again on Monday remains to be seen. And if they are, then for how long.
AI Marketing is a Ponzi scheme attached to INB Network. Gullible investors are promised monthly returns of up to 35%.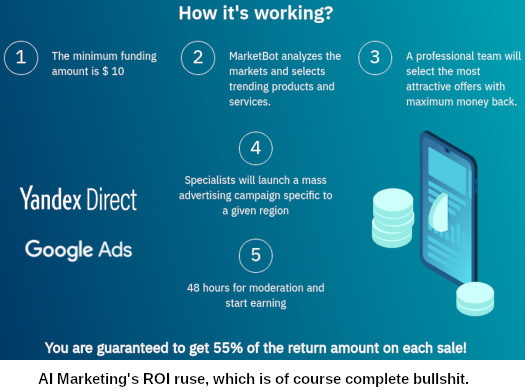 Both AI Marketing and INB Network are believed to be run by Russian scammers.
Alexa traffic analysis to AI Marketing's website reveals its victims are from the US (27%), Egypt (11%) and Russia (11%).
INB Network is more heavily promoted in Russia (16%), followed by Egypt (16%) and Algeria (10%).
The MLM side of the AI Marketing Ponzi scheme doesn't seem to have taken off in the US.
Update 20th July 2021 – AI Marketing withdrawals were not re-enabled on Monday.
INB Network affiliates are now being told a "new platform" with a "new look" will be launched next Monday.
Update 15th August 2021 – INB Network has rebooted its AI Marketing Ponzi scheme as CashBackPro.
Update 17th August 2021 – The Central Bank of Russia issued a pyramid scheme warning against AI Marketing on August 16th.
This might possibly explain why INB Network scammers pulled the plug on the Ponzi scheme.