iCitiLife Review: 2 scam business models + travel
It's no secret that the travel niche in MLM and home based businesses has exploded in the past couple of years, although arguably it's been taken over by irrelevant online training product based opportunities.
Still, out of the many travel based companies out there that launched over the past few years, some are still kicking around as long as there are new members to feed into the compensation plans.
Typically, these business models revolve around matrix systems that require a constant influx of new members to keep paying commissions out. Another common but  less used model is the binary pairing model which pays out a commission based on the amount of new pairs of new members bring into the business daily.
Not content with just following one of these models, iCitiLife have gone for gold and decided to use both.
Read on for a full review of the iCitiLife business opportunity.
The Company
iCitiLife launched in mid 2010 and is based in Indonesia.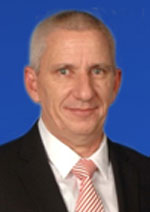 Staff wise the company is headed up President Director Michael Sverdloff.
Despite iCitiLife claiming that 'the executive leaders at ICL are highly experienced business owners with proven track records of success in their key areas', I wasn't able to turn up any company history or 'proven track record' for Sverdloff.
Business wise (specifically in the MLM and home based business niche) Sverdloff appears to be an unknown.
Interestingly enough iCitiLife also claim Billi Lim as a 'Training Consultant' for the company. Lim has authored 'Dare to Fail' amongst other books and appears to be an accomplished author with a public reputation external to iCitiLife.
I find this quite odd given the nature of the iCitiLife business (more on that in the conclusion of this article).
iCitiLife's Product Line
iCitiLife market what they call 'lifestyle' products. These range from diamonds, travel, flights and hotels.
iCitiLife themselves don't have any products and instead rely on affiliate agreements with third-party vendors to service their members.
iCitiLife only act as a membership portal to these affiliate offers.
The iCitiLifeCompensation Plan
The iCitiLife compensation plan combines two of the most well-known models of compensation plans used today, a binary organisation upfront and a cycling matrix backend.
Both models work independently of eachother and payout separate commissions. Additionally, there is also a Fast Start Bonus offered.
Fast Start Bonus
iCitiLife pays out a Fast Start Bonus of $20 on every new member you recruit to the company.
Binary Commissions
In order to earn binary commissions with iCitiLife, you must first recruit two new members to the company.
Once you have your two members, they are placed in your binary organisation. With you at the top, a binary organisation splits out into two legs underneath you. These two legs in turn branch out into two additional legs and so on and so forth.
As you begin to fill up your binary organisation, it'll start to look something like this;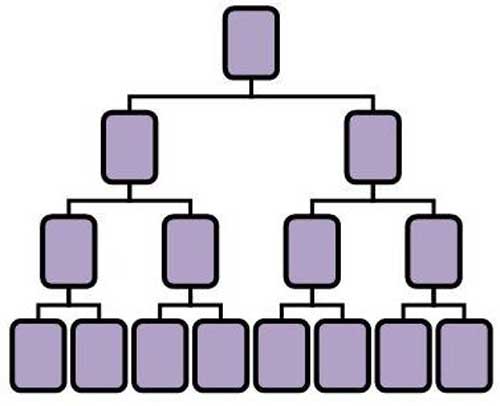 For each membership sold to iCitiLife by members in your binary organisation, you are paid out a $40 commission based on the pairing of these sales between the left and right sides of your binary organisation.
For example, if your left side sells 2 memberships in one day and your right side 3 memberships, you'll earn an $80 commission (2 paired sales) with one sale left over on your right side for the day.
This binary pairing commission is capped out at $440 a day, or eleven pairs.
In addition to a cash commission, you also earn a $40 voucher (not redeemable for cash and only able to be used to purchase goods and/or services from iCitiLife). These vouchers are earnt if you reach 6 and twelve pairs a day (note there is no cash payout for reaching your 12th pair).
Note that any left over unpaired sales will be flushed from your stronger side at the end of any given pay period (which I believe is a week). Any left over unpaired sales that are accumulated daily, are carried over, providing it's not the end of a pay period.
Power Leg Commission
The Power Leg Commission is also based on your binary organisation, and focuses on pairs again.
Unlike the daily binary commission however, the Power Leg commission has no time limit and your pairs are not flush, instead they are accumulated towards set targets.
There are ten targets, or 'cycles' as iCitiLife calls them, and once you reach each cycle you are awarded a payout.
I've included the payouts in the chart below;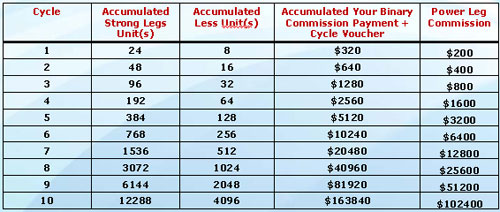 What you want to look at above are the 'accumulated strong leg units' and 'accumulated less leg units'. Once you've met a cycles requirements (note that each unit is an individual membership sale, not a pairing), you can look at the 'Power Leg Commission value' column to see what your payout will be.
Note that for Power Leg commissions the 'accumulated your binary commission payout + binary voucher' is irrelevant.
Cycle 10 as you can see requires 12,228 members in your stronger leg and 4096 members in your weaker leg for a payout of $102,400. Upon reaching cycle 10, iCitiLife members are then recycled back into the system beginning again at cycle 1.
Titanium Pool Matrix
The first of iCitiLife's matrix's is a straight 2×4 matrix (it looks like your binary organisation but only extends down 4 levels deep).
Once filled with new members (14 members in total), the person at the top (you) gets paid a commission of $142.50 and cycles out to the Platinum Pool Matrix.
For the remaining 14 members, the matrix splits in two down the middle and eight new members are required before the matrix fills up again and splits.
Note that when the Titanium Pool matrices split, members are ordered in the new matrices depending on how many membership sales they have made. Those with more membership sales are placed closer to the top (the person with the most membership sales sits on top of the newly created matrix after a split).
Platinum Pool Matrix
iCitiLife's second matrix is the Platinum Pool and it's again another 2×4 matrix with 14 places to fill.
The Platinum Pool pays out $2500 and operates in the same manner as the Titanium Pool. Once all the slots are filled the person at the top gets paid and the matrices split.
The person at the top re-cycles into an existing Platinum Pool matrix (they follow their upline) and everybody else is re-arranged in their split matrix depending on how many new members they've enrolled since joining the matrix.
Joining iCitiLife
Joining iCitiLife is a straight forward affair. Those wishing to join must sign on as a member which costs you $340 for life.
Along with this membership you are presented a voucher for $290 which can be used towards iCitiLife's products and services.
The membership also includes one year of Franchisee fees for which iCitiLife provide you with an online store to retail their products and services. The Franchisee fees are $150 annually, which I believe is a mandatory payment after your first year of iCitiLife membership.
Conclusion
With all of its products and services outsourced, it's pretty transparently obvious that iCitiLife itself is merely marketing membership.
Specifically, the company is collecting membership fees and then via cycling matrices and a paired binary model, paying out its members commissions.
This is pretty much illegal in most of the known world. Apparently Indonesia hasn't quite caught up yet, or iCitiLife hasn't grown large enough to warrant an investigation into the company.
As a marketer for iCitiLife you'll be doing one thing and only one thing only, selling memberships.
All of the company's services are easily detached from the business opportunity and bear no relevance to iCitiLife's compensation plan and the commissions on offer.
You are able to earn commissions if you sell third-party services through the affiliate agreements iCitiLife has in place, but you'd be able to do that anyway whether you joined the company or not.
As far as iCitiLife goes, they're entire commissions structure solely revolves around memberships.
Without new memberships there are no pairs in your binary organisation to pay out on, and there's no new members feeding the Titanium Pool matrix which in turn feeds the Platinum Pool matrix.
In short, no new memberships = no commissions for anybody.
We've seen this all before guys, membership driven matrices and paired binary compensation plans… at the end of the day they always inevitably go bust purely because of their need to have new members being constantly fed into the system.
Stay well clear of this one folks.