iCenter caught out in Genesis Mining partnership lie

iCenter are claiming on their website that Genesis Mining is an "unofficial partner".
Putting aside what that even means for just a moment, Genesis Mining have responded by confirming "no partnership" exists.
iCenter cite Genesis Mining as "Unofficial Partners #0001".
This Partner we add first, not because its the best, we had to start somewhere and is part of "Our Partners" Section, Genesis Cloud Mining , a company offering Cloud Mining packages.

We use Genesis Cloud Mining  as one of our bases by compounding 50% of the daily earnings.
In a separate August 7th news post, iCenter claimed it had 'just increased substantially our mining purchase with over 110.000 USD in Mining'.
Two transactions are provided in the post, which I've reproduced below: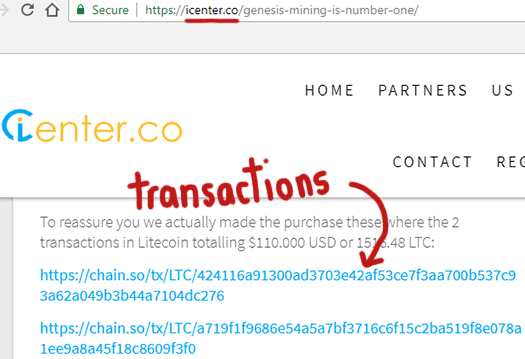 Seeking confirmation, a Facebook user shared iCenter's news update with Genesis Mining and asked whether they were aware of it – to which their "Social Media Team" replied;
Thanks for letting us know! You are right, iCenter is not a partner of Genesis Mining.

We will have a look into it. Stay suspicious!
When further queried on the two transactions iCenter provided, Genesis Mining stated:

And so there you have it. iCenter have been caught out lying about their #0001 Unofficial Partner.
The term "unofficial partner" itself sounds dodgy as hell. If I walk into McDonald's and buy a Big Mac, do I have an "unofficial partnership" with them?
What if I didn't even buy the hamburger?
Because that's pretty much what iCenter have been caught out doing.
The other thing I'll point out is iCenter also have incorrectly cited the SEC as having issued Genesis Mining a federal cease and desist.
South Carolina issued Genesis Mining a state-wide cease and desist over ties to the Swiss Gold Global Ponzi scheme.
On July 26th Genesis Mining was dismissed as a respondent to the notice. Swiss Gold Global remain prohibited from operating in the state.
BehindMLM reviewed iCenter back in March.
Based on its daily ROI business model and zero evidence of external revenue, we concluded iCenter was a Telegram bot Ponzi scheme.