HyperFund/Hyperverse integrated HOO exchange collapses

Following suspension of withdrawals around June 2022, the HyperFund and Hyperverse integrated HOO exchange has collapsed.
HOO disabling withdrawals in June has meant anyone with funds held in the exchange have been unable to access them.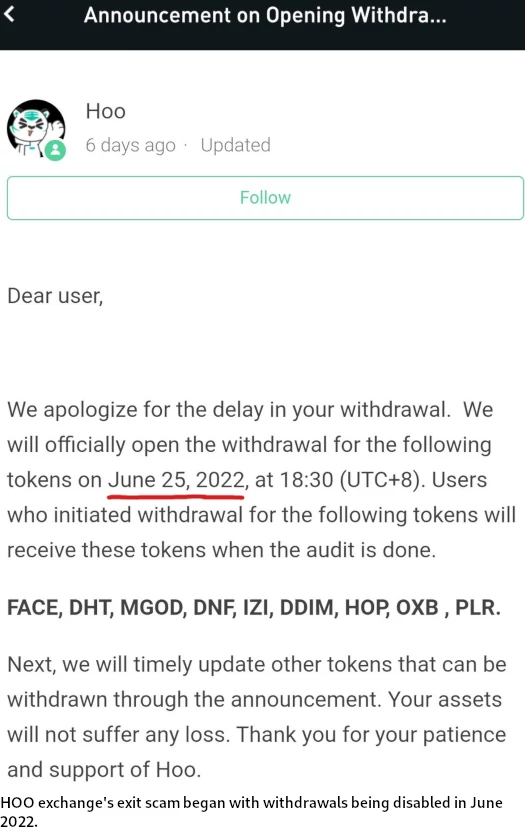 Shortly after, HOO abandoned its social media profiles in early July.
On or around November 18th HOO deleted its website. Visits to HOO's website domain now redirect to a message providing contact details for Xu Tong Hua.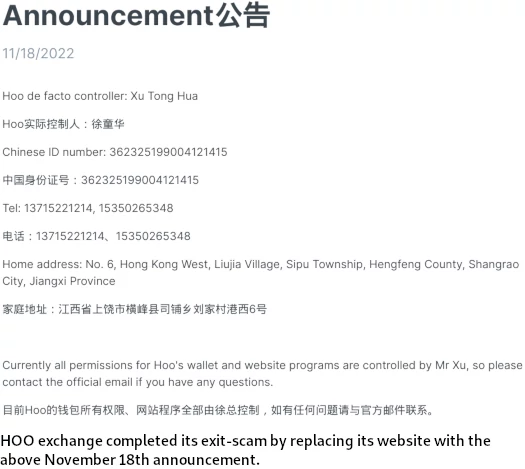 Who Xu Tong Hua is remains unclear.

HOO , which stands for Hyper Optimum Organization, was founded by Ruixi Wang (right) in 2017.
Integration of HOO into Ryan Xu's and Sam Lee's HyperFund and Hyperverse Ponzi schemes dates back to at least 2020.
At the center of that integration was Farzam Kamalabadi.
In addition to operating as a defacto payment processor for the Hyper* Ponzi schemes, HOO is also believed to have been the primary vehicle Hyper* Ponzi funds were laundered through.
In September 2021 HOO officially brought on Kamalabadi as part owner and Global Executive Chairman.
Ruixi Wang, Farzam Kamalabadi and the rest of HOO executive shareholders are believed to have made off with HOO user account balances.
Whether Wang is still in Hong Kong or whether he's fled remains unclear.
Kamalabadi, Xu, Lee and the since collapsed Hyper* Ponzi schemes were/are all based out of Dubai.
Originally based out of Hong Kong, HOO made a big deal about being
invited by the Royal Family of Dubai to use the entire office building provided by the Dubai government as HOO Exchange's global operation headquarters, and start an in-depth and friendly cooperation with the local government.
In October 2021, HOO signalled intent to relocate its "global operation centre" to Dubai.
Dubai's royal family being tied to fraud isn't a surprise. Over the past few years Dubai's authorities have worked hard to maintain the emirate's status as a cesspool of corruption.
Following a disturbing trend of scammers flocking to the emirate for protection from law enforcement, BehindMLM classified Dubai as the MLM crime capital of the world.
Testament to Dubai's corruption and turning a blind eye to fraud, Kamalabadi and Sam Lee continue to defraud investors through StableDAO.
StableDAO is essentially a continuation of Lee's collapsed Hyperverse Ponzi. HyperDAO Investors front up to $5 million on the promise of up to 7% a month.
Returns are of course paid in STBL and sSTBL shit tokens, which StableDAO creates out of thin air as required.
SimilarWeb tracks negligible monthly traffic to StableDao's website domain. Due to catastrophic investor losses and shameless reload scams, investor confidence in Sam Lee and Kamalabadi appears to be non-existent.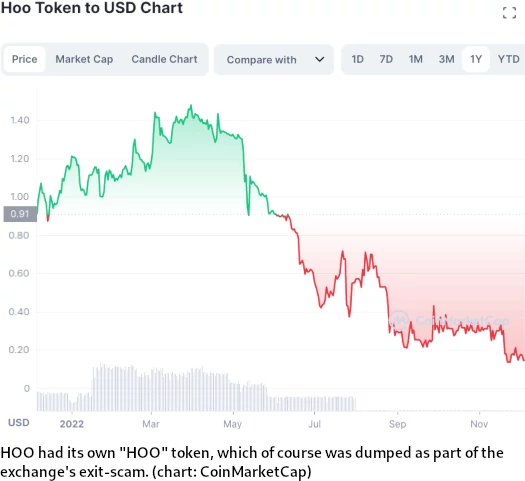 Realistically it's unlikely Chinese and/or Dubai's authorities will take action against HOO exchange. Ditto Xu's and Lee's Hyper* and StableDAO Ponzi schemes.
Total investor losses across HOO and the Hyper* scams are unknown but believed to exceed at least one billion USD.